A campfire crackles and pops under a celestial dark sky as distant pink neon stars drift slowly in the background. The world is fractured, and destruction by powerful anomalies is inevitable as the Shatter suspends in an inky void of space. How did things come to this? Developed by Galvanic Games and published by Devolver Digital, Wizard With A Gun is a spellbinding online cooperative sandbox survival where players continually roll back time to uncover the cause of the invasion.
The Shatter is a magical wildland fragmented by the relentless forces of Chaos. These abominations manifest as Chaos Rifts and a slew of threatening creatures ranging from colossal slugs to sinister floating eyeballs. As a Gunmancer, players take on a task where others have failed: restore the Chronomancer's Wheel, a godly device that can turn back time. In restoring the Chronomancer's Wheel, players will withstand what Chaos brings as well as recover the Shatter's lost history.
In Wizard With A Gun, players embark on a captivating gameplay loop that is hard to put down once you get the hang of it. It thrives on exploration that builds towards gratifying "a-ha!" moments. With every rewinding of time, the Shatter rebuilds itself to reveal diverse biomes with distinct inhabitants and resources. To gain access to new biomes and confront Riders, which serve as the bosses of each area, players will need to collect Gears. These essential components are used to power the Chronomancer's Wheel.
Easily identified by a floating Gear symbol, they are acquired by hunting specific beings in the Shatter. Once Gears are retrieved, players will face against Riders. Riders are formidable opponents, each behaving differently in their attacks. Down to their appearance and movements, it is a fun encounter that players might lose to a couple of times. As one of the Riders began to teleport and gradually increase their spread of mines on the ground, I was simultaneously impressed and frustrated by how challenging the battle was.
Restoring the Chronomancer's Wheel in an apocalyptic world can be challenging for a lone wizard. Wizard With A Gun spotlights the benefits and fun of cooperative play as creatures become tougher and more hostile. Having a fellow Gunmancing companion makes navigating Chaos and facing Riders effective and efficient. Work together against Riders or divide and conquer to source items for more powerful spells, powders, and other helpful crafting items.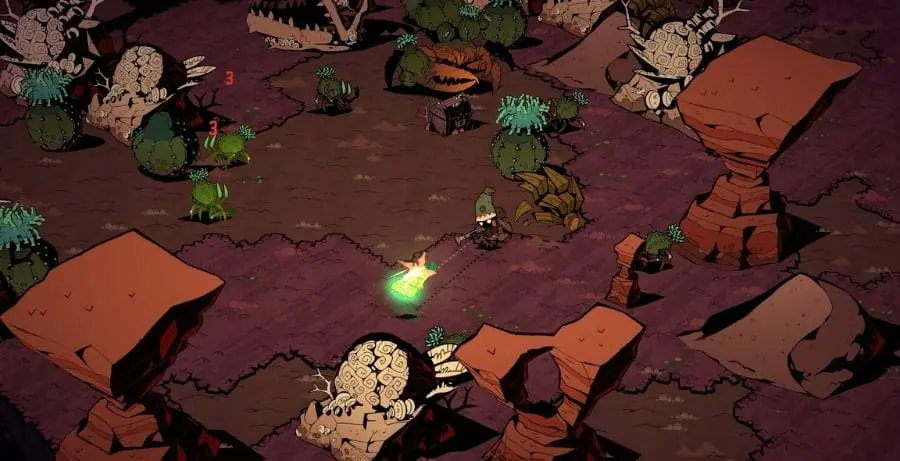 There's a charming twist on the classic image media have for wizards wielding wands. In Wizard With A Gun, not all wizards rely on traditional staff. Instead, they are armed with guns where arcane magic is engraved into their bullets. From a pistol to a blunderbuss, each gun type has a different rate of fire and range. Paired with certain spells, your choice of gun is a powerful tool for survival in the Shatter. With six slots to holster your guns, players can customize their playstyle and strategize for tougher creatures. However, in order to harness more powerful spells, players will need to brave their expeditions to gather the proper materials.
Every expedition into the Shatter initiates a countdown. Set to a mere five minutes every time. Players will venture out to explore, gather resources, and confront the Shatter's inhabitants in a calmer environment. Once the time runs out, however, Chaos reigns. You can brave the harsher conditions for higher rewards or opt for a swift return to the Tower, your safe zone. At the Tower is where Gears are deposited to the Chronomancer's Wheel. Additionally, it is home to enhancing your wizardry arsenal.
Whether between expeditions or losing all health, players will always find themselves returning to the Tower. Much like the Shatter, the Tower is splintered and battered. Half-broken columns stand about. Floors are missing and lack connecting pathways. You're a wizard though, with a gun, and therefore can unlock equipment that can help restructure spaces in the Tower. After all, this is where a good amount of time will be spent besides exploring the Shatter. Utilizing the First Edition spellbook helps unlock equipment. Likewise, scanning objects and creatures with it results in recipes like more powerful bullets.
Wizard With A Gun balances magical gunslinging expeditions with its equally engaging crafting side. It never feels too much or too little of either. As players further along, combat and crafting become more intricate and intertwined. Elements found can be broken down further to reveal resources not found in the wilds. Notably, resources maintain relevancy. As players gradually enhance their firepower and magical prowess, resources from early biomes remain indispensable. Early-game material retains utility in crafting higher-tier items even in the later stages of your adventure. Wizard With A Gun is an ever-expanding adventure of discovery and mastery that players will want to embark on time and time again.
Wizard With A Gun is available on PC, Xbox Series, and PlayStation 5. Expected release for Nintendo Switch at a later date.
Wizard With A Gun
TL;DR
Wizard With A Gun balances magical gunslinging expeditions with its equally engaging crafting side. It never feels too much or too little of either…an ever-expanding adventure of discovery and mastery that players will want to embark on time and time again.