Star Trek: Infinite is a real-time grand strategy game developed by Nimble Giant Entertainment and published by Paradox Interactive. Players play as one of the four major factions in the Star Trek franchise to expand their empires and try to conquer or bring peace to determine the fate of the galaxy. This is done through the core gameplay systems of exploration, development, economy, diplomacy, espionage, and warfare.
In Star Trek: Infinite, players start by choosing one of the four playable factions that players can choose from. These major powers consist of the United Federation of Planets, the Romulan Star Empire, the Cardassian Union, and the Klingon Empire. Each faction has its own unique styles of play through traits and bonuses, along with its own missions and story events. This really gives a variety as you play through each faction which will produce a different type of game along with goals to achieve victory.
As stated by the developers Star Trek: Infinite was built upon the major core systems of Stellaris, another popular Paradox Interactive grand strategy game, and many aspects of these systems were streamlined and simplified for a better Star Trek experience. Star Trek: Infinite is really made for Star Trek fans and players who love the Star Trek Universe. This is really where the game excels. The game allows players to relive some of their favorite Star Trek moments or change the timeline, creating their own Star Trek story. Giving players these alternate paths in the Star Trek timeline does mean there is no one singular way to win no matter what faction a player chooses.
Star Trek: Infinite takes place a few decades before the Star Trek: The Next Generation era. This means that players have a long list of potential cast of characters they will encounter and/or will play with including some of the iconic captains from the beloved TV shows. Each faction has its very own set of iconic characters. So, players playing with the United Federation of Planets, your federation fleet may be led by the great Jean-Luc Picard. Some other iconic playable characters include Benjamin Sisko, Katherine Janeway, Spock of the Romulans, Elim Garak, and Makbar of the Cardassians.
These characters are available either by completing the unique faction mission trees or unlocking specific narrative events that you will encounter while exploring the Alpha and Beta quadrants. There are also dozens of minor powers that players will encounter that will be recognizable by Star Trek fans. Narrative story events can unlock characters, or they could just be random events that happen to a colony or a planet.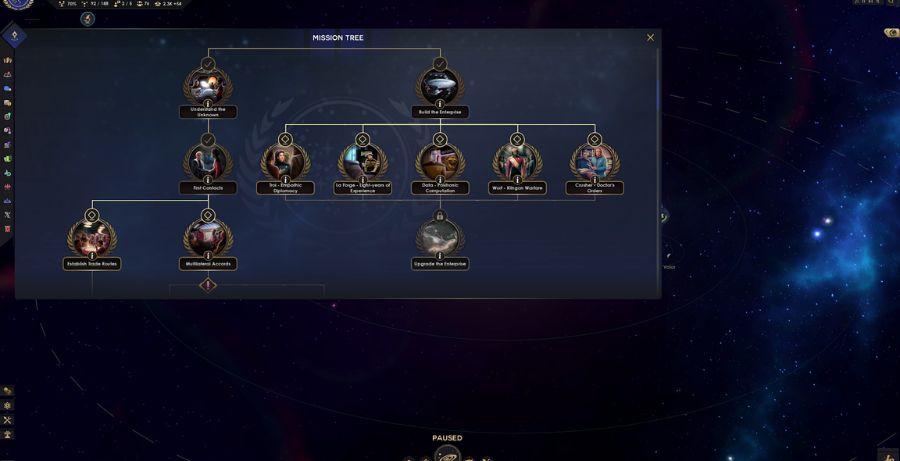 This may not seem like much other than random game flavor, but quite a few of them are tied to single-episode events that happen within the TV shows. All of these things and more will give players a very immersive Star Trek experience that is quite enjoyable. This also gives replayability both in terms of playing the same factions or trying out another one because you can change the story of your playthrough each time.
Star Trek: Infinite is a great Star Trek experience, and there are plenty of things to enjoy about the gameplay as well. The biggest one is how different each faction plays and what their objects are in the Mission Trees. This uniqueness can really challenge players to try different playstyles. Players can choose how they want to play in any game, but when comes to the Mission Trees and narrative events, players need to complete them based on the factions' perceived playstyle.
A prime example is the starting off Mission Tree for the factions as the Cardassians want you to make more labor camps, and Romulans produce more spies, which are vastly different from the Federation, which just wants players to explore the quadrants by producing scientists. The Mission Trees can be ignored along with the specific narrative events, however, it will make playing harder as players won't get any bonuses or unlocks from completing these objectives along with their leader and building traits will be all off. Each faction also has a unique tradition tree to go along with the regular traditions. There are also unique buildings within colonies and starships that can belong to each faction. Players are able to change and mold their Major Power to their specific playstyle to a degree, but to achieve victory, it is best to utilize all of the benefits and the playstyle for the given faction.
There are two Victory Conditions in Star Trek: Infinite. The first one is the Triumph of Diplomacy in which players obtain civics, and represent the general beliefs and culture of Power, through the process of assimilation via peaceful or warfare. The second one is Galactic Hegemony in which the Major Power with the highest score at the year 2646 (300 years after the start) is deemed the winner. This score is determined by economic strength, technology, level, military power, number of systems, number of colonies, and number of populations (pop or pops).
The core systems may be streamlined in ways, however, they are still quite deep and complex. This is both a good and bad thing, depending on the system. Out of the major systems, diplomacy seems to be the most fleshed out, and I would imagine this is because of all the story and canon events used within Star Trek: Infinite. There are dozens of minor powers to encounter, and how players choose to deal with them will affect not only them but the other Minor and Major Powers.
The major decisions of your faction can set the political stage and be the difference between war, assimilation, or peace. There is Galactic Tension that measures the state of relations between the different powers of the galaxy. How high or low this is changes how each power plays and/or perceives not only the player but other factions. Thus while you may be playing nice, others may not be, and this will overall heighten the tensions between everyone, which could affect Diplomatic plays. The narrative events and Mission Trees are also involved as some of these events are dependent on how you or another faction decides to play and can change—for better or worse— the outcome of one of the major events that will affect another Power.
For all the story and timeline-driven content that was put into the Star Trek: Infinite, I do wish there were a few more options for players. It makes sense why there are very few options given to how the game starts out, as all games, both single-player and multiplayer start out the same and have the same Victory Conditions. It would been nice for players to have potentially been able to take over a Minor Power and see what could be done there. There are well over double-digit Minor Powers so having that option would be really cool to play. This was one of my favorite aspects of Victoria 3 of being able to fight against all odds to take on a Major Power as a Minor Power. Given the high levels of tech between each power, this would have been interesting to see how it could have worked out in Star Trek: Infinite.
Every empire is made up of leaders. These leaders are broken into groups which consist of scientists, spies, generals, admirals, and governors. Each of these has a cap that, with some research or unlocks, can increase, but unfortunately, not by much. These caps are very low and feel off at times. Each faction may have extra leader in an area or two depending on their playstyle, but all are roughly the same.
Scientists are needed for both researching new technologies and exploring/surveying new systems. It takes at least three scientists to research, and thus the rest are used for science ships to explore. Players usually can only have around six to seven scientists, and thus exploring the galaxy is a long and tedious process that can take a good portion of the game. In a game that is a race of exploring to meet new Powers, it can be very limiting.
While the scientists are one thing, it is weirder when you have amassed a large fleet and have a hard cap of two Admirals. I am not sure if there is a correct number on leader size, but as empires expand and players move out of the early game, it feels like that aspect does not really keep up with the rest of the game. Having double-digit fleets, colonies, and armies, all interacting with dozens of minor powers at a single time if feels off to only have a few generals, admirals, spies, and governors to help the empire.
Part of the grand strategy experience for Star Trek: Infinite is expanding and developing your empire. A big part of that is researching new technologies. There are three different branches of science for research: Physics, Society, and Engineer. Research is by far the worst part of Star Trek: Infinite. This is due to the general lack of available menu and UI knowledge and the way it is implemented. Research is determined strictly by RNG, as in you pick one of three available options every time, and that it is.
There is no way to reroll or change this outcome, and can lead to some really annoying situations, especially in the early game as you are trying to build up your empire and economy. If you are lacking a specific resource, not being able to research buildings that help collect that resource can set a player back and fall behind, and then getting it later in the game can lead to it being almost meaningless. This can be applied to various other parts of the game, including upgrading and/or modifying space stations. There was a point where I had researched Advanced Terraforming, but it did not matter as I had not had the opportunity to research regular Terraforming.
The other major issue is there is no research tree or source of information that players can look at to see what are the available research technologies. All that is available is seeing what was researched in a convoluted list. There were times when I felt like I had researched something multiple times, and I wasn't sure as didn't feel like scrolling through three sets of research lists. Giving players either the option to have more control over what they research or just a more cohesive menu to see both available research technologies and past researched technologies would really help alleviate some of these issues.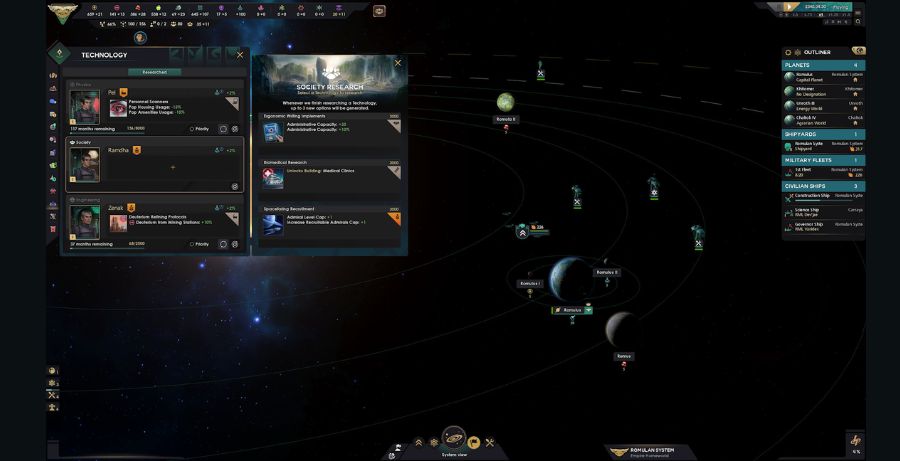 This lack of menus and overall explanation really also comes into play heavily with starship design. Players can build a range of starships to defend their empire and, even more so, can design their own. However, Star Trek: Infinite doesn't do a good job explaining what goes into making a good starship, and the process can be very tedious that it is better to just "auto-best" your starships instead of spending countless time attempting to learn what each component does or what ship class the different starships are or even why you should switch out parts. It turns what could be a fun additional component into a needlessly complex system that requires way more time than should take.
As this is a grand strategy management game having to pause to read each new starship part and see if it is better or worse and how it is better or worse is just a needless thing that could be better by having usual upgrades instead. Having a variety of ships already makes fleet management more tedious than it should be, and that doesn't include ground units, especially when there is no patrol option for fleets, thus needing to micromanage anyone coming close to your systems at all times.
These systems do have some flaws on their own, but overall the main issue is that while there is a tutorial and Paradox Interactive's "Tooltip" system available, the game still lacks quite a bit of explanation and general information. This becomes very apparent if this is the first Star Trek experience for a player as they won't know exactly what items, minerals, etc. mean. Paradox usually does a fantastic job in this department with their games and giving players some version of a built-in Wikipedia so it was disappointing to learn that wasn't the case for Star Trek: Infinite, especially given how much lore and story is involved within the game.
Overall, Star Trek: Infinite gives players plenty to enjoy and Star Trek fans plenty to adore. This may be a streamlined Stellaris however, that doesn't make the systems bad. There are parts that can be rough around the edges, but there is so much to enjoy about Star Trek: Infinite, that they get mostly smoothed out. Between the exploration, empire management, faction playstyles, and especially story components, there is quite a bit of replayability.
This game is made for Star Trek fans through and through. From the well-crafted story elements to the small random easter egg events, there is something for those with various entry points into the fandom. We know that, much like other Paradox Interactive games, more updates and content are coming down the line. Star Trek: Infinite is a game you can enjoy without Star Trek, but it is a game that you will love if you know Star Trek.
Star Trek: Infinite will launch on October 12, 2023, and will be available on PC.
Star Trek: Infinite
TL;DR
This game is made for Star Trek fans through and through. From the well-crafted story elements to the small random easter egg events, there is something for those with various entry points into the fandom.