Star Trek has meant so many things to people throughout the past 57 years since its inception with the original series. It's a franchise that inspires many to be better and do good, as its creator Gene Roddenberry intended. His son, Rod Roddenberry, and Trevor Roth are the CEO and COO, respectively, of Roddenberry Entertainment, continuing the legacy of Gene Roddenberry in producing all the various Star Trek shows we enjoy today.
Not only does Rod Roddenberry head up Roddenberry Entertainment, but he is also the founder of the Roddenberry Foundation, which supports a variety of NGOs, organizations, and individuals working to address immigrant detention, voting rights, healthcare, domestic abuse, and a variety of other issues. With the Roddenberry Foundation, Rod Roddenberry seeks to impart Star Trek's ideals of equity for all on a practical level. Both Roddenberry and Trevor Roth were at SDCC 2023, where we discussed the process of producing Star Trek, why the franchise endures so much, what it means to them, and much more.
This interview has been edited for length and clarity.
BUT WHY THO: Why do you think Star Trek remains so enduring today?
Rod Roddenberry: I think it remains so enduring today because it's not just entertainment. As we all know, and I'm sure I'm preaching to the choir here, it says something about society for 57 years now, whether it was the Original Series talking about social issues or even today's shows talking about or bringing up social issues.
These are relevant topics that are sort of plastered in all our minds. And it's great to have a show that not only talks about them but provides different points of view, allowing us to maybe glimpse a point of view we don't normally consider. I think that is one of the biggest strengths of Star Trek, and I think that is what has kept it relevant and important and at the forefront of most sci-fi fans' minds.
Trevor Roth: Yeah, I mean, I think that Rod handled much of what I would consider this sort of emotional and psychological part of the answer. I think for me, one other thing I can add to that is what is sort of like an analysis over the years that we have done about Star Trek, understanding franchises in general, and why this one specifically has lasted so long, and I think that in creating a world in which you have the flexibility and diversity possibility of speaking to layers upon layers of issues, adventures, situations, it allows it to transcend a time period, allow[ing] it to be viable as an entertainment property and more for generations and decades.
And I think that Star Trek was created by Gene to have that flexibility and the ability to be so many things that it can handle the change of time and the change of years that have gone on. I think that, from almost a writer's standpoint, if you will, and a creation standpoint, is what allows it to be around today and to have been meaningful for people all these years.
BUT WHY THO: Yeah, absolutely. So Rod, for you. What has it been like to be more involved in Trek as an executive producer since 2016? And for both of you, what are some things that surprised you about the actual work of making Star Trek?
Rod Roddenberry: It's been great. But I mean, to be honest, it's a blessing and a curse. For me. And the reason I say curse is because of the personal nature of Star Trek. It is very hard for me to sometimes be objective and see it from all different points of view. Like anyone, like any fan. I am a fan of the show. I'm more of a fan of the concept, and I have my own views of what I want and think it should be. And while it's always an approximation of what I think it should be, sometimes I think it deviates, and again, I have to step back and realize that Star Trek has always deviated in some respect. And there isn't just one version of Star Trek, and even if I think it isn't holding up necessarily, whether it's a particular episode storyline, whatever the case may be. Star Trek has done that forever, and it still is Star Trek.
So I think it's an incredible learning experience. It's a bit of a struggle sometimes. But every now and then, when I have an opportunity to either talk to Trevor or step away from it or talk to someone else, or even talk to a fan who perhaps likes a series or an episode or something that I may not, and they share why I get to sit back and go, "Huh, all right. I didn't think of it that way." And that's one of the great things about Star Trek, that hopefully every episode, or I think when Star Trek is at its best, it's making you say, "I never thought of that." That way. So I love it. And I won't say ever hate it. But sometimes, it is a struggle.
BUT WHY THO: I totally get that in terms of having different perspectives. I have friends who love things that I don't necessarily love. They even dislike things that I love in Star Trek. So I definitely feel that.
Trevor Roth: I mean, I think the easiest answer is it's a privilege, and I that with anything worthwhile is hard to do, or whatever that saying is. Star Trek is based on the idea that different ideas, different agendas, and different vantage points coming together will equal the strongest result. And I think that that is hopefully true in the making of Star Trek as much as it is in the world of Star Trek. What does all that lead to in the end? As far as the feeling for me, it's a privilege. It's an honor to continue it and to be a part of something that was not created by us but that we are now being able to have a hand in.
.
BUT WHY THO: So we mentioned different kinds of Star Trek, which has really evolved in its type of storytelling throughout the last decade or so. You have more serialized storytelling, such as Discovery, you have obviously The Next Generation, which is the classic episodic storytelling, and now you have Strange New Worlds, which is sort of like a hybrid. So how do you think those all reflect the differing tastes of audiences?
Trevor Roth: I think today's world is heavily steeped in serialized storytelling. I think that streamers and the like have obviously caused everything from changes in watching, binge-watching, and all that kind of stuff to the idea that, in truth, a lot of storytelling today is much more oriented toward movie storytelling. There's a whole story, and you kind of have to watch the entirety of it to understand. I think that with that comes a tremendous challenge for things that are based in episodic the way Star Trek was and having to figure out, well, how does this particular franchise or this particular universe orient towards that serialized look at things? Should it be as well? When you look at some shows, you start to feel a little bit more episodic so that they can tie themselves up.
So I think it is sort of to each entity its own, but I think that there is no denying that the ways that consumers and what we call viewer-centric entertainment, meaning there is a view on the other side, we have to take account for that. And in today's world, we have to take into account the fact that viewers are wanting and enjoying certain kinds of watching that we then have to see if we're going to fit within or decide not to, and I think that's a challenge but a good challenge to have and something that's interesting to tackle when you come to the world of Star Trek.
Rod Roddenberry: Yeah, no, I want to say what he said and truthfully. I have no idea. The landscape's changing so fast, and there is no up or down anymore. I mean, whether an episode is 42 minutes, or three and a half or an hour, or 25. Yeah, I can't keep up with it.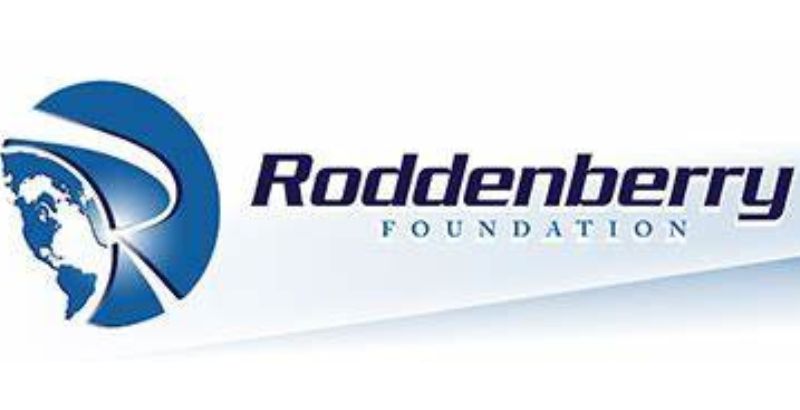 BUT WHY THO: And then you have animated series like Star Trek: Prodigy, which I'm a huge fan of.
Rod Roddenberry: Yeah, Prodigy is phenomenal.
BUT WHY THO: Changing gears a bit. Rod, can you talk about some of your work with the Roddenberry Foundation, especially recent work that you're most proud of?
Rod Roddenberry: I guess everything's in a constant state of evolution. It came from Star Trek. It came from Star Trek in the sense that this idea of a better future. I don't mean to say it's so blasé, but we really wanted to [do this]. There's entertainment out there that hopefully is inspiring people to want and work for a better future. We now, with our foundation, wanted to find the individuals and institutions, and organizations out there that are actively trying to make that happen and aren't doing so with band-aid solutions but are doing the long haul. Not necessarily treating the illness but finding cures for it. And I use the word illness just as a metaphor for any situation. And still, today, learning how immense and hard and difficult that is and as much money as people might throw at things.
It does take money. But it doesn't only take money. It's important to work with people that are out there already doing things, and one thing that I'm really proud of about our foundation is that we work with other foundations. There are a lot of foundations that are working for, let's just use a terrible example, but homelessness, but they're all different, and they're in there. So they're alone doing it and not looking at the other organizations. And if they can group together and work together, they can have more of an impact.
And we're also trying to work together with organizations whether it's food insecurity, or whatever the case may be, we try to find organizations that are effective at doing it and then saying, "What can we bring to the table? How can we amplify this and make it better?" We have a number of great programs, and we're trying to sort of change or evolve the landscape of philanthropy in a way where it's not just giving money. It's finding key figures in that or organizations that are working towards that change. Money is a part, so we contribute what we can, but it's really finding people who are the best actors to make a solid impact.
---
---
BUT WHY THO: It's such fantastic work. Bravo to you all. So, the elephant in the room, we are in a Writers and Actors Strike, and none of Star Trek exists without the incredible work that actors and writers put in. So if I may ask you both. Is there anything you can say or comment about the strike and how you hope it may be resolved?
Trevor Roth: Yeah, I mean, there's a lot not to be spoken, but I would say that with the advent of streaming, a while back, I think there was cause for everyone involved to refigure out the situation, and it just never happened. So I think, in truth, these strikes are hopefully creating a course correction for all of the different entities involved. That is probably something that could, maybe even should, have been figured out a long time ago. It is our hope that it does come to a resolution, of course, but I think that at the end of the day. "When you take a very big step back, you kind of wonder, "Oh, is this the natural course of what needed to happen?" For all entities to kind of relook at the way things are working now in the new environment and say, "Oh, I don't think they can work the way things used to work." So I think that for us, that is something that we are dealing with and something that is most assuredly impacting us and others, and hopefully, we can find our way through it soon.
Rod Roddenberry: I agree with Trevor.
BUT WHY THO: One last question. I sort of asked you this at the beginning, but personally, for both of you, what does Star Trek mean to you?
Trevor Roth: Star Trek, to me, means cooperation. It means togetherness. It means welcoming. It means a variety of thoughts, people, and diversity, contributing to the strength.
Rod Roddenberry: Wow. Hard to follow that one up! I think Star Trek's greatest strength, on what we need it to do most now, and this is a lot easier to say than to do, is to be able to receive different ideas or ideas that are opposite of yours and not be fearful of them right off but try to understand them. When someone is completely polar opposite of you or your beliefs. So many of us, myself included, our instinct is to be fearful and react and throw up our fists and say, "What an idiot!" or whatever the case is. Hopefully, it can allow us to do less of that.
And I guess try to understand more and understand that perhaps that person simply has a different lifestyle and comes from a different place in my life and is having a bad day. I just want to be more accepting. I mean, we're also critical of each other right now. Whether it's on social media or in everyday life. Again, standing on my soapbox here, it's easy to say hard to do. Because I do it every day when I think of certain politicians or whatever. I say what an idiot, but it's nice to step back and say, "Wait a second. Maybe there's more to it."
---
As Star Trek continues to evolve with its audience, in terms of both addressing systemic issues and our viewing habits, there will certainly be more changes to come. But the fundamentals of the franchise will always remain, as showcased by the work Roddenberry, Roth, and their company is doing in conjunction with other Star Trek producers. Hopefully, once a fair deal with made with the SAG-AFTRA and WGA, an even fairer model of production can commence for this franchise based on ideals of justice and equity.