Star Trek is a franchise that has come to define and redefine storytelling in science fiction. While the franchise has been adapted into video games before, Nimble Giant Entertainment's Star Trek: Infinite marks its first time becoming a grand strategy game. Built with inspiration from Stellaris, Star Trek: Infinite bridges narrative and grand strategy by creating a world where players can experience key moments of the franchise from different parts of the franchise.
Developed by Nimble Giant Entertainment and Published by Paradox Interactive, this grand strategy tasks players with playing as the Federation, Cardassians, Romulans, or the Klingons as they explore, trade, fight, and become more dependent on the characteristics of the civilizations they're playing, all while meeting and forming a relationship with a robust number of minor powers. We got the chance to talk with Andrés Ricardo Chamarra, Tech Director at Nimble Giant Entertainment, about the development, his and the dev team's deep love of Star Trek, and what they want players to take away from their time with the game.
This interview has been edited for length and clarity.
---
BUT WHY THO: Reading some of the dev logs and seeing the way that Star Trek Infinite built on the base of Stellaris but with really streamlined elements, there is also a wonderful adaptation of Star Trek happening in the game as well, like really large canon events. How did you bridge the gap between detailed strategy gameplay and making sure that you're adapting large narrative beats into it at the same time?
ANDRÉS RICARDO CHAMARRA: Well, for starters, a lot of people in the Stellaris team are Trekkies, and that has shown since their first release. So there's a lot of inspiration already in Stellaris from Star Trek. You can see some hints added in the in the game, actually. [That game] was sort of our starting point but our mission was to make a Star Trek game. We started thinking: well, how does this [game mechanic] fit with this [story piece] that you see in Deep Space Nine? How do these characters interact?
BUT WHY THO: In any strategy game, you pick an empire or you pick an organization to play as, and usually, that can guide your strategy in the way you play. But there is another component in Star Trek: Infinite, which is the story progression. I completely forgot that I should have kept the Cardassians from taking Balor until I checked the Story missions, just a little too late. How did you balance the player choice and how they strategize with story fidelity in how Star Trek is integrated into the game?
ANDRÉS RICARDO CHAMARRA: The narrative events take measure of what is happening in the game. They don't force things to happen most of the time. Some things will happen, like a certain supernova explosion, for example, or invasions from the other side of the galaxy, because they are out of your control. But they push you to make strategies to prepare for that if you already know it's going to happen and how you deal with it when it happens.
BUT WHY THO: Taking that into account, how did you build mechanics around that supernova that will destroy your capital if you don't prepare?
ANDRÉS RICARDO CHAMARRA: The approach was that we know this [story element] is very important, and it should happen in some way [during the game]. So what can the player do around this idea? As the Federation, you also have the opportunity to help the Romulans. Everybody can pitch in resources to help the Romulans overcome this [impending event], and this has an impact on their diplomacy. It's not an imposition that brings limitations. Rather, it creates an opportunity for a lot of cool things to do in the game. As the Romulans, you will either learn about the supernova on your first playthrough or already know that you should be preparing for that [because you know the lore]. That might lead you to prioritize moving people around and preparing.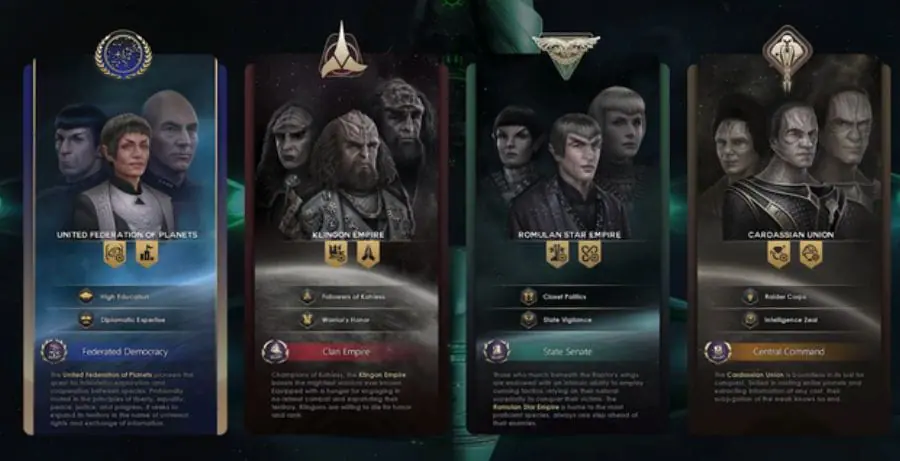 BUT WHY THO: This is a really good highlight for me as somebody who's watched Star Trek, and our reviewer who I'm playing with, who had no idea what happens when the supernova goes off. Was [Nimble Giant] worried about balancing the game between people who know Star Trek deeply and people who don't know the lore that can impact some of these external factors?
ANDRÉS RICARDO CHAMARRA: Well, it was a consideration, and we've had some discussions. We came to this conclusion. Let's say it's the first time you're playing Halo. There's a lot of story behind it, and things that are going to happen that will be a surprise, and you will learn from them. Maybe you play again, because you miss something. For somebody who doesn't know all the lore or the canon of Star Trek, this should be an experience like that. And hopefully, we can create a lot more of Trekkies in the process.
BUT WHY THO: When it came down to choosing the Empires you play as, you're allowed to play as the Federation, the Cardassian, the Romulans, and the Klingons. Why those four, especially because there are so many minor powers that you get to interact with throughout the game?
ANDRÉS RICARDO CHAMARRA: When we started thinking about it, we thought, should you start with a blank slate, like you do in Stellaris and other 4X games? Or should we start from an advanced point, with more history? We went from a historical starting point to a degree because the canon is not very specific in some things, which brought us to the idea that if we go canon, these powers will be considerably more powerful than most others in the galaxy. [At this time, the Federation, Cardassians, Romulans, and Klingons] are in a very privileged position, and playing a minor power will feel like a battle.
Also, these are the four that are more fleshed out in the canon. So you know more about them, you have a lot more ideas on the mechanics that they can spin off. So that was the reason that we focused on those four. They were also the four iconic ones in the era of the franchise that we focus on, from [The Next Generation], Deep Space Nine, and a bit of Voyager.
BUT WHY THO: The game itself ends after 300 years. So, when we're looking at Star Trek lore for this time period, what were your biggest inspirations? How did you decide [the timeline], and how did you adapt the lore to it?
ANDRÉS RICARDO CHAMARRA: At first, we discussed what to base [Star Trek: Infinite] on and there were many arguments for and against the era in Enterprise. For instance, we were trying to cover everything. Once we focus on, let's call it, the Picard era, that's a little bit before TNG and the subsequent events. By the time we started development, Discovery was still coming out—I believe it was just the first season at that point. So we didn't take a lot of a lot from that series, but the idea of the supernova is even previous to that. We watched the whole [Picard era]. From the first episode to the last one and all the movies even the Kirk-era movies. We started building from there. We chose 300 years for length because we wanted to leave some space beyond TNG's canon for more system-driven consequences to the decisions you made early on to create their own future, leading us to the Final Crisis.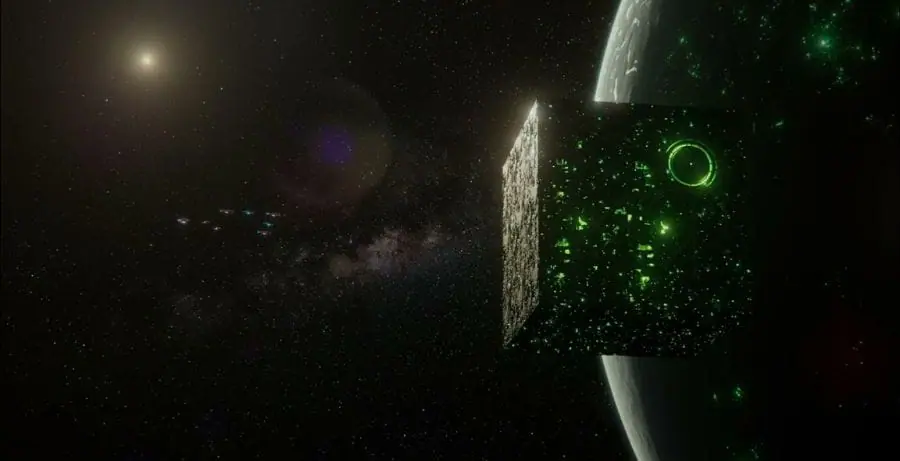 BUT WHY THO: What I love about the way the Federation is written is there is a lot of understanding about the central morals of the Primary Directive, but then it gives the player a choice to not abide by the Primary Directive. This mimics what we've seen when any of the crews across the Picard era have chosen to intervene. What went into structuring the narrative component to both highlight the goods of the Federation and also highlight the points where it's not?
ANDRÉS RICARDO CHAMARRA: Well, Picard breaks the Primary Directive more than once in the show. That's always a decision that they could take. The game will incentivize you not to, but players can. An even more important representation of the morals of the Federation is that in our game, they can't start offensive conquest wars, which in most strategy games would be pretty normal stuff. It's against their principles. [The Federation] does see themselves as protectors of the financial force of the universe so that you can get into wars that way. But you cannot go for a conquest [victory] unless you really take a turn for the dark side.
BUT WHY THO: One of the differences I noticed was the integration system. Because for the Federation, it's called "integration" to pull in other areas, but for the Romulans, they are "Puppet States." So, moving away from the Federation into the Cardassians or the Romulans, which are traditionally the "villains" of Star Trek, what went into adapting their play styles?
ANDRÉS RICARDO CHAMARRA: Well, we went back to the series to tell us about why they do the things that they do. It's not just seeing them as villains but trying to empathize or understand the others. So why are they doing what they're doing? And the mechanics are flowing from there. So, for instance, Cardassia is prone to having a full and basic resource crisis. They're not very productive that way. So they learned an aggressive exploitation approach by exploiting, although they compensate for their limitations. But you can turn that around if you want to integrate.
BUT WHY THO: Okay, so, what if people are coming into the game that are brand new to the game type? Do you think that there is an easier [civilization] to pick to start with?
ANDRÉS RICARDO CHAMARRA: The Federation would be the most vanilla one. If you find not being able to play, I guess you want to be more aggressive. The Klingons will be the second one to start with because the Cardassians are definitely the hardest to play.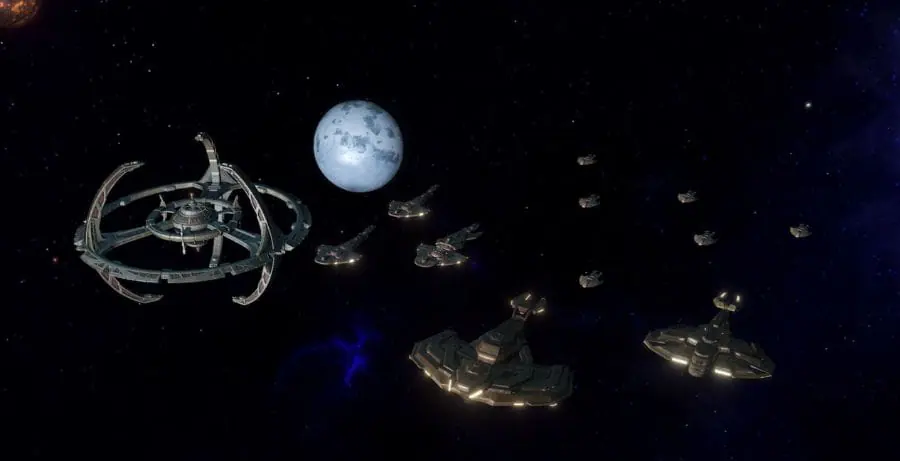 BUT WHY THO: I feel bad for not talking a lot about the Klingons because they're probably my favorite characters a lot of the time. Can you talk about building out the Klingons? You have to manage civil wars; you have to manage the complexities that come with the Klingon religion.
ANDRÉS RICARDO CHAMARRA: They are canonically the most aggressive, So we say, well, how do we make this a proper mechanic for them? Basically, they don't like being at peace, they're prone to instability, and they are at their best when they are going to war.
Going to war would mean, even if they're losing that particular war, they are gaining in aspects for their own economy in terms of stability and in terms of glory and honor. And that was the second question that we always try to ask: what are the two sides of each faction? For the Klingons, there's this inconsistency or the dichotomy between honor as an understanding of discipline and dedication and loyalty to the Empire. And on the other side, you have what I call that misinterpretation of honor into glory in battle. That's the only way to get on. And those are the two sides the Klingons are constantly fighting amongst: the glory of battle or the most peaceful kind of honor.
BUT WHY THO: What do you want existing Star Trek fans to take away from Star Trek: Infinite? And what do you want players who maybe haven't touched the franchise at all to take away?
ANDRÉS RICARDO CHAMARRA: Well, this one is the easiest, to answer. I would like to make as many Star Trek fans as possible so that I can share my love for this franchise. And on the side, for existing fans, I want to give them the opportunity to tell their own stories because, in a lot of Star Trek games, you are driven through a story that the game is telling, not your own. This game is a perfect framework to tell your own stories or perhaps be part of an immersion story being told by the combination of the systems.
---