As Star Trek: Strange New Worlds embarks on its second season, the show continues to push the boundaries of the Star Trek universe while weaving a tapestry of themes, narratives, and character moments. This season's episodic adventures have traversed a wide spectrum of genres, navigating everything from courtroom procedurals, horror, time travel, and even a musical, all while delving into the intricate dynamics of the Enterprise crew. With a blend of episodic adventures and overarching character arcs, the season has explored conflict, unity, and personal growth, while occasionally stumbling on the tightrope between different tones and narrative structures.
Strange New Worlds Season 2 is a masterclass in thematic exploration. From diplomatic endeavors gone awry to intense battles with enigmatic foes, the season examines the intricacies of conflict and cooperation. Each episode unfolds like a cosmic puzzle piece, contributing to the larger narrative while offering self-contained stories that captivate and engage. The moral dilemmas faced by the crew offer windows into their individual growth and the cohesiveness that defines them as a team. As the crew confronts new species and civilizations, viewers are treated to thought-provoking encounters highlighting the importance of understanding the unknown while testing their steadfast commitment to Starfleet values.
An impressive feat of the season is its bold attempt to tackle a myriad of genres. From heart-pounding action to poignant character-driven moments in a musical and even a light-hearted crossover with Star Trek: Lower Decks, the series demonstrates its versatility in storytelling. The infusion of humor, drama, and suspense keeps audiences on their toes, contributing to the unique tapestry that defines Star Trek: Strange New Worlds.
While many of these episodes could have easily been a gimmick, it finds their footing and offers an engaging exploration of time-travel tropes while adding depth to the season's themes. This willingness to venture into various storytelling styles adds depth and variety to the season. It pays homage to the franchise's legacy of embracing diverse narratives that keep viewers engaged and eager for what lies ahead.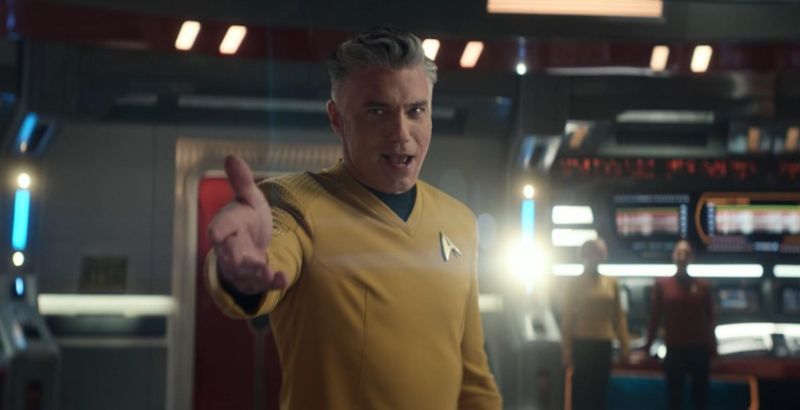 One of the standout features of Strange New Worlds Season 2 has been its departure from the episodic format of its predecessor. Strange New Worlds embraces a character arc focus rather than a singular story throughline, allowing for a deeper dive into the inner struggles and growth of each crew member. This format lends itself well to character-driven narratives, amplifying the emotional resonance of the series. It provides ample room for character growth, and we witness characters grappling with their pasts, ambitions, and emotions. However, it might work too well for some. While this approach adds depth, it occasionally leaves arcs feeling rushed, longing for more development to flesh out their impact fully.
Further, the yearning for more stems from the fact that the heart of the series lies in its characters, and Season 2 embraces this by granting each crew member moments to shine. The departure from a purely episodic format allows for exploring multi-episode character arcs, peeling back layers, and exposing vulnerabilities. Whether it's Nurse Chapel's compassion, Nyota Uhura's determination, or Spock's gradual emotional transformation, the characters' evolution enhances the emotional resonance of the show. The personal dynamics between the crew members add depth to the series, showcasing the power of unity amidst adversity. From shared laughter to poignant conversations, these connections underscore the familial bond aboard the USS Enterprise, and the actors' performances breathe life into each interaction.
The journey of Strange New Worlds Season 2 has been enriched by a stellar ensemble of actors who have breathed life into their characters with depth and authenticity, even in the musical episode. Anson Mount's portrayal of Captain Pike remains a standout, capturing the essence of a leader torn between duty, loyalty, and his inner struggles. The decision to have his character take a step back throughout much of the season allowed for Paul Wesley to shine as James T. Kirk as the series feels its natural progression to Kirk as Captain. Further, while small, Melanie Scrofano's Captain Batel is a compelling addition, showcasing strength and vulnerability in adversity.
Jess Bush's Nurse Chapel shines with compassion and resilience. At the same time, Nyota Uhura, portrayed by Celia Rose Gooding, impressively delves into the character's emotional growth giving a performance that Nichelle Nichols would be proud of. Ethan Peck's portrayal of Spock adds layers of complexity to the Vulcan character as he navigates the delicate balance between logic and emotion in ways never seen before. And Christina Chong's La'an Noonien-Singh brings a unique perspective to the crew, bridging cultures and contributing to the series' exploration of unity and self-acceptance.
A special shout has to go to Star Trek newcomer Carol Kane as Chief Engineer Pelia. Pelia emerges as an unsung hero throughout many episodes. Kane's portrayal brings a refreshing energy to the series, with Chief Engineer Pelia's ingenuity and resourcefulness driving the crew's solutions to complex problems. Her character's contributions, particularly in episodes like "Tomorrow and Tomorrow and Tomorrow," highlight her pivotal role in the crew's endeavors filling that role of Guinan in many ways with a more eccentric twist.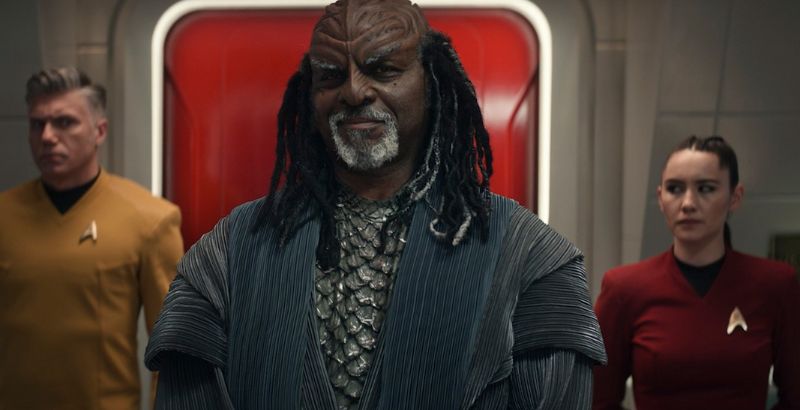 Kane's performance infuses the character with warmth and determination, making Chief Engineer Pelia a standout member of the Enterprise team. As the series continues to chart its course through uncharted space, the talented cast, including the remarkable performances of newcomers like Carol Kane, remains a guiding star, illuminating the path with their dedication and craft.
While Strange New Worlds Season 2 has brought us moments of exhilaration and emotional depth, it's not without its challenges. Deciding to focus on longer character arcs is both a blessing and a curse. On the one hand, it allows for more profound character exploration; on the other, it occasionally leaves certain arcs feeling rushed or underdeveloped. Further, the ambitious shift between genres can sometimes result in tonal inconsistencies, where the balance between lightheartedness and seriousness teeters unevenly.
Some episodes transition seamlessly, while others struggle to find the right equilibrium, leading to moments that might feel tonally disjointed. The finale's conclusion is a tantalizing cliffhanger that leaves audiences eager for more, but it also underscores the potential benefits of a lengthier season. The sense that the season's momentum is gaining traction leaves us longing for a more comprehensive exploration of character development.
As we bid farewell to Star Trek: Strange New Worlds Season 2, we're reminded of its potential and promise. The show's exploration of conflict, unity, and character growth contributes to its enduring appeal, bolstered by its willingness to experiment with narrative format and genre. The season strikes a balance between paying homage to Star Trek's legacy and forging its own path, creating a tapestry of thrilling and thought-provoking experiences. While Season 2 navigates a plethora of themes and genres, it occasionally stumbles in maintaining tonal consistency and fully realizing character arcs. However, the foundation laid by this season is solid, hinting at even greater potential in future installments.
As we look forward to what lies beyond the horizon for Captain Pike, his crew, and even James T. Kirk, we remain hopeful that Season 3 will refine the balance between episodic adventures, character development, and narrative cohesion. As we journey alongside the crew of the USS Enterprise, we're reminded that the cosmos holds endless possibilities, and with each new episode, we're invited to boldly explore them together.
Star Trek: Strange New Worlds Season 2 is streaming exclusively on Paramount+.
Star Trek: Strange New Worlds Season 2
TL;DR
As we bid farewell to Star Trek: Strange New Worlds Season 2, we're reminded of its potential and promise. The show's exploration of conflict, unity, and character growth contributes to its enduring appeal, bolstered by its willingness to experiment with narrative format and genre.