Video game-based anime is having a resurgence, and not just from the dating or visual novel genre. Adding to Netflix's Tekken offering, Onimusha, an anime based on the Capcom video game series tells a monstrous story of samurai, survival, and atonement. Set during Japan's tumultuous Warring States period, the Onimusha anime is a first for the series in its history. And who is at the helm? Well, none other than anime live-action adaptation and action master Takashi Miike as supervising director. Additionally, Shin'ya Sugai serves as director after his work on Netflix's Dragon's Dogma, and is written by Hideyuki Kurata, whose work on Made in Abyss has immediately solidified him in anime.
Animated by studio Sublimation, the series brings a unique take on Onimusha by using CG rendering and real-world likenesses in addition to 2D art. With historical supervision by Shochiku Studio and stunt coordination by Keiji Tsujii, Onimusha captures its action from all of its angles and pushes what to expect from the genre. The series also uses the likeness of iconic actor Toshihiro Mifune, and stars a voice cast featuring Akio Otsuka, Hochu Otsuka, Daiki Yamashita, Subaru Kimura, Katsuyuki Konishi, Kazuyuki Okitsu, Makoto Furukawa, Aya Yamane, Ryohei Kimura, and Toshihiko Seki.
The Onimusha anime is centered on Miyamoto Musashi, modeled after Mifune, and his journey to fight demons. Set in the early Edo Period, a time when Japan was transitioning towards peace and warfare was fading into history, an aging Musashi embarks on a covert mission armed with the mythical "Oni Gauntlet," a purple glowing soul-consuming weapon that stands to make its user more like the bloodthirsty zombie uprising he's fighting to quell over time. Musashi embarks on an epic journey to vanquish the lurking demons throughout Japan and hopes to maintain his own humanity in the process, pushing back the Oni inside him throughout.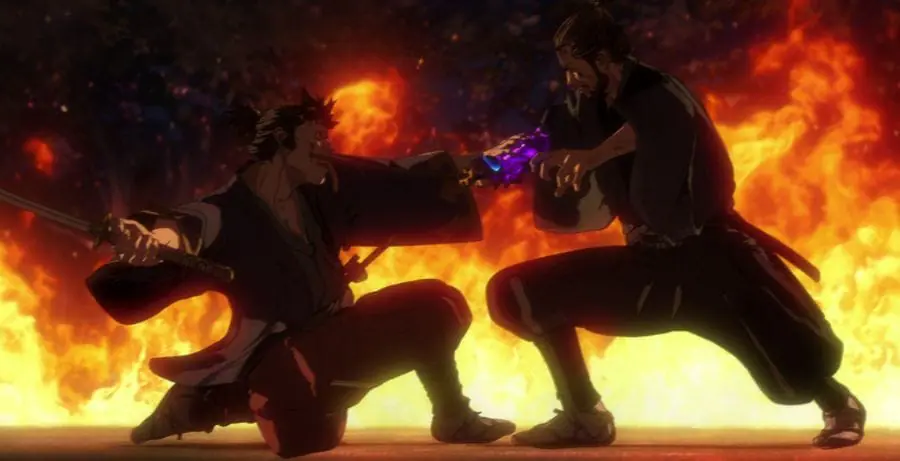 Onimusha's storytelling and adapting of video game mechanics help it succeed. It packs large punches and delivers wholeheartedly in the action department. Bloody and stacked with flashing swordplay, it's astounding. That said, while many anime have chosen to blend 3D and 2D artistic styles in their animated series, like MF Ghost and Godzilla Singular Point, or in feature films like Blue Giant and The First Slam Dunk, there are often clearly discernable reasons for the animation styles to change.
In MF Ghost, it was to capture the tactile movement of racing; in Singular Point, CG is used to capture the force and scale of kaiju in a 2D world; in Blue Giant, it was to capture the movement of jazz; and in Slam Dunk, it was to capture basketball as a sport and keep the past separate from the present. But in Onimusha, the blending of animation styles isn't executed with a clear vision, at least not enough to make the styles like two halves contemplating the whole story of the series.
Some flashbacks are 2D. Others aren't. The present is almost entirely rendered in 3D, but some enemies are completely 2D. The jump in animation style can be jarring instead of complimentary, even if both animation styles are gorgeous in their own rights. While the 3D animation movement seems slower and slightly choppy out of action and in more dramatic moments, it pays off during battle.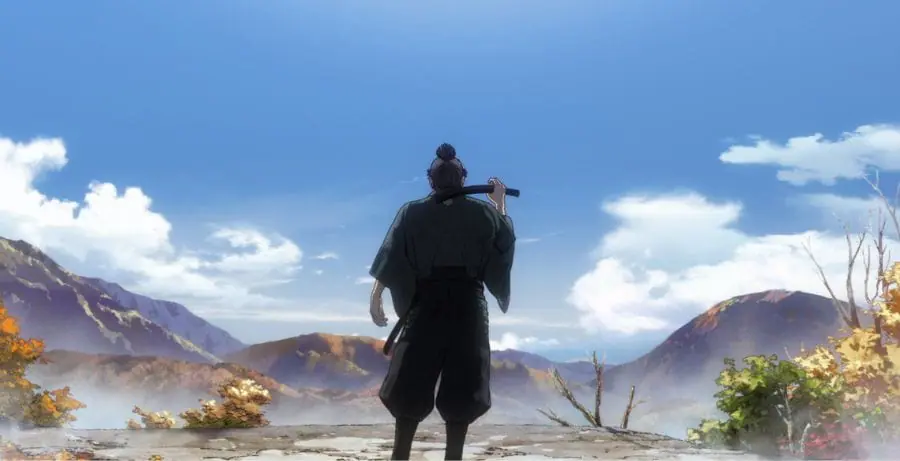 I am a huge fan of animation studios blending different aesthetics and animation techniques in one story, but it has to be done with clear narrative elements, and that's not the case in Onimusha, to its detriment. Similar in style to the upcoming Blue Eye Samurai, the series also embodies some of its shortcomings. Particularly in its use of the iconic actor Toshiro Mifune, which comes across as uncanny while, at times, the overreliance on bringing in the real world in CG can break its stride.
There are moments in the series where it feels as if those behind the screen didn't trust 2D animation, and that seems apparent in the need to use the likeness of a dead actor. While I do commend the series for attempting to bridge gaps between mediums, if a Season 2 comes, a balanced hand is needed to trust animation as a medium first. Or, at the very least, decide how and when to switch from CG to 2D animation with a clear plan like others in the genre are doing.
That said, if you're an action fan, the way that the two styles meld and particular cell shading choices that bring together a painterly quality, Onimusha will stun. In fact, the animation captures movement and violence in a way similar to a video game that immediately makes the audience nostalgic for the franchise in exactly the right way. But it's not just the violence that is wonderfully captured in animation. Onimusha also features some of the most beautiful backgrounds I've seen in an anime this Fall Season. Hand-drawn, the painterly quality, and attention to creating depth in 2D are masterful.
Onimusha is an anime that offers a stellar narrative down a well-trodden path with only odd animation choices, keeping back parts of the series that aren't action-forward. If action is what you're looking for and nostalgia for the video game has you itching for more, then this is one to watch and will hit all the right notes.
Onimusha is streaming now, exclusively on Netflix.
Onimusha
TL; DR
Onimusha is an anime that offers a stellar narrative down a well-trodden path with only odd animation choices, keeping back parts of the series that aren't action-forward.