Netflix has embraced adult animation with Castlevania: Nocturne and Captain Laserhawk this year alone. But the streamer has expanded the genres at play with Blue Eye Samurai, which bridges both historical drama and action. Animated by Blue Spirit animation studio, Blue Eye Samurai is set in 17th-century Edo-period Japan, right as the country is opening up to the "West."
The series was created by Amber Noizumi and Michael Green, who also serve as executive producers and writers on the series, whom you may for their work on Blade Runner 2049 and Logan. Erwin Stoff serves as an executive producer on the series while Jane Wu is the supervising director and producer.
Blue Eye Samurai follows Mizu (Maya Erskine), a mixed-race samurai without much honor, only rage. A master of the sword who lives a life disguised as a man to avoid prying eyes while on her quest for revenge. Hoping to quell the pain and rage in her heart by killing the four men who may be responsible for her birth and the torment of her mother, her journey is an intimate one filled with hurt.
By setting the action of the series in the Edo period, Blue Eye Samurai uses the period to strip its characters down, removing technology and focusing on skill. This works twofold. First, it works in crafting intense fight sequences that showcase a variety of weapons from 17th-century Japan, not just swords. Second, the series captures the artistry that goes into crafts, like being a swordmaker and even a courtesan or wife.
Blue Eye Samurai also uses Edo period hierarchies to construct relationships that morph and shift depending on how the characters grow to relate to their stations or have them removed. Whether it's being a princess for Akemi (Brenda Song), a guardian making up for an evil father like Seki (George Takei), becoming disgraced like Taigen (Darren Barnet), or Ringo (Masi Oka) being thrown away by the world due to his disability but still clinging to the idea of greatness. How each of the characters reacts to where society has placed them and how their places in the world are impacted by each other. Told over eight 45-minute episodes, the series does everything in its ability to embrace its setting as a way to tell a story. Edo-period Japan is as much a character as it is a narrative force.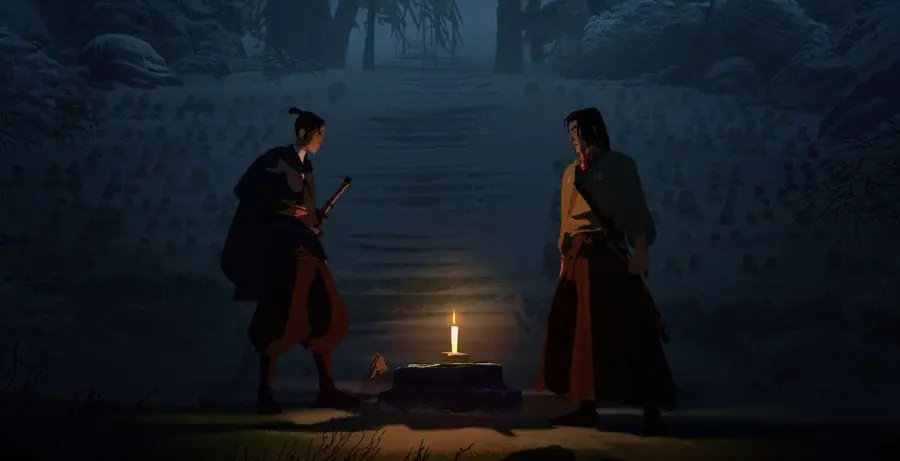 There are issues with Blue Eye Samurai, particularly its usage of popular songs that often seem out of sync with the fight choreography and present a jarring shift in tone compared to the rest of the sequence. Additionally, there are moments where there seem to be too rotoscoped, almost as if animation alone wasn't trusted enough to tell the story. While the "live-action edge" was central to the marketing of the series, it detracts from the stunning beauty and ferocity that animation offers in the story. However, this is few and far between, and both faults in the series become negligible when you look at the narrative, the characters, and, most importantly, the high-octane action we see on display.
The only pieces of the series that the series' other successes can't hide are odd voice work from Randall Park as Heiji Shindo and the series' use of sex, which is almost always done for shock, ala Game of Thrones instead of narrative purposes. While it's true that some of the other actors who lend their voice in this series don't have a ton of voice-over work experience, Park's Shindo is not removed from his own voice enough, so much so that it cuts into the scenes that should be building dread and instead feel almost comedic. The latter of the issues, however, is my largest critique of the Blue Eye Samurai. Scenes of physical intimacy that depict power or romance can be used in adult animation, like any story, to great effect. The standard bearer for adult animation in the United States, Castlevania, proved this in the last two seasons of the original series.
In Blue Eye Samurai, however, the sex scenes seem thrown in for the sake of it. As if the writers took a checklist of what makes something "adult" and added them in. The only moments outside of this are in the latter half of the final episodes of the season. One features Mizu, pulling her past into the present. The other features Akemi coming into her own power. Both moments show the women finding parts of themselves they hadn't embraced. That said, the way the series engages the act of being a madame and a woman selling her body isn't to chide it or present it as ill. Instead, the women are presented as working, living, and serving terrible men but trying to retain themselves at all costs, which becomes particularly potent with Madame Kaji (Ming-na Wen).
That said, with Akemi and Mizu, the series took me by surprise. Mizu and Akemi represent two opposite and often opposing forces. Akemi is on a path chosen for her because of her gender, and Mizu is on a path of violence while hiding her gender. How the two relate to being a woman and when they find power in it versus when they feel shackled by it, are pivotal in understanding them, and individually are handled extremely well. One princess and one demon, the two are both having to grapple with and accept their identities as a whole, accepting who they are not just the parts they want to show.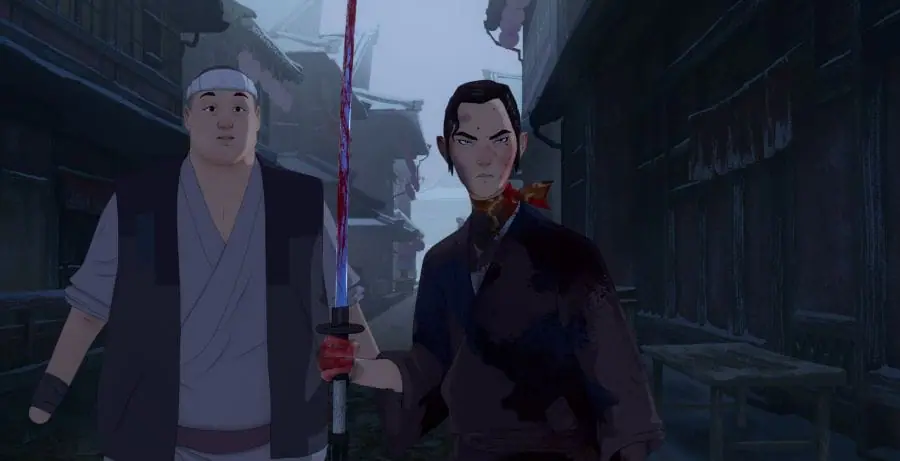 For Mizu, this means embracing her mistakes, her femininity, and disrobing herself of the burdens she's carried in her sword, in her robes, and her dishonorable approach to revenge. Akemi, on the other hand, has to accept that she has been raised to be a leader, taught in small moments throughout her childhood by her caretaker, who was both father and mother to her, she has to see the path she was put on because of her gender isn't a death sentence, but rather a moment to choose where she wants to go. The series engages with gender and how it pigeonholes women onto paths, but each woman interacts with their identity differently, is shaped by it differently, and is pushed at the will of others.
Blue Eye Samurai is able to capture potent emotional beats that build up our main cast dynamically. However, none are truly explored in the same way or as individually as you would expect. Instead, Mizu and Akemi are the two points that every other character revolves around, with the points of intersection offering the most depth for the series. This also means that the extended cast of male characters cast their shadows wide over the lives of both Akemi and Mizu. The series does well to keep them from being consumed by them. The cast is so predominantly male, and yet, the series still manages to center women and balance their complicated relationships with their identities and positions in the world, which is always the focus, yes, even in the numerous action sequences.
But while Akemi is a stellar character with a fascinating trajectory, Mizu is the heart of everything. Her pain and her rage fuel the narrative. Half-white and half-Japanese, Mizu's titular blue eyes are piercing in every animated sequence. They also mark her as something different, something not of Japan, and as a monstrous demon. Having started as a child, her ostracization and the danger she faces is deeply depressing, and watching her fall further and further into despair because of her circumstances is hard to watch.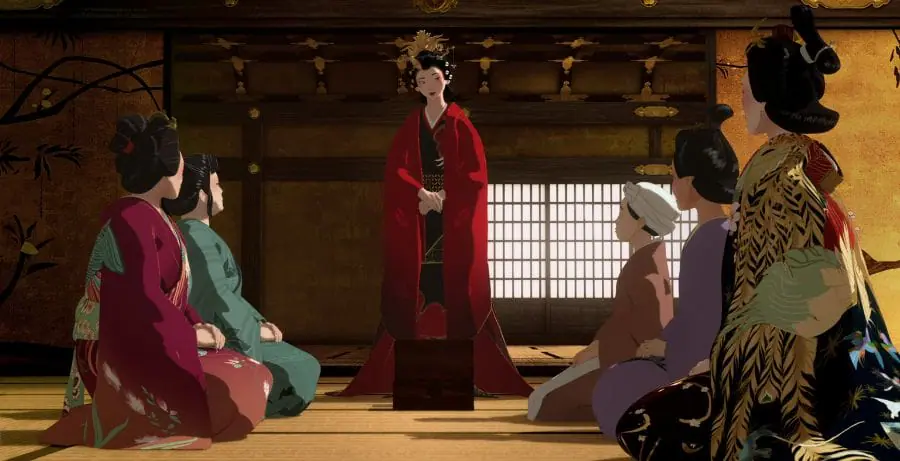 Mizu is resilient, but her resiliency brings her pain. By refusing to break, she refuses to grow stuck as that vengeful child no matter how old she grows. She is the epitome of an unlikable characters. She does not save people lest they help her in her mission to kill Abijah Fowler (Kenneth Branagh), one of the four white men on her list of revenge. She does not do anything that deters her from her promise to avenge herself and her mother.
Mizu grows stronger throughout the series because she begins to open up and cherish the relationships in her life. She is not a demon. She is in pain and traumatized. But even when the wounds begin to open up in front of the audience, her story is shown as a different kind of demon, not one defined by the violence she can commit, but rather by the violence committed against her. She is an Onriyu, and it's a development that calls on her only ability to process her rage and hurt through the violence she enacts. Mizu may not be a nuanced protagonist, but she is a complex one. She does much to make the audience and the other characters hate her. It's a choice whether you'll offer her understanding or not.
Much of the shock and grit used in Blue Eye Samurai seems to come from a focus on replicating nods to Quentin Tarantino movies, right down to feet shots. In that way, the series is at its strongest in the moments where it uses Japanese story-telling practices in its narrative, particularly in Episode 5. By using a traditional Japanese puppet performance as a framing device for the narrative, the series is able to build on the elements we've seen in the series so far.
This particular episode showcases Blue Spirit's level of artistry as they blend animation styles to present a dynamic narrative. With bunraku puppets, the series directly references the 3-feet tall puppets that the character designed were based on, using them to bring Mizu's past to the forefront of the series into shape. Not just through her childhood torment as a blue-eyed monster but how she was further pushed into being a creature of shame, to be the Onriyu.
Despite the comments about colonization and the evil technology that has allowed England to rip through countries, the series doesn't look at race in an intimate way. It doesn't really explore what it means to Mizu beyond her need for vengeance. While the series doesn't broach the subject of race as much as it broaches the idea of difference, the foundation is set for Blue Eye Samurai Season 2, if it's greenlit, to confront it more thoroughly.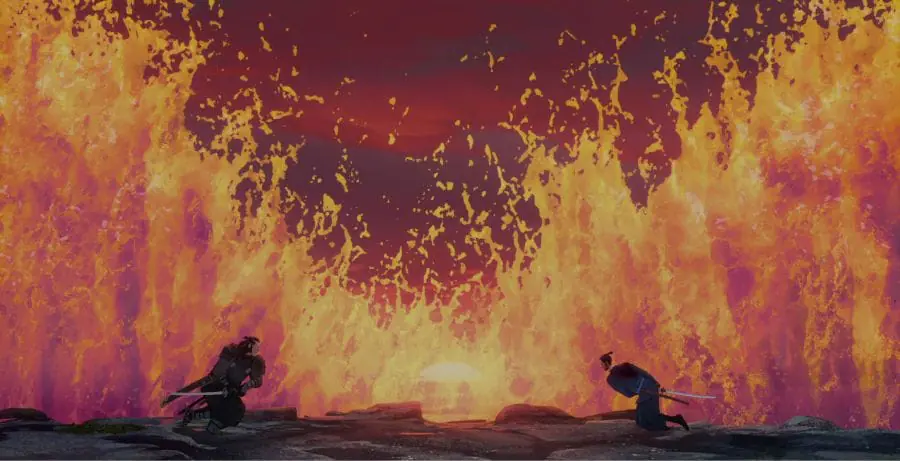 As noted, Blue Eye Samurai's largest success as a series is its action. As a viewer, the magic of the action sequences comes from the diversity of fight choreography that is brought to life. Mizu isn't just dangerous with a sword. She's also capable of using any variety of weapons, long, short, blunt, sharp, and even a butt of a gun. Mizuz is an unstoppable force whose creative violence is done in part thanks to how much smaller she is to her opponents throughout the series. By keeping her physical stature and identity clearly in mind to develop the fight sequences, the series is able to add layers to each attack. Much like John Wick in her refusal to die, Mizu is an action hero fit for any film or series, grounded by her emotions, controlled by them to an extent, and only growing stronger each time she is beaten down.
It's not just the action that highlights the strength of Blue Spirit's animation team. It's also in the landscapes and backgrounds the world of Edo Japan that we see on display. Each arena for every battle captures the emotion of the fight sequence, surrounded by fire, on the snowy plains, sharp or still, the ability to bring to life each character by carefully constructing the backgrounds is something that has to be applauded.
A hybrid of genres, Blue Eye Samurai is an unflinching look at revenge, gender, and the paths we take when we let pain be the driving force in our lives. Mizu is complicated, and so is the hazy way her traumas all interact. She has been hurt. She has caused pain, and throughout her story, she moves from a machine of violence into someone thoughtful, even if she doesn't recognize it fully. That said, if Blue Eye Samurai doesn't get greenlit for a Season 2 this story will feel hollow, and Mizu deserves more than that.
Blue Eye Samurai is streaming exclusively on Netflix now.
Blue Eye Samurai
TL;DR
A hybrid of genres, Blue Eye Samurai is an unflinching look at revenge, gender, and the paths we take when we let pain be the driving force in our lives. Mizu is complicated, and so is the hazy way her traumas all interact.