Reading Time:
6
minutes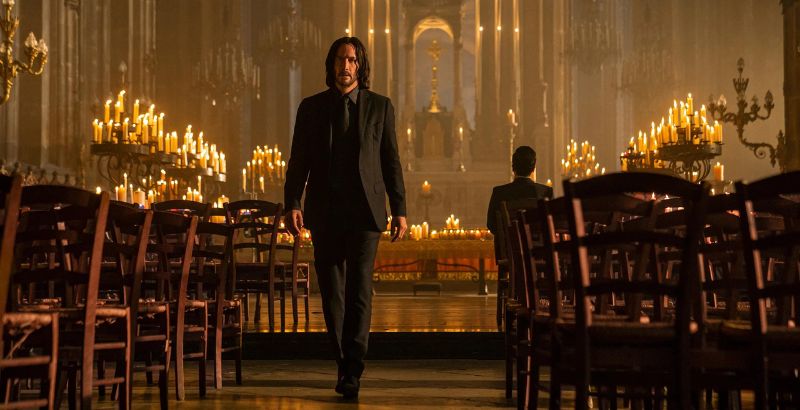 Action is a genre as beautiful as it is brutal. Between the bone-crunching hits and echoing gunshots, an action-forward script tells a story with more than dialogue. For the past three entries in the John Wick franchise, director Chad Stahelski and star Keanu Reeves have defined this generation of American action cinema and with John Wick 4, they do it again. Not with a whimper but a bullet through the brain.
Written by Shay Hatten and Michael Finch, the premise of this entry into the already iconic franchise is simple: John Wick kills people…a lot of people, and he does it because his singular goal is to kill those sitting at the Table and is responsible for his ex-communication. When the Marquis rises up with the backing of the High Table, John has to fight through a new foe with unlimited resources and the promise that if he kills him, it's done for good. Simple and to the point, John Wick 4 is fast-paced in its action and lean in its narrative, leaning completely on its cast in a spectacular way.
Good action directors trust their actors implicitly to perform with every part of their being. They give them tough fight choreography that crafts a spectacle but trust them to sell the emotions that the scenes call for. Vulnerability, exhaustion, rage, solace, Reeves's Wick embodies it all and more despite his few lines of dialogue.
Instead, Reeves paints a picture of the man behind Baba Yaga with his walk, the way his head looks down, the wounds he carries after a battle, and the exacerbated slump after every major fight sequence. Keanu Reeves acts from his core, and we see it in every hit, every gunshot, and every close-up of his face. This is also translated to other characters in the film.
Each and every addition to the cast endears the audience through their initial mystery only to reveal key features of who they are as they fight. While Rina Sawayama's Akira and Hiroyuki Sanada's Shimazu are fantastic, the former of which I can't wait to see more of, it's Donnie Yen and Shamier Anderson who keep you engaged as Caine and the Tracker, who introduces himself as Nobody.
For Yen's part, Caine is eccentric, humorous, and fights with respect. Keeping some foes alive while eviscerating others, Caine has his own code, which the audience dissects as we see him fight his way through mobs. Additionally, as a blind fighter, Stahelski has chosen clever ways that show his ingenuity, like sensors or just simply feeling out the space.
At the same time, we see moments where his blindness trips him up, whether it's knowing where someone is, or shooting off into the distance. But most importantly, Caine is John's friend, and even as they get brutal, you feel that throughout every altercation. Caine doesn't fight with ease even though he brings most of the film's humor. He carries a burden whether it's fighting John or his first fight with Sanada's Shimazu. That weight is what translates to the character just as much as his fast combat skills.
On the other side, there is Nobody, a random hunter who comes into the picture with a price in his mind that John and the audience aren't even sure of. Mysterious throughout, Nobody offers up a grounded element to the film and moments of relief for John as he interrupts near-death moments for our hero. His size and brawler ability, coupled with his marksmanship, make him formidable and the perfect solution for when the narrative pulls John tight into a corner.
But most importantly, Shamier Anderson bodies this action role with such force that I would be first in line to see any future action outing he headlines. Add in his bond with his dog (truly the best part of any character introduced), and well, he's the perfect addition to an already stacked franchise.
---
---
Finally, there is the Marquis (Bill Skarsgård). The new big bad who, instead of doing the High Table's bidding, is out for his own ambition. He's intimidating, odd, and focused on himself in the most narcissistic of ways. With the best costume design in the entire franchise, thanks to glittering three-piece suits tailored for his frame to perfection, his dapper appearance belies a wicked personality. Charismatic and eccentric (like many of the characters in the franchise), Skarsgård is incredible.
With a rousing score, suits tailored for the gods, and action sets that are curated and beautiful as they are immersive, there is not a single thing that John Wick 4 doesn't excel at. Every piece of this action spectacle was meticulously planned and placed to showcase the best of what the genre can offer audiences. Opulence. Grit. And fulfillment. Again and again, Stahelski has shown his appreciation for the action icons of the past in his set design and fight choreography, but while this is no different, he clearly defines his own voice.
In one of the best shootouts I have ever seen onscreen, Stahelski pulls the camera out, looking into a dilapidated building from the top down. You see where the walls outline each room, obscuring your vision. You see John use corners to his advantage, especially bullets ignite the scenery, and you're treated to a shot that brings a top-down arcade shoot 'em up to life. It's immersive, grand, and a simple trick that takes a keen eye. It is easily the best video game concept ever put on screen. That is only one of many tremendous moments of camerawork, the others which I'll let you see for yourself.
I can keep writing about the beauty of John Wick 4, and I want to. It's a masterpiece of the action genre that doesn't shy away from any trope or any humor while still packing solid emotional punches throughout. It's about creating a grand event. It's loud and brash and yet pulled in tightly on why we, the audience, have fallen so deeply in love with the titular character. There are many action films in this world, but none like this. 
Truthfully, however, Stahelski's largest achievement is that he trusts us. He trusts you, sitting in your seat, leaning into the film, to understand the world that he is sprawling out in front of you. Whether it's the two excellently crafted additions to the High Table's hand, the Marquis and the Harbinger (Clancy Brown), or the larger concepts about entering the world after you've been excommunicated, the lore that is woven throughout the story isn't over-explained. In fact, I would argue it's never explained; it's just shown. Stahlesky throws you into his world and trusts that you're intelligent enough to connect the dots, weigh the stakes, and understand the importance of John's success and what's at risk if he fails.
As we stack the tower of reasons why John Wick 4 succeeds higher, the implicit humor of the film has to be called out. It's expertly timed, situationally perfect, and each actor plays themselves into the absurdity of the genre to levels that exceed anything in the series thus far or what's usually brought to American action films. One-word moments, nut-crunching attacks, or the perfectly timed bad guy set ablaze, it all comes together to illicit laughs as much as "oh shits" from the audience. Keeping the violence in sync with the comedy of the body is no easy feat, but it's always met here.
With John Wick 4, Chad Stahelski has once again defined the action genre for Hollywood and beyond. John Wick 4 isn't just the best of the franchise but the best that American action cinema has put forward. It's one of the best new additions to the genre in recent memory. Action is an art, and this film showcases the storytelling and grandeur an action-first script can bring to cinema, and I hope this train never stops.
John Wick 4 is playing in theaters nationwide on March 24, 2023.
John Wick 4
TL;DR
With John Wick 4, Chad Stahelski has once again defined the action genre for Hollywood and beyond. John Wick 4 isn't just the best of the franchise but the best that American action cinema has put forward. It's one of the best new additions to the genre in recent memory. Action is an art, and this film showcases the storytelling and grandeur an action-first script can bring to cinema, and I hope this train never stops.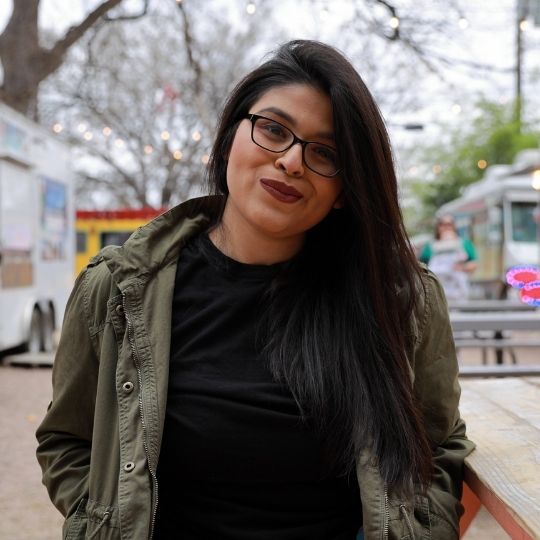 Kate Sánchez is the Founder and Editor-in-Chief of But Why Tho? A Geek Community. There, she coordinates film, television, anime, and manga coverage. Kate is also a freelance journalist writing features on video games, anime, and film. Her focus as a critic is championing animation and international films and television series for inclusion in awards cycles.