Reading Time:
4
minutes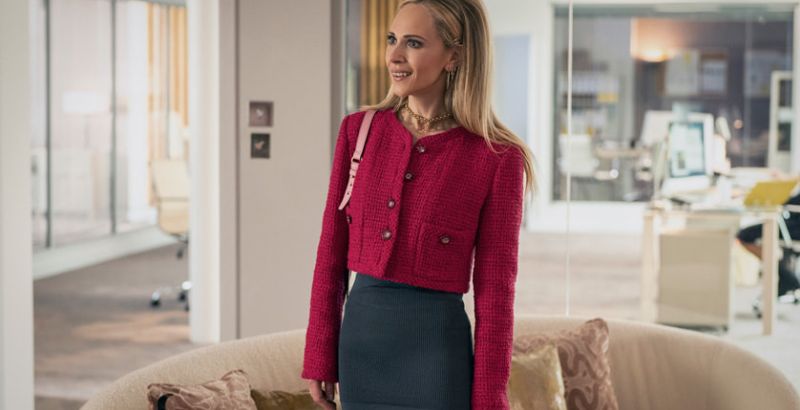 Ted Lasso endures some growing pains in season 3 episode 2. While still off to a more assured start than season two, it's paced still as a larger setup for the rest of the season to come, slotting pieces into place. This makes it and the premiere episode feel like a two-hour opener as we're reintroduced to Ted (Jason Sudeikis,) the players, and management in episode one, while episode two introduces character-specific angles and storylines that will continue into the third season. 
There are some good bits and the comedy is dialed all the way up for some big laughs, but it's not the series operating at the highest quality. The main drama in Ted Lasso Season 2 Episode 2 comes in the form of Zava (Maximilian Osinski,) an enormously talented player yet an undeniable attention seeker. He's looking for a new team to play for and AFC Richmond is trying to appeal to him before Rupert (Anthony Head) can lure him to West Ham. 
The B storyline involves the reintroduction of Trent Crimm (James Lance) who arrives to shake up the social hierarchy by announcing his plans to write a book about the team. Despite being approved to do so and to sit in on practices and speak with players, Roy (Brett Goldstein) is adamantly against it, threatening the team to keep quiet around the reporter. In Ted Lasso fashion this is resolved by the end of the episode when Roy reveals a history with journalism to Trent from which his hostility stems.
It's one of two wonderful moments for Goldstein this week who, despite operating at full shout for much of the episode, is given one of the quieter, introspective moments of the season so far. At the end of the episode, he speaks with Ted and Trent about the devastating shelf life of a career athlete and the pain of deciding whether to end on a physical high note or to play until they can't any longer. The subtlety in the scene is sublime, especially in contrast with some of the more heightened elements of the episode. Notably, the locker room sequences remain a highlight. After sharing an unwanted heart-to-heart with Jamie (Phil Dunster, killing it in brief beats in the past two episodes,) the rest of team Richmond becomes aware of Roy and Keeley's breakup. 
The scene that follows is precision in comedy excellence. Yes, the characters' responses to the split err on the side of cartoonish, but the players have always been larger than life. It also sets up for one of the funniest scene breakdowns of the series thus far, between Will (Charlie Hiscock) not knowing what a CD is and Ted's dismay, to Beard (Brendan Hunt) ignoring the key Ted passes him on account of having his own to the former's apartment to grab his breakup CD, to their group outrage, Beard's in particular, when they realize what happened.
The most egregious issue of the latest season so far is made all the more clear in episode two. Keeley (Juno Temple) has been a beloved character from the start, one with greater depths and insight than she might've been given on a different show. So it's no wonder the series and its writers have wanted to give her a success story of her own, outside of romance, and, in and of itself, that's completely fine. We want to see her triumphant. The problem isn't so much the unrealistic level of success she achieves on short notice. If that were an issue, we should be talking more about how Ted still doesn't understand the fundamentals of the sport he coaches. It's more about how the writers choose to validate that upward trajectory. There were liberties taken in moving Keeley from point A to point B, but now that she's the boss of her own PR company, we want to see her continue that upward momentum. 
There's a difference between showing the wear and tear of this type of fast-paced career in the premiere, where she sobs to Rebecca (Hannah Waddingham) about not having time to cry, and the character making foolish decisions and the show having to bend over backward to justify them. Stressed, still learning the ropes, and hoping her office can develop fun camaraderie? Absolutely understandable and defensible, especially with who the character is and what we know of her. Hiring her friend, Shandy (Ambreen Razia,) a model with no prior experience in the field after seeing her once after what seems to be many moons apart? The plausibility is stretched thin.
It's a continued shame that how the writers continue to try and deepen their female characters or, in Rebecca's case, course correct, come in the form of shallow writing. There's no pushback on this side of things regarding Rebecca's character being distanced from season two's romance between her and Sam (Toheeb Jimoh) but to have her so hung up in her competitiveness with Rupert is little more than a regression. A greater shame too, since Waddingham is phenomenal in the sequence where she explains to Keeley his ability to love bomb, how he managed to first woo her by being unrelenting as well as charismatic, and how that ended up working on recruiting Zava as well. 
That said, however, of the four episodes critics were privy to see before the premiere, episode two is easily its weakest link and some of the bigger missteps began to also adjust themselves moving forward. While the idea of having a narcissistic and out-of-touch footballer join Richmond seems a touch done, it also opens up the team and its players for a new dynamic on and off the pitch. It also gives Rebecca a well-deserved and earned win. 
Ted Lasso Season 3 Episode 2 might not be the show at its very best, but some moments shine through. In particular, Goldstein and the ensemble cast of footballers shine in moments of emotional depth as well as hilarity. 
Ted Lasso Season 3 Episode 2 is streaming now on Apple TV+.
Ted Lasso Season 3 Episode 2
TL;DR
Ted Lasso Season 3 Episode 2 might not be the show at its very best, but some moments shine through. In particular, Goldstein and the ensemble cast of footballers shine in moments of emotional depth as well as hilarity. 
Allyson Johnson is co-founder and Editor-in-Chief of InBetweenDrafts. Former Editor-in-Chief at TheYoungFolks, she is a member of the Boston Society of Film Critics and the Boston Online Film Critics Association. Her writing has also appeared at CambridgeDay, ThePlaylist, Pajiba, VagueVisages, RogerEbert, TheBostonGlobe, Inverse, Bustle, her Substack, and every scrap of paper within her reach.