Reading Time:
4
minutes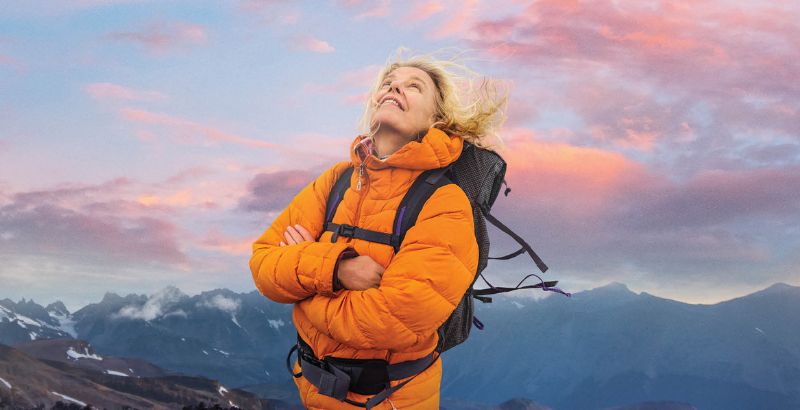 Wild Life had its world premiere at the 2023 SXSW Film & TV Festival. The National Geographic documentary follows the life of conservationist Kris Tompkins and her love of not only protecting nature but the love of her deceased husband, Doug Tompkins. First and foremost, Wild Life is such a beautiful film. If you have ever seen any of Chai Vasarhelyi and Jimmy Chin's other works, then you should know that their directorial vision and eye for cinematography are unbelievable, and Wild Life is no different. Their ability to film the already gorgeous landscapes in Chile and Argentina is only topped by their ability to capture the environment of these countries as dynamic spaces instead of just beautiful images on the screen. This helps the directing duo set the stage for the audience to understand why the Thompkins were dedicated to preserving the land.
Kris and Doug Tompkins lived a wild life, pun intended, that involved pioneering some of the largest outdoor brands, such as The North Face and Patagonia, falling in love later in life, and choosing to give it all up to create National Parks all across Chile and Argentina. Wild Life really showcases Chai Vasarheyli and Jimmy Chin's filmmaking abilities through highlighting Kris and Doug's adventures individually as well as their love story together and Kris's journey post-Doug.
Sure, conservation is a large part of the documentary, but, the true center is Kris's story. The highs and lows of everything she has gone through both before Doug, with Doug, and after him. It's here where Wild Life exceeded all my expectations. It doesn't just tell the audience of how a National Park was made, and land was saved. It tells a vibrant love story of two people and their passion for not only each other but for their work too.
Wild Life artfully chronicles the challenges Kris and Doug faced both on a personal level and societal level. The film shows how both of them were able to prosper from the means of destruction of the environment (by running multi-million dollar companies) to realize what their roles at these companies were doing and how they could use their wealth to save the land they cared for so much. But it's that part that the film explores in great detail. Together, the two begin to buy land in Chile and Argentina, with the intent to preserve the parcels of land from mining industries and development. Wild Life takes the time to outline the difficulties that come with their good intentions like government intervention, the Chilean people and news outlets, and the largest issue, being from America after the United States had destabilized Chile, a fact that the film doesn't shy away from.
Looking at this from an outside perspective or even a Chilean perspective, Kris and Doug look like two rich Americans coming and buying land, which doesn't leave a good taste in anyone's mouth. That said, the directors' ability to not only tell but show us how much passion and respect Kris and Doug had for not only the land they were trying to save, but the people that lived on the land helps the audience understand the duo's impact on Chilean conservation efforts in a holistic way.
That said, there are plenty of larger conversations to be had about this topic. While I do think Wild Life does glance over some of these issues, such as whether we are supposed to hope the rich decide to save the environment or if it matters that they try to "save" South America if they don't do anything about the large waste producing countries like the United States where everyone in this documentary is from. Or how preserving land doesn't always lead to economic growth for already struggling companies, especially when "developed" countries aren't beholden to the same conservation concerns.
Because of this, there will always be skeptics of these types of projects and the motives behind them, and rightfully so. However, those conversations are not the main focus or theme of Wild Life, and the film doesn't have to deal with those elements because this isn't mainly a story about  This was a story about Kris Tompkins and her journey after his death to honor him by expanding conservation and re-wilding efforts.
By keeping the focus on their love story, showcasing Kris's grief after Doug's death, and using their relationship as a lens, Vasarheyli and Chin manage to have a narrow vision of conservation that keeps the film tight instead of engaging in an unwieldy conversation. But the love story isn't a side step of a larger conversation, it's a focus on two people and how their love for each can push lives forward. Their adventures, their lives, and the way they came together were brilliant. The Tompkins's love that is on display both from Kris and the interviews with her friends is undeniable and the passion moves you in the audience. Their relationship and how their actions made it real echoes not just to each other but also in their connection to the land.
Wild Life is an inspirational journey of one person's trials and tribulations and how she found herself. The film does an amazing job of telling Kris's story and how the Tompkins's love story, and how they connected with the land and the people of Chile. The film wants to be the start of an even larger story, using two people to show the audience that the world is vast, and so can our impact on it, specifically in the world of conservation. It's clear that it wants Kris Tompkins's journey can inspire people to start their own, and I hope it does.
Wild Life screened at SXSW Film & TV Festival and will be in theaters April 14, 2023, and will air on National Geographic May 25, 2023 (available on Disney+ next day).
Wild Life
TL;DR
Wild Life is an inspirational journey of one person's trials and tribulations and how she found herself in the end.