2020's Ghostrunner, by All In! Games and 505 Games hit at the perfect time. During a game drought, a fast-paced, stylish, gritty action platformer hit that felt like it did everything right. The one-more-attempt style gameplay with one-hit kill mechanics, full of stylish parkour, and felt like a puzzle game, all wrapped in a beautiful cyberpunk package. At the time, it felt like it'd be hard to improve the experience. Even a game that felt like it required pinpoint accuracy to master felt great with a controller on the console. All In! Games is showing us now, though, if their lightning-in-a-bottle game could be improved upon with the sequel, Ghostrunner 2. In some ways, it absolutely did. In others… not so much.
Ghostrunner 2 takes place about a year after the first game ended. Dharma Tower is plunged into chaos quickly after Jack, the last surviving Ghostrunner (and playable character), takes down the tyrannical leader, Mara. Multiple factions are vying for control, with Jack helping the Climbers be the group that stands at the top to bring peace back to humanity's last safe haven on Earth. Everything quickly changes when Jack discovers that not only are there more Ghostrunners, but they want to help Mara's plan of unleashing a machine/computer hybrid on Dharma Tower, killing the remaining humans, and forcing humanity to evolve to its next stage to survive Earth's new post-apocalyptic climate.
In many ways, Ghostrunner 2′s story feels more developed. Where the first game was about Jack fighting for independence and eventually what he believes is right, the sequel is about what it means to be human, on top of how humans are able to endure. Yet, the way it's told is oddly paced. Where previously the story was shared through cutscenes and talks between Jack and the climbers helping him, this time, there is the addition of much slower water-cooler moments.
Occasionally, you go to the Climber's base of operations. This isn't a level where you can parkour around. These are walk around and chat with the other members, moments where you can get as much or little out of it as you want. If you want to see who will help with the operations and how they're affected by ongoing actions, you can. But these moments' biggest flaw is they hinder the pace of the game since these moments feel like a surprise when they pop up. It's not an after-every-level check-in. These can happen after 3, 4, or even sometimes more levels, where after a while, you may have forgotten that it will happen.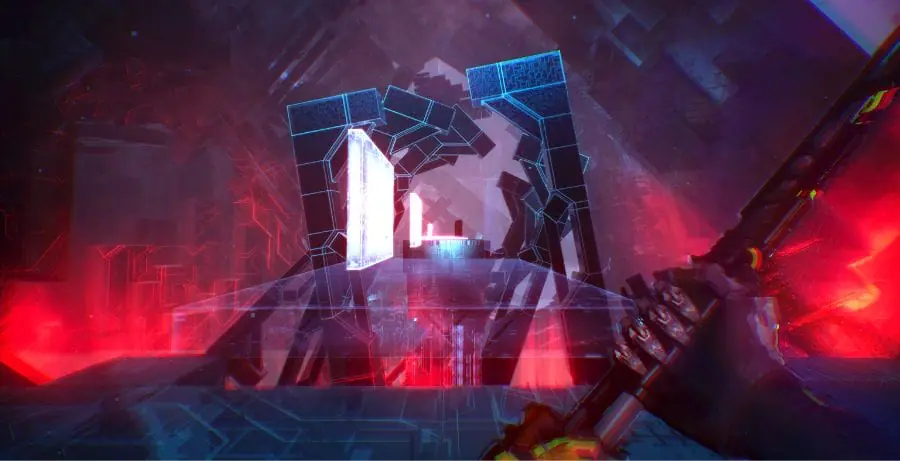 The actual levels themselves feel much grander in scope than in the previous game. With the return of its cyber-ninja aesthetic, Jack feels much better to play. He's faster and comes with some really nice improvements. Particularly the parry. Now, if timed right, Jack can block and counter some attacks. This came before from a skill upgrade; but now, it's built into Jack's base abilities. What makes the parry really fun, though, is when you get the timing just right and get an execution on the new type of enemy, the swordsman.
Plus, Jack's abilities have been greatly overhauled. Eventually, you'll get access to three powers that can be changed on the fly with the 1, 2, and 3 keys. These are how you use the Shuriken, which can trigger explosives or stun enemies, the newly revamped Tempest, which pushes objects or enemies for new openings, and the new Shadow technique that creates a clone of Jack while he goes invisible. There is no singular good power, and each must be mastered to conquer the game's challenges. Many of the new types of enemies become trivial when you find out what ability works best. This whole game is a big, fast-paced, and gritty puzzle. And when you conquer an area, you feel like a god who just razed enemies standing in your way. If you don't find the right mix, you will be punished until you do.
This is also where another flaw in Ghostrunner 2 lies. A major plus of the original game was its evolution of enemies and enemy layout. As you progressed, new types of more lethal enemies would appear in new layouts that pushed your skills even further. But in this sequel, they throw a lot of new twists or new types of enemies very early on. The game challenges you by either throwing more enemies at you or giving you different ways to get around its ever-growing arenas. So instead of making you improve your overall skills to get through the game, it is really just pushing you to get more efficient at killing the same enemies you've faced previously. That's not to say there aren't new varieties introduced later on–they just feel more of the same as what you've seen already.
The biggest highlight within the gameplay comes in the new motorbike sections. This was the star of Ghostrunner 2's original reveal trailer, with Jack on a bike jumping out of Dharma Tower into the outside world. And these parts freaking rock. They are exhilarating, high-speed runs through tight tracks that require precise movements to get through. And before this gimmick gets stale, it changes into a way to move around new open-area maps (which let you choose your objective on some levels). This is also the major focus of the game's second act, which feels like it overstays its welcome at some points while also not lasting long enough in others. The second act levels are also the longest, which feels at times like they're dragging on when you're reaching minute 30, while others last at a maximum of 20 minutes.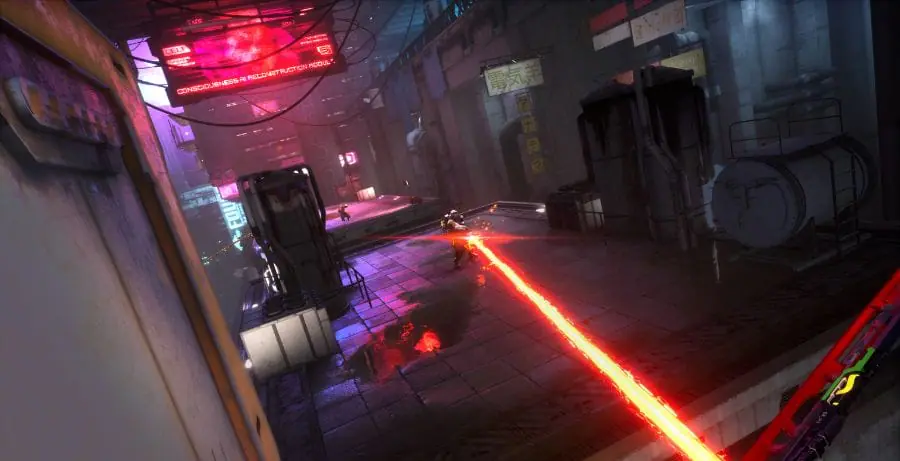 What you see isn't always what you get when it comes to Jack's skills and abilities. As you progress, you'll be able to buy upgrades for all of your abilities. These can change just about any aspect of what you're able to do, from improving Jack's dash to travel farther to adding more charges to his abilities to even seeing enemies through walls so you know exactly what they are. Even these upgrades can be improved upon by their placement in the leveling grid. Some skills specify that if they're placed in a certain way or are surrounded by other skills, then that skill will be improved upon.
What isn't always clear is how they can be placed. You'd think you can put them anywhere, but that's not actually true. Sometimes, if you hover over a skill, it will highlight which boxes it can be placed in. That didn't always happen. Sometimes, the boxes would highlight when a skill was picked up, or they wouldn't be able to be placed anywhere after you unlock the full grid. And it doesn't really specify in the description exactly where these can be placed, either.
What is nice about this leveling system is how it works in tandem with exploration. There are your normal collectibles, like audio files, objects from the old world, and sword skins. There are also chips highlighted on your minimap. When picked up, they increase the total power of the skills you can equip. As you pass certain chip thresholds, that skill grid unlocks more and more. So, the more you explore, the more powerful you can become. Many of these chips are going to require slight detours. Others, though, are unlocked through the new challenge levels.
Occasionally, you'll find inconspicuous terminals in the levels. Activating these will start a quick drop-in challenge mode, which puts your skills to the ultimate test. The ones I came across were akin to time trials for jumping through all the rings or hitting all the targets in a certain amount of time. They were always fun and never felt required. Similarly to death in a level, if you fail, you can just hit restart, and it puts you right back to the beginning quickly. Plus, the better you do, the more chips you get for leveling up. And when you're done, you're put right back to where you were to continue on with Jack's journey.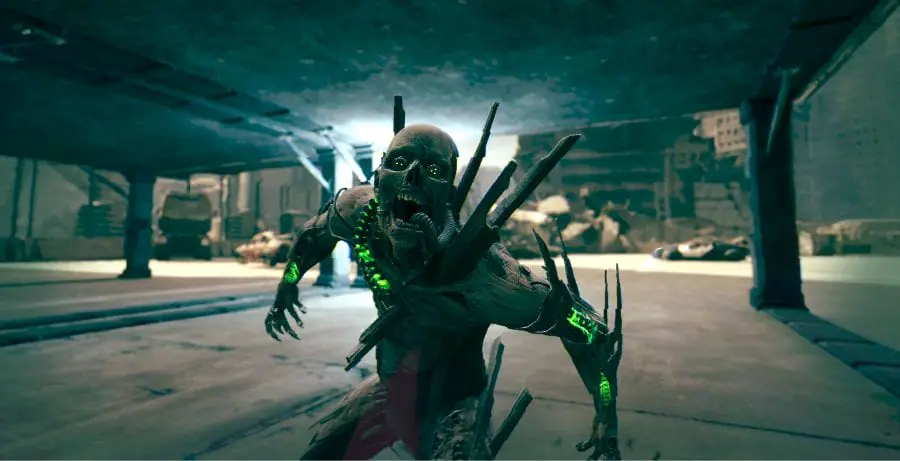 But where Ghostrunner 2 shines the most is its boss levels, music, and the game's new roguelike mode. The music makes your blood pump, putting you in the zone as you go on this killing mission. Each level feels as epic as the last, thanks to its rocking soundtrack. Even if you aren't a fan of techno, you may become a fan once you beat this game. It's a case where the developers found the best tracks to enhance the experience without it being a distraction.
Without spoiling much, the bosses are tough and really push your skills to their limits. They all encompass just about every aspect of the gameplay, from parkour to cybernetic areas that change up Jack's abilities to even parrying at the right time to deal damage. They are so well done and major highlights of the story.
Finally, there is a new optional roguelike mode, which is a fun little reprieve if you want a break from the main game. In this, you choose what you do next in this mini adventure. You can either do parkour challenges or fight enemies, with each getting harder while also giving you bonuses as you progress. And this mode gets longer, too, as you progress through the main campaign. These don't really change up the main game itself, but they unlock fun skins for Jack's sword. You should definitely check this out if you don't feel sated by the time you hit the credits for just a little bit more Ghostrunner in your life.
In many ways, Ghostrunner 2 is a massive step up from its predecessor. Bigger setpieces, new locations, and the introduction of the motorbike led to the creation of an even more epic experience. Plus, adding new challenge levels within each map adds a good amount of replayability for people who want more out of this highly linear experience. But the high highs, like the epic bosses, are brought down by odd pacing issues through some of the larger open area levels and between-level chats, which slows the game down to a snail's pace for some not-so-needed story moments. Regardless, Ghostrunner 2 is a fun time that you will not want to miss.
Ghostrunner 2 is available October 26th on PlayStation 5, Xbox Series X/S, and PC
Ghostrunner 2
TL;DR
In many ways, Ghostrunner 2 is a massive step up from its predecessor. Bigger setpieces, new locations, and the introduction of the motorbike led to the creation of an even more epic experience. But the high highs, like the epic bosses, are brought down by odd pacing issues…