With her place in the superhero community on the line, Shy/Teru Momijiyama (Shino Shimoji) accepted Stardust's (Shin'ichirô Miki, Undead Murder Farce) challenge to a fight. If she can land a hit on him, he will accept her as Japan's hero. If she can't, she must step away from her role as a hero forever in SHY Episode 4, "A Heartless Person."
Through the battle between Shy and Stardust, SHY Episode 4 does a lot of work on both characters and in world-building. We learn new elements about the nature of hero powers and how the bracelets that empower heroes work. This is all managed in a fluid way that allows the tension of the moment never to subside, even as it explores the myriad of elements it comes to highlight.
The physical conflict between the two participants is largely one-sided and brutal. Shy spends most of the confrontation unable to land a punch on Stardust, despite the fact that he isn't even avoiding her strikes. This struggle is due to the nature of his power, namely, that others cannot touch him.
Through the reveal of Stardust's power, we get a deeper understanding of how the heart-shift bracelets work. Once the wearer fully commits to their role as a hero, the bracelets grant them a power that reflects their heart. For Stardust, his powers reflect his inability to feel for others. He admits that he has no empathy, and just as his heart cannot be touched, the same becomes true for his body.
The concept of a hero devoid of empathy is a hard one to wrap your brain around. If he cares so little, why risk himself for others? He's already established as a celebrity separate from his hero work, so what does he have to gain? Perhaps it is that he wishes to feel for others and is using his work as a hero to reach that goal. This seems to be the case thanks to a flashback that plays after Shy interprets his actions in their fight differently than they are presented.
Having taken several brutal punches from Stardust during their match, Shy finds herself barely able to stand. But rather than curse the cold-hearted hero as Pepesha Andrianov (Mamiko Noto) does from the sidelines, SHY Episode 4 sees her thank Stardust for his kindness to her. She sees his brutal attacks and high demands of her as his attempts to help her awaken her unique powers that to this point remain dormant. She sees kindness in a man that others have always loathed for how cold-hearted he is. Not wanting to see his kindness go to waste, Shy pushes herself beyond what she has been capable of before, as she is literally set ablaze with her new powers.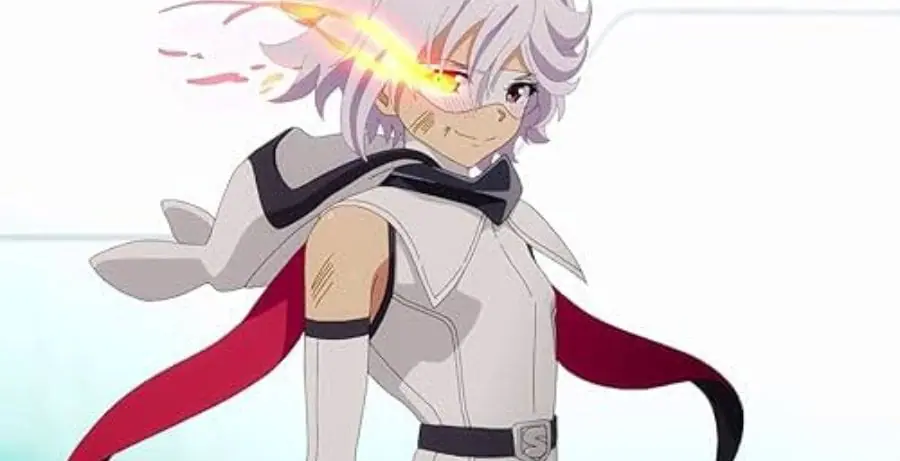 Shy's proclamation about Stardust's intentions feels far-fetched and a bit idealistic. While a flashback from Stardust's past that plays out as Shy renews her attack with her newfound powers hints that she might be right, it still feels hard to believe. But that could also be the point. Whatever Stardust's intentions truly are, how Shy perceives them impacts her far more than what he intends, reminding the viewer that what we take from an act can be as impactful as the act itself.
Once the fight is concluded and Shy's place as a hero is secured, SHY Episode 4 spends a bit more time with Stardust as he considers Shy's interpretation of him. This reflective moment continues to evolve the character as he tries to discern if there is any truth to what Shy says. Perhaps even if she was wrong in the moment, her desire to see the good that wasn't there may bring about that good at a later date. Whatever comes of these moments, they add an element to Stardust that changes him from a cold and aloof character the viewer is likely to write off, into one that engenders curiosity as more may be in store for him than simply an antagonistic role towards our hero.
As Shy awakens from her fight, we get introduced to a couple more members of the superhero community. Lady Black and Doctor Schwartz. These heroes have powers that are focused on healing and help her recover from the injuries sustained in her fight. While Schwartz has the sort of patient temperament one typically pictures of a doctor, Lady Black is the polar opposite. Short-tempered and abrasive, she lashes out at Shy for making others worry and for putting herself down during their conversation.
While Lady Black is a common enough character type in anime, how the scene attempts to frame her isn't great. Schwartz explains to Shy that she means well, but can go overboard at times. This casual dismissal of an exchange that borders on being verbally abusive fails its characters and narrative. How Shy insists on seeing the good in everyone is an endearing choice on the part of the protagonist, attempting to frame the world as a place where mean or rude behavior should simply be forgiven if well-intentioned is an entirely other matter. Good intentions don't automatically forgive cruel acts.
SHY Episode 4 wraps up with one last touching moment between Shy and her friend Iko Koishikawa (Nao Tôyama) as they finally head home. While Shy made a lot of progress with finding herself and her role in the world during the events of this episode, these final moments with her trusted friend display that no single event simply gets someone over something like anxiety. While it feels like if Shy could push herself through her battle with Stardust, she should be good for any challenge, that simply isn't how the human mind works. It takes a lot of time, but happily, it looks like the plucky hero has the strength to reach her goal.
With drama, revelations, and world-building, SHY Episode 4 packs a lot into its story. With only a couple of small stumbles, the narrative manages to present a lot of interesting, nuanced concepts for the viewer to ponder as they cheer for Shy's continued growth as both a hero and a person.
SHY Episode 4 is streaming now on Crunchyroll.
SHY Episode 4
TL;DR
With drama, revelations, and world-building, SHY Episode 4 packs a lot into its story. With only a couple of small stumbles, the narrative manages to present a lot of interesting, nuanced concepts for the viewer to ponder as they cheer for Shy's continued growth as both a hero and a person.