Japan's love of jazz as a musical genre is something that has been captured in film and television alike with series like Cowboy Bebop. Blue Giant captures the deep connection of a group of men to each other and to the genre of music that makes chaos right and captures the spirit doing so with a blend of animation styles that highlight the individuality of the instruments and men on stage as much as their cohesion.
Distributed in North America by GKIDS Films, Blue Giant is based on the original manga of the same name by Shin'ichi Ishizuka and presented by Keiji Ohta with a screenplay by NUMBER 8, with music by Hiromi Uehara (whose piano performances are also used in the film). Director Yuzuru Tachikawa (of MOB Psycho 100 fame) and animated by Nut Inc., Blue Giant captures the harrowing and emotional build-up to a performance so big it burns blue.
At the center of the story is Dai Miyamoto (Yûki Yamada), whose life is turned upside down the day he discovers jazz. A former high school basketball player, Dai picks up a saxophone and begins practicing day and night. Despite the elements, he trains his lungs to hold longer notes and create the music that calls to him. What starts as a hobby quickly becomes a determination to become one of the greatest of all time. The story is told as such, with splices of what you can see as recorded footage of an older Dai, those who played with, taught, and knew him—from new jazz trio to old friends.
With a dream, he leaves his small hometown for the bustling nightclubs of Tokyo but finds making a living as a musician rougher than expected. That is until he meets a cocky but talented pianist Yukinori Sawabe (Shôtarô Mamiya) and convinces his landlord and friend Shunji Tamade (Amane Okayama) to play the drums. Together, the trio forms Jass, a jazz group with the goal of playing at the So Blue, a coveted nightclub where the greats from across the world perform.
As a film, Blue Giant's visual beauty is only one element of what makes this story magical. The music is the other. Where animation always shows reverence to the vocal talents of its actors, in this case, Dai, Tamada, and Yukinori, the performances of the men are also the real deal, performed by the best. Tomoaki Baba plays the tenor saxophone, Shun Ishiwaka plays the drums, and Hiromi Uehara plays piano. Each of these musicians brings Blue Giant to life, the music speaking as powerfully and at moments somberly as the dialogue we see.
Similar to how 3D animation was used in The First Slam Dunk, in Blue Giant, when Jass is in motion playing instruments, it almost looks rotoscoped, capturing the body's movements completely without missing a frame. The merging between that and the standard 2D animation is a perfect blend for capturing jazz, even if I can't eloquently explain why.
With line-work traditionally used for greyscale shading and heavier shadows, when Jass performs, they come alive. The music may move you alone, but the visual narration that comes with the animation creates one of the most gorgeous animated films of the year. But that 3D animated quality isn't the only technique used, with other styles composited over it, there is a world moving in each and every performance with the raw kinetic and powerful energy that jazz is known for.
The first time that Jass performs, we see the floor fall out from under Tamada, the new drummer who is moved and intimidated by Dai's skillful and powerfully fast solo. But the difficulty we see on his and Yukinori's face allows the audience to understand just how much Dai has perfected his craft. Losing yourself to music at that moment shows how different it can make people feel.
For Dai, it's a spiritual experience where he finds euphoria, and it's like that for the man in the audience hearing jazz for the first time. But for Tamada, whose hands are bandaged and scrapped from the drums, it's a realization that he wants to be better, he wants to feel the music more, he wants to excel and find that pocket of euphoria instead of worry that he's bringing the performance down.
For Yukinori, he has to explore his connection to the piano, not as someone who wants to play as a career but as someone who feels connected to every note. Distinct when he finds his reason for playing, Yukinori's section of the film is a beautiful and eclectic animated moment that captures the ways in which jazz pulls together different disparate elements and crafts it into a symphony. And the pain that comes when you lose it.
The ways in which music connects and flows through each of the men is emotional, and the moments of tragedy capture how precious being able to create music is. Painful moments of loss are captured as much as ecstatic moments of joy and the intimate threads that form between bandmates. Capturing that in any medium is a tall order, but it's one that animation attacks without restrictions of reality in order to show just how music brings everyone to life.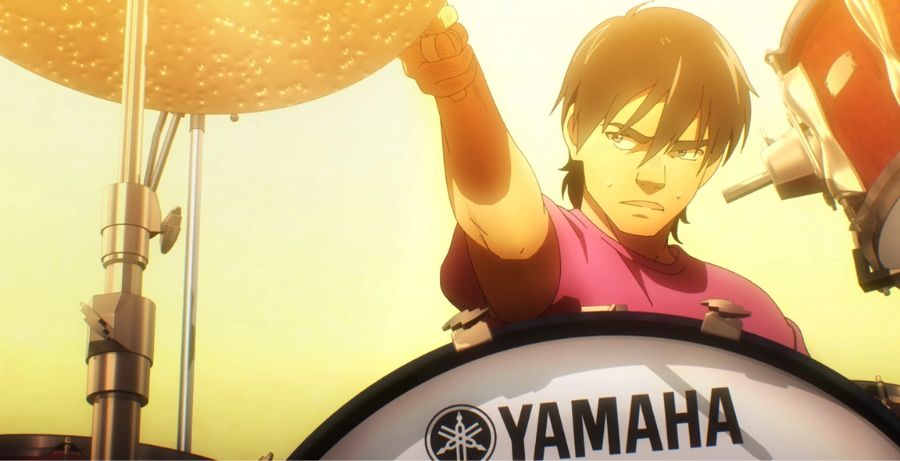 While Yukinori and Tamada each have fantastic solos and moments leading up to them that land a triumphant impact, Dai's growth is the wrap-around for the story. His love tethers each instrument together and runs through each and every composition. His love for jazz and his love for Jass are foundational for Blue Giant to succeed as a story that captures the way in which jazz captures your soul.
Blue Giant captures the spectrum of emotions that music can hold for those who make it. It renders it in a beautiful animation that shifts with the emotional atmosphere. Jass, as the band, carries the audience in a wave of discovery as they grow into something larger and their connection to their instruments and each other grows.
Blue Giant is an animation marvel. Sharp, gorgeous, and just vaguely nostalgic, the film is a gorgeous exploration of the way music can be a guiding force to unlocking your identity, connection with others, and finding a freedom that you thought was impossible. Electric, kinetic, and somehow always intimate, Blue Giant's animation captures the emotion that comes with creating music, but more specifically, how Jazz can distill the chaos of life into a triumph of spirit.
The title of the film is a reference to the life of a professional musician, but more importantly, the best of the best. Those who burned so brightly as massive stars before burning so brightly they collapsed in on themselves. As the hottest stars, blue supergiants have a beauty and a force and power that consumes everything around them, and here, in Blue Giant, we see that in the finale of the film. The final moments of the film's performance are a stunning visualization of this. A perfect adaption of a manga series that captured the raw energy of the performance, Blue Giant is exquisite.
Blue Giant is written, animated, and composed by people who don't just love jazz but know the absolute emotional resonance that lies inside every improvised note. It is, unequivocally, one of the best films of the year, animated or otherwise.
Blue Giant is playing in select theaters across the United States.
Blue Giant
TL;DR
Blue Giant is written, animated, and composed by people who don't just love jazz but know the absolute emotional resonance that lies inside every improvised note. It is, unequivocally, one of the best films of the year, animated or otherwise.