This article features spoilers for Alan Wake II in order to discuss the live-action elements of the game.
Everything is getting live-action nowadays, and largely, I've been in favor of them. Live-action adaptations allow for stories to reach new audiences and don't need to be one-for-one. In the same way that anime adaptations can enrich the original manga, so can live-action versions of video games and animated properties. That said, some treat on-camera filmmaking as the be-all and end-all of storytelling, aiming to be in the halls of Hollywood.
You can see this trend in comments from The Last of Us's Neil Druckman and even the constant push for The Game Awards to be considered the Academy Awards and feature more and more Hollywood actors. Still, somehow, in this landscape, Alan Wake II embraces live-action storytelling as a medium without ever losing the beauty and impact of game mechanics.
Alan Wake II, developed by Remedy Entertainment and published by Epic Games, focuses on Saga Anderson and the titular Alan Wake. Saga is a world-class FBI agent with a reputation for solving complex cases with ease. Sent to the small Pacific Northwest town of Bright Falls, she must solve a series of ritualistic murders and unlock the mysteries of the Cult of the Tree. At the same time, Alan Wake, connected and central to all of this, is locked in the Dark Place, attempting to escape and looping through a talk show on repeat, walking through the streets of a New York that is not New York and trying to hold onto his identity.
The live-action pieces of Alan Wake II are layered elements of gameplay. They are never set apart from the mechanics of the game, even when they're presented as cinematics. They hold vital storytelling elements that will help the player explore the Dark Place, in the case of Alan, or uncover answers to the mysteries laid out for Saga as she profiles criminals in her Mind Place.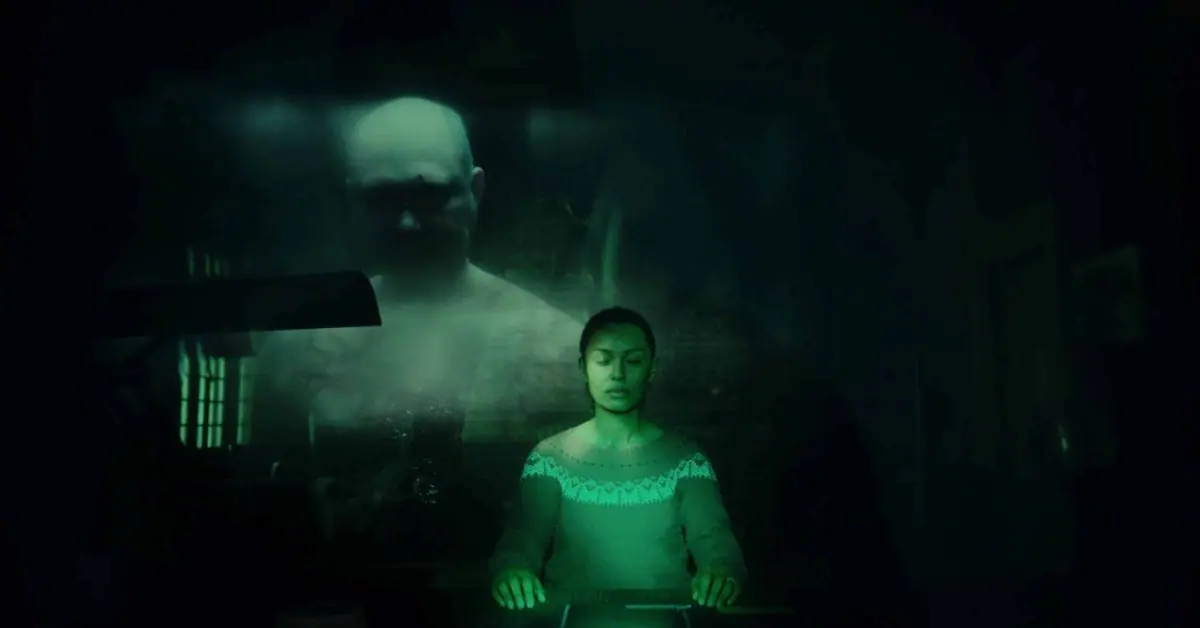 While Alan Wake II uses live-action to push the game's story, it also gets weird with it. Remedy embraces absurdity, levity, and the uncanny nature of using live action in an animated setting to pull the player through emotional moments. Hyperstylization in lighting and sound allow the game to set up peaks and valleys of fear, and central to that is knowing when to break expectation and to lean into genre.
Saga's part in the story uses live-action elements in her Mind Place as she profiles individuals, which adds to the way that the game embraces the detective noir genre. In her Mind Place, Saga uses her role as a Seer, grounded in her Norse ancestry, to see the truths that suspects are hiding. At times, these visions can be unnerving and powerful, as we see with Mr. Scratch, while others are conversations, like with her grandfather Tor. These moments are tied to a central game mechanic and never overpower the medium. Instead, it enhances it.
That said, live-action Alan Wake isn't at its peak when we're in Bright Falls. No. It's when we're in the Dark Place. Unhindered by reality, the Dark Place is a fruitful ground to explore mixed-medium storytelling. Disorienting at times, hilarious at others, it's here where the development team flexes their understanding of what visuals hit harder in live action and when spectral shapes animated in a haze are what's needed to drive the player into a corner of either fear or hilarity.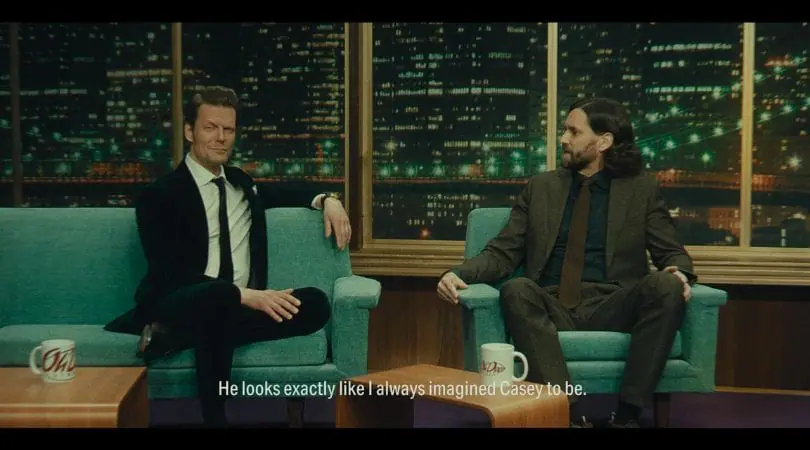 One key element of this is Alan Wake: The Musical. Narrative genius, the second Chapter of Alan's time in the Dark Place, is centered on moving through a looping musical that recounts Alan's life and most of the first game. Switching between full live-action scenes and projections on jumbotrons as you physically move Alan Wake through it all, with each consecutive loop getting more and more dangerously tense.
You fight through Taken and relive Alan's story with campy dance moves—a dance number clearly inspired by the Peacemaker opening—and lyrics that allow the player to see more than what we have up until this point. Additionally, with live-action elements added to the background of the player's experience as you physically move through the level, Remedy has ensured that Alan Wake II shows the importance of the two mediums meeting each other, overlapping and creating an innovative and ambitious live-action take on the video game.
---
---
While the first live-action segments in Alan Wake II may be a little jarring, when they find their stride, Remedy uses them for much-needed levity to balance out the tense Dark Place where Alan has truly no refuse. They work as a release valve for the player. The sharp difference visually in their cinematography from the Nicolas Winding Refn-inspired stylized lighting of the game itself allows these cinematic elements to become something truly weird and unique.
For The Dark Place, the injection of live-action moments creates shaky ground for the player in Alan Wake II. It twists reality, and Alan's confusion in this live-action is put on the player. Resource management in the Dark Place already creates a more tense environment as you play through it. Your flashlight is a necessity, but depending on the number of specters you encounter in any given area and if you can find batteries, you're often just running, trying to make it to a spot where you can rest.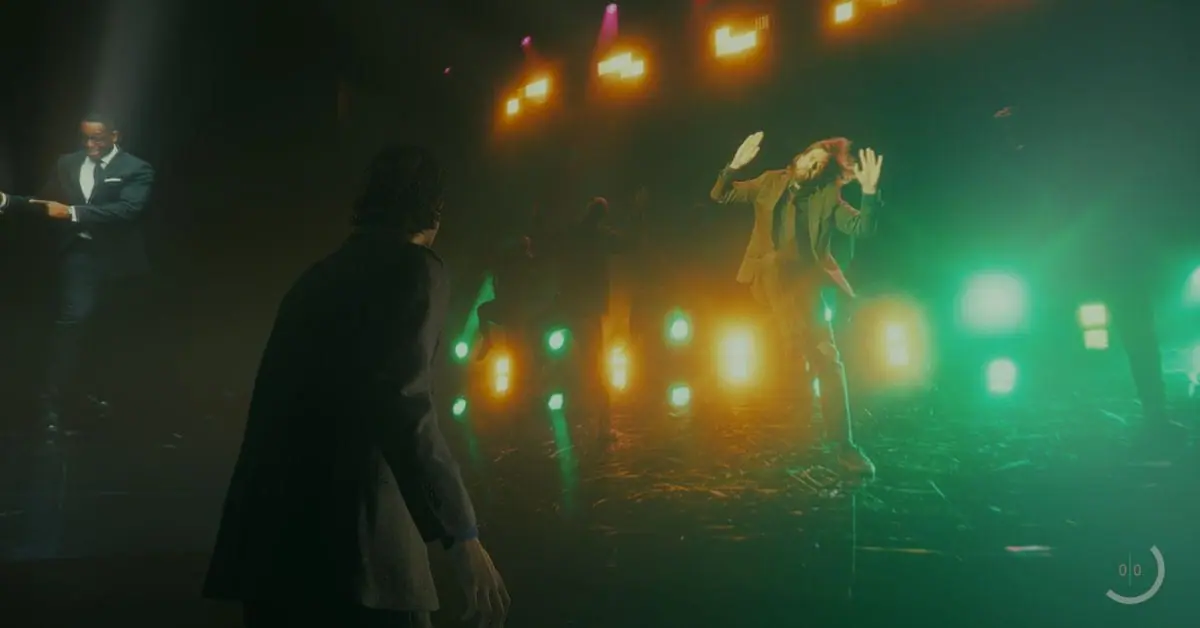 As you loop through the dangerous areas of the Dark Place, the live-action moments in Alan Wake II are like a valve letting out that tension. The confusion on Alan's face as reality changes itself and makes him question his life and the world around him adds to the way that the game uses the uncanny to build suspense while still giving the player a reprieve from the darkness.
Similarly, as Saga, you can find commercials from the Koskela Brothers that add humor throughout the story as well. This showcases Remedy's understanding that horror and dread can't be cranked up to 11 at all times. In order to get pay-off, you have to allow the player moments of safety. Even if those moments can offer confusion, they're needed to allow the tension to build back up.
In a media landscape where live-action is seen as the end all be all of narrative greatness thanks to conversations generated by The Last of Us, and games studios are trying to hire more and more writers with television or film experience, Alan Wake II is important. It embraces live-action concepts, makes fun of them, and, more importantly, uses them as vital elements of gameplay that make it feel as if they always belonged among the pixels and polygons on the screen. We don't need a live-action Alan Wake any time soon, but in embracing the medium, Alan Wake II has created something original, fantastical, and narratively perfect.
Alan Wake II is available now on PC via the Epic Games Store, Xbox Series X|S, and PlayStation 5.