Cyberpunk 2077: Phantom Liberty is the DLC expansion to Cyberpunk 2077, published and developed by CD Projekt Red. In Phantom Liberty, you're dragged into the world of espionage where you'll have to quickly learn if you can trust anyone as you work your way through a minefield of half-truths and messy relationships. The tension driving catch? Everyone knows you're compromised and will use that leverage to coerce you into working towards their goal. This requires players to decide where their values lie in their playthrough and how they plan to come out on top.
With Cyberpunk 20277: Phantom Liberty, CD Projekt Red has delivered a love letter to the spy and espionage genre. Solomon Reed, played by Idris Elba, and So Mi Song (aka Songbird), played by Minji Ching, are your central figures in this new chapter and ground the story's narrative depth. The moments spent alone with these characters are the most important parts of the expansion as they give you insight into their duty, ideals, and regrets, which are central themes of the overall story.
Reed and So Mi do what spies often do: use the correct leverage to get the job done and deal with the guilt later. Repeating these exploitation and guilt patterns brings V into their world and works as a central narrative conflict that you have to navigate. So Mi pulls you into her mess by contacting V through the Relic, with promises of being able to help. While the Relic houses Silverhand but is unusable in the base game, Phantom Liberty makes it something that is central to your progression as you use it to stay connected to Songbird.
Your first task is to save the New United States of America (NUSA) President, whose shuttle has crashed in Dogtown, the new area of the game added in this DLC. After learning of the greater plot at hand, there comes the realization you're neck deep in things that shouldn't concern you because of So Mi and her machinations.
On the surface, Reed comes off as a by-the-book pragmatist clinging to an ideal that doesn't exist. He holds on to these things even at the cost of his own life, and that's what makes him dangerous. Even when you point out to him how he's being used, he doubles down and uses duty as a security blanket. And yet, he's still one of the most complex characters in the game.
Throughout the story, you can tell how things went down with So Mi eats at him. It comes through in the dialog and the facial expressions of the character. The pain between the two characters isn't showcased within the game, instead, CD Projekt Red allows the script to build the conflict, but you can see more into the duo's relationship via the theatrical trailer that was released as one of the marketing pushes for the game. Here you see the event take place, but it's up to you if you want the writing to set the stage or see the event take place.
Deciding if you can trust anyone at all in a game of professional liars becomes the central focus of Phantom Liberty. On several occasions, you may find yourself questioning who you agree with more, as both Reed and So Mi make very valid arguments for the best way forward—even if they're not in line with each other. They show genuine concern for you and each other, and it still isn't enough to put anyone at ease or let you make a definitive decision until the very end.
But it's not just the DLC's dialogue. Cyberpunk 2077: Phantom Liberty's score is also a crucial storytelling component, as it sets the tone for what players will encounter at any given moment. Since the DLC serves as a shift in genre for the game, the music has to change to fit the story being told. So Mi and Solomon Reed are the two emotional anchor points in this tragic story, and the music in those personal moments with them reflects that. A sense of duty and betrayal is the ongoing theme of this story, and the shifts in score match the emotional state of the characters as they explain their motivations and feelings during missions and downtime.
Additionally, Dogtown has its distinct sound design and overall vibe from Night City, with different ambient noise, near-constant alarms, and gunfire. The types of conversation you hear in Dogtown also give you an idea of what kind of hell you're stepping into. The most ominous sound is the pulsing alarm of supply drops because that's always accompanied by gunfire and explosions as people fight over the loot inside. You can take your chances and fight the locals straight up or sprint towards the drop and jack in while taking incoming fire. Everyone seems extra hostile, and rightfully so given their circumstances. One thing is clear, this place sucks, and you have to get through armed checkpoints to even leave.
If cinema has taught us anything, it's that no spy adventure is complete without a signature song. CD Projekt Red brought in prominent Polish vocalist, Dawid Podsiadło, to be lead singer for the closing track titled "Phantom Liberty." The composition of the track is based on the respective themes of Solomon Reed and So Mi, while the lyrics are based on Podsiadło's interpretation of their relationship. Marcin Przybyłowicz orchestrated the piece, and it was recorded with the Czech National Symphony Orchestra. The closing track and video deliver an emotional conclusion to a very satisfying story which makes those end credits feel like winning a prize.
Cyberpunk 2077: Phantom Liberty isn't shy about leaning into genre staples, as they work together to enhance the story and distinguish it from the story of the main game. The setting of Dogtown and the story's initial call to action are direct references to Escape from NY. One mission has you infiltrating a casino and is titled, "You Know My Name," which refers to the theme song of Casino Royale, Daniel Craig's first James Bond film. There are numerous other references throughout the story, which are all handled well and don't pull you out of the game, instead, adding to the genre. Players who catch these references may appreciate some of their favorite films being brought into the game.
Released alongside Update 2.0 which updates the core game, while the Phantom Liberty DLC includes further enhancements based on that update. All owners of the core game benefit from Update 2.0 but do not experience any of the enhancements tied to Cyberpunk 2077: Phantom Liberty.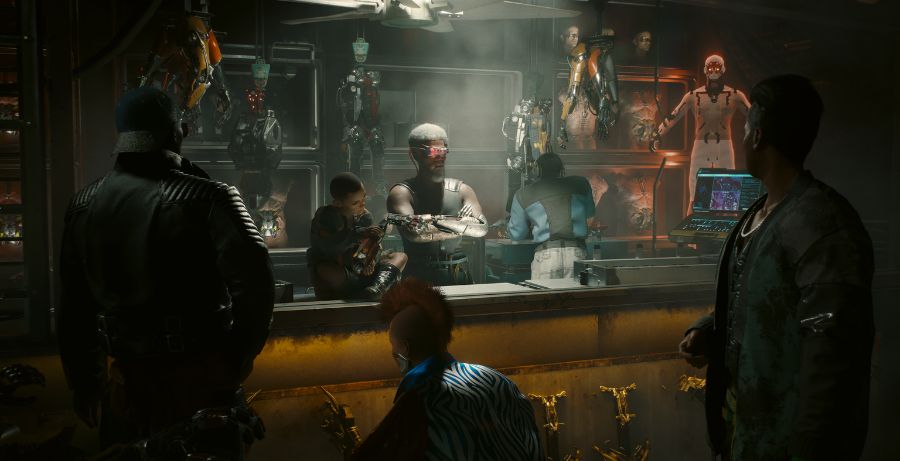 Update 2.0 introduces redesigned skill trees that allow players to redistribute any points they have accumulated during their playthrough which serve as awesome quality-of-life changes to character progression. You'll notice that your points have been reallocated to you so you can use the new skill tree system. The new system requires you to plan ahead on how you will spend your points because of the new tier system in each skill tree.
Having to spend 15 attribute points to get perks on the second tier pushes players into specializing in a few areas. Committing to an attribute did make my character more effective in straight-up combat situations but a little less capable in diplomatic and stealthy engagements. It's that balancing act that ties the game more to its tabletop roots. Choosing to be great at one thing or really good at a handful of things is one of the ways tabletop games maintain balance.
It also changes how cyberware works, requiring players to manage the amount of Chrome they're carrying and how they plan to upgrade for the future of their playthrough. With this, armor is no longer tied to clothing but to a player's cyberware enhancements, giving players more control over their appearance and allowing for more building an aesthetic you're passionate about with your V.
Upgrading enhancements and certain skills and utilizing the Relic Skill Tree will allow you to augment your V even further. One of the best Relic-based enhancements is being able to use the Gorilla Arms cyberware to hit multiple opponents with a single shockwave. By adding more layers to how your character interacts with the world, it adds a level of difficulty to the decision-making of the player and not necessarily the obstacles they face. Use the solution that fits your specs.
Additionally, AI has been improved across the board, and crimes actually have consequences which is an impact you can feel once you enter Dogtown. The police won't hesitate to pull out their more advanced officers to hunt you down wherever you might go. And of course, Cyberpunk 2077: Phantom Liberty takes the enhancements of 2.0 into full consideration, increasing the level cap to 60, from the core game's original 50. And for those who are all about fidelity, there are also visual enhancements, as the DLC was developed specifically for next-gen consoles and PCs.
Now, my playthrough wasn't perfect when it came to performance issues. There was a fall death loop encountered early on during the rescue of the President, where the game kept bringing me mid-fall every time I loaded up that autosave. This was circumvented by using a slightly earlier autosave but was worth noting, given the inconsistency that autosave offers.
On top of that, while I was able to complete every main story quest, I can't say the same for the surrounding ones. There's one quest titled "New Person, Same Old Mistakes," that was glitched because the door of the establishment wouldn't open regardless of any attempts to reset the location or come back after a certain period of time. Thankfully, the only graphic-hiccup encountered was collision detection related when Silverhand looked like he was walking on air mid-conversation in an elevator. Overall, these issues had little impact on the enjoyment of Cyberpunk 2077: Phantom Liberty since they weren't game-breaking bugs and ultimately left the DLC's primary story intact.
Cyberpunk 2077: Phantom Liberty is a captivating spy story that deftly grapples with the tension between loyalty and betrayal that will please fans of spy films and the world that CD Projekt Red has already built in the base game. Its gripping narrative, with high-octane action, top-tier acting and score, which all work to create a truly fulfilling gaming experience. Phantom Liberty's few flaws do little to hurt the overall experience of the expansion. And when combined with the core game, you're looking at 60+ hours of content. The overhaul to the leveling mechanics adds some much-needed nuance and a new layer of difficulty.
Cyberpunk 2077: Phantom Liberty is available beginning September 26th for PlayStation 5, Xbox Series X|S, and PC.
Cyberpunk 2077: Phantom Liberty
TL:DR
Cyberpunk 2077: Phantom Liberty is a captivating spy story that deftly grapples with the tension between loyalty and betrayal that will please fans of spy films and the world that CD Projekt Red has already built in the base game.