Cyberpunk: Edgerunners is the latest animation from studio TRIGGER, in collaboration with CD PROJEKT RED and creator Rafał Jaki, this new Netflix Original Anime brings the world of Cyberpunk to life with its signature, hyper-stylized and vibrant style—this is where I implore you to watch Promare because of mechs and boyfriends. Directed by Hiroyuki Imaishi—the man behind Gurren Lagann, Kill la Kill, and Promare—with creative director Hiromi Wakabayashi, character designer, and animation director Yoh Yoshinari, and an adapted screenplay by Yoshiki Usa and Masahiko Ôtsuka, this is an anime is a bit like lightning in a bottle. I mean who better to adapt an IP as vibrant, loud, and explosive as Cyberpunk than studio Trigger?
Cyberpunk: Edgerunners is a stunning visual experiment that pushes morality, the body, and violence to the edge. While the trailers prioritized the vibrant violence and high strobe explosions, Edgerunners is shaping up to be more than just its aesthetics. Centered on telling the story of David Martinez, a teen in Night City, Edgerunners is pulling out the deep class inequities that are the backbone of the cyberpunk genre. Like the comic series coming out of Titan comics, Cyberpunk: Edgerunners widens the game's world, and gets closer to realizing the politics and class conflict that defines the genre the video game takes its name from.
David is a street kid from Santo Domingo. He's not supposed to succeed at Arasaka's elite academy, and he certainly isn't supposed to have a future. The series opens with the hard-up but extremely intelligent student teetering on delinquency but pushed to keep going to a school that bullies him and beats him out of respect for his mother Gloria. For her part, she's a single mom looking to ensure a future for her son that she can't even dream of as a member of Trauma Team. She works night and day just to pay tuition and keep the washing machine fed. But when tragedy happens, David finds out where all the money was coming from, and finds himself struggling to keep alive, find purpose, and prove himself to an unforgiving world. Tackling this head-on allows the series, at least so far, to showcase how technology can be a path out of poverty while also being the cause of inequality, to begin with.
The good news for those who didn't play the video game that this story fits into is that you can jump into the series without that prior knowledge. The series tells a standalone, 10-episode tale about a street kid trying to survive in Night City—a technology and body modification-obsessed city of the future. Having everything to lose, he stays alive by becoming an edgerunner—a mercenary outlaw also known as a cyberpunk, set on taking from and disrupting the order that favors the Megacorporations even if that means working for fixers.
While it would have been easy to cast his relationship with his mom to the side as the story developed, the internal pressure he faces, knowing that he's disappointing her is the show's leyline. It's referenced in the series' haunting ending theme and it's what drives him. There is a constant pain that sits beneath the surface of the story. David in a way, is never doing things just for himself, even as his selfishness pushes him to take on more and more body mods. The fact that Cyberpunk: Edgerunners doesn't lose this emotional core is big, and its hard.
In Trigger fashion, there is an ethereal character set to disrupt or guide (depending on how you look at it) David down his new path: Lucy. A netrunner, an elite hacker connecting directly into any chrome or system she can get, Lucy introduces David to her crew and as romance blossoms, so does a plot bigger than any of them individually. Put David and Lucy against Galo and Lio and you can see the resemblance, and I'm not mad about it, delighted actually. The two of them ground each other, but they also manage to push each other into danger. Good for each other but also the reason either one of them winds up in pain. In fact, tragedy is the name of the game in Night City, and that becomes abundantly clear as the series goes on.
In addition to Lucy and David, Cyberpunk: Edgerunners also features loveable, endearing, and tragic characters like Maine, Becca, Dario, Kiwi, and Falco. Each of them stands out on their own visually, with them all receiving varying levels of detail and connection to the main story. Great additions to round out the series.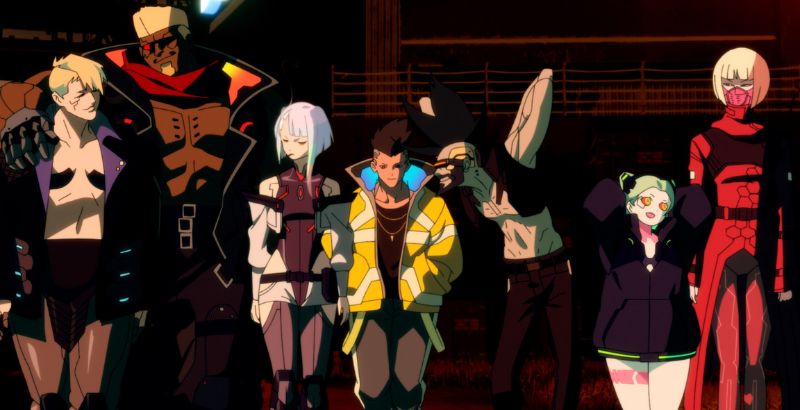 The one clear issue with Cyberpunk: Edgerunners is its episode count. With large emotional moments at the midway point and final episode, the build-up to them are rushed. Watching the character devolve into a cyber psycho rage doesn't hurt as much as it should because we don't see the slow descent, nor the pushback from it. While we hear chrome junkies thrown around, the path to the negative effects of augmenting the body isn't explored, just the beginning and the end. While this is true for what happens to a secondary character, it's omitting David's path of altering his body and investigating why with a time jump that makes his story feel incomplete.
The first six episodes of Cyberpunk: Edgerunners are phenomenally pace but as we get to the back half of the season it's clear that giving this series a larger episode count even if it was just to 13 could have helped build more emotion. That said, the series isn't without some gutting moments. To put it simply, the plot armor for characters you come to love isn't thick. This helps build tension as the series hurdles towards the end in a breakneck-paced final episode. But what this flaw points out is just how good everything in the series is, if it wasn't, I wouldn't be begging for more.
Cyberpunk: Edgerunners is peak studio Trigger. That comes with the good and the kind of bad. For the former, this anime is vibrant and violent with animation that shows why this studio remains iconic – and for Promare fans, there is a lot to love. But for the latter, the series does rush towards its end, but style over substance doesn't win out as we get to see the entire story come full circle on itself, reference where David was, and where he ends.
In that way, Cyberpunk: Edgerunners is stellar, and while I wanted more from David's in-between moments, this is a solid series, solid story, and proof that the world of Cyberpunk is ripe for expansion in exciting new ways. I'll take as many more of these stories as we can get, plus I mean, you can't beat a Franz Ferdinand intro.
Cyberpunk: Edgerunners is available exclusively on Netflix now.
Cyberpunk: Edgerunners
TL;DR
Cyberpunk: Edgerunners is stellar, and while I wanted more from David's in-between moments, this is a solid series, solid story, and proof that the world of Cyberpunk is ripe for expansion in exciting new ways.