One of the many disadvantages of growing up is that heroes once idolized soon reveal their cracks. With more experience and wisdom, we see that those we place on a pedestal are all too human. How we respond to this discovery is what defines our character. For Seo Mok-ha (Park Eun-bin), in Castaway Diva Episodes 3-4, her response to Yoon Ran-joo's (Kim Hyo-jin) fall is one viewers should try to embody, as more often than not, we're keen to cast away our idols once they start to show their flaws.
At the beginning of Castaway Diva Episode 3, we see how similar Mok-ha and Ran-joo are. Both have struggled with suicidal ideation driven by isolation and a lack of worth. While Ran-joo is in the more privileged position, her health issues trigger a fall from grace, and her agency's continued lack of investment in her drives her to new lows. But saving them both is a beacon of hope. For Mok-ha, six years into her isolation, it was a super expired ramen pack. For Ran-joo, in the year 2022, it is Mok-ha, the only one who still believes in her.
As we come to realize in Castaway Diva Episodes 3-4, the two come to need each other. Each sees a version of themselves in the other, with these similarities allowing the two to survive each obstacle thrown at them. For Mok-ha, it's not only finding her way to assimilate into a world 15 years ahead of her but also learning to accept that her dreams are unlikely to come true.
For Ran-joo, who discovers at the end of Episode 3 that the CEO of RJ Entertainment, Lee Seo-Joon (Kim Joo-hun), does not have her best interests at heart, Mok-ha becomes her life vest in proving to herself and the world that she deserves more than what she has now. But she'll need to rely on Mok-ha's talents a little bit more before she can achieve her goal.
The performance Ran-joo gave (using Mok-ha's voice) at the local festival in the previous episode opens up the door for Ran-joo to get picked up for an appearance on Heyday Again. Seon-Joon passes off the responsibility of managing Ran-joo to Mok-ha, but for the women, convenience lands on their borrowed doorstep. How? Well, Mok-ha is living on the rooftop of the home owned by the YGN Producer, Kang Bo-geol (Chae Jong-hyeop), who works on Heydey Again.
This blessing puts a target on both women, however. In Castaway Diva Episode 4, now that Seo-Joon's motivations for waiting out the remaining six months of his deal with Ran-joo are all out on the table, the two women have to be strategic. Unfortunately, they may not be strategic enough. In fact, as illustrated through an analogy given by Mok-ha in this episode, both are hardwired for self-destruction in some ways. Lured in by pleasant appearances, they both fail to realize the hand they've been dealt before it's too late.
More information is revealed in Castaway Dive Episode 4 surrounding Ran-joo. She hasn't earned herself goodwill due to the previous actions of diva behavior. Now that she's all but disappeared, her diva antics won't be permitted. In a moment of perspective, at the end of this info revealed by Heyday lead producer Hong Yeon-Keong (Kim Bo-jung), Bo-geol points out how her diva demands ended up being adopted by studios, making the air quality better for all employees. Brownie points for our grumpy, curmudgeon male lead.
Also revealed is a sudden interest in investment when Seon-Joon realizes Mok-ha managed to get Ran-joo a spot on Heyday. In Episode 4, we see how this manifests in sudden acts of kindness. Providing snacks to YGN employees and providing chocolates to Ran-joo, on the surface, are nice things. But Mok-ha reminds Ran-joo of the analogy shared… it is like a horse chestnut, pleasant on the surface but poisonous once ingested. The question is: what is the catch?
What is the catch is the question of the hour in Castaway Diva Episode 4 for both of our female leads. For Ran-joo, it is what is Seo-Joon's reasoning for his invested interest. Well, as is revealed by the end of the episode, guilt. Why? He all but ensures that she can't win by informing his sales team to halt sales of her albums permanently. Therefore preventing her from hitting the goal needed to win the shares promised by the end of her contract. Instead of finally relenting, he tightens the noose around her once more to secure the finances he needs to keep his company going.
In the case of Mok-ha, it is a bit more complicated. The catch for her performing as Ran-joo is to eventually pave the way to her potential future success as a singer in the industry. But an unexpected catch reveals itself as a result of her performance during Heyday. After they complete performing, Ran-joo has a moment to speak up on stage and mentions, per Mok-ha's request but also her mutual investment in their story, how the song she performed was meant as a message to Jeong Ki-ho (Moon Woo-jin).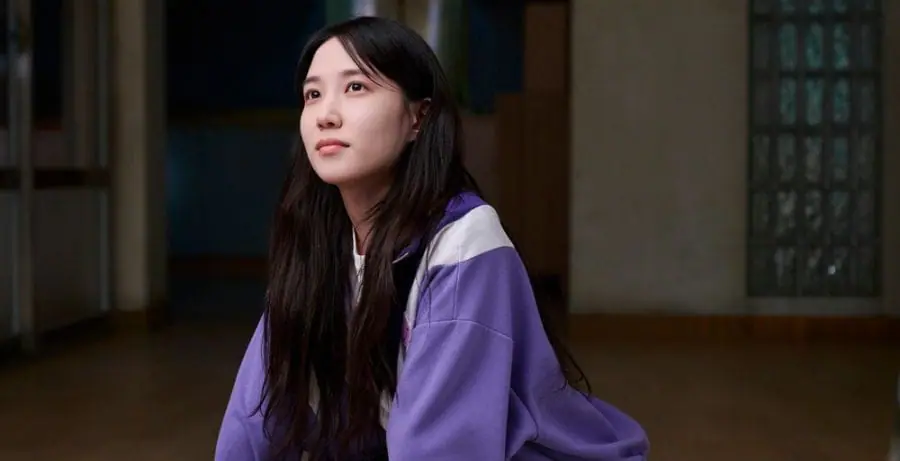 This puts a target on Mok-ha. Ki-ho's father, Jeong Bong-wan (Lee Seung-joon), has spent the past fifteen years searching for Ki-ho. With the resurfacing of Mok-ha, he determines that there is not only hope that Ki-ho is alive but also that he'll come searching for Mok-ha on his own. Seeing her as the key to finding his son as well as the one to blame for everything that happened after her disappearance, the animosity radiating off of actor Lee Seung-joon's face in his scenes is palpable. Although his character, Bong-wan, is a man of minimal words, he conveys so much in these brief moments.
All this culminates in his sending flowers to Kang Woo-hak (Cha Hak-yeon) after determining his plausible connection to all of this, but also realizing it is the easiest way to lure Mok-ha out. By the end of Episode 4, we see Mok-ha and Bong-wan meet face-to-face. The sweet moment in thinking she had received evidence of Ki-ho being alive is ruined by Bong-wan's appearance and subsequent deceit. But a hooded figure is just around the corner, waiting to save her.
Castaway Diva Episodes 3-4 set up the stakes for the upcoming episodes easily. Mok-ha and Ran-joo, during the HeyDay performance and set-up, were definitely not careful enough, paving the way for their poorly taped-together ruse to be revealed to the public, likely in future episodes. It seems that the two are in for rough waters, as any hope of Ran-joo's success is set on fire by Seo-Joon. And, knowing how ambitiously underhanded he's been proven to be in these episodes, it's likely he'll make it nigh impossible for her to make any comeback moving forward.
As for the mystery surrounding our two leading men and the identity of Ki-ho, the set-up is a fascinating one. While it is all too convenient for Woo-hak to be Ki-ho, the flashback moment, coupled with his former head injury, paints a clearer picture, pointing us to him being Ki-ho. But given how impressionable he is and how much he projects onto others, it can also be attributed to something else.
Then there's the matter of Bo-geol. Though actor Chae Jong-hyeop gives the character a more reserved, subtle performance, it is in the subtleties that we are able to pick up clues. The biggest in-your-face moment is the reveal that the hooded figure who has rescued her is Bo-geol. However, there are little moments here and there, particularly in Episode 4, that point to him potentially being Ki-ho. His frustration at her incompetence in acclimating faster is one flag. There are also moments of recognition when he listens to Mok-ha sing in both Episodes 3 and 4. While it is a bit of a stretch, perhaps Bo-geol is her childhood savior.
As it stands now, Castaway Diva Episodes 3-4 builds on the heartfelt nature of the story established in previous episodes. The message of hope is still present but coupled with the reality that we shouldn't place our idols on pedestals. They can be our liferaft amidst a stormy sea, but they are not without their problems. In fact, they may also be drowning. While the next episodes may present our characters with rough waters, the smooth, clear storytelling is anything but choppy.
Castaway Diva Episodes 1-4 are now available on Netflix, with new episodes airing on Saturdays and Sundays.
Castaway Diva Episodes 3-4
TL;DR
As it stands now, Castaway Diva Episodes 3-4 builds on the heartfelt nature of the story established in previous episodes. While the next episodes may present our characters with rough waters, the smooth, clear storytelling is anything but choppy.