As the Assassin's Creed franchise returns to its roots in West Asia for Assassin's Creed Mirage, allowing players to explore the splendor of Baghdad during the Abbasid Caliphate in the 9th Century, Ubisoft has recruited a Persian legend to help bring this story to life. An icon in Iranian and many other SWANA communities and beyond, Shohreh Aghdashloo has paved the way for SWANA actors to have roles that transcend beyond the stereotypes we're too often limited to, even though these nuanced roles for our communities remain highly limited. Aghdashloo has played many roles throughout her storied career, but it was clear, for many reasons as we spoke, that to take the role of the Persian Master Assassin Roshan, mentor of the main character Basim Ibn Ishaq (Lee Majdoub), had unique significance in Assassin's Creed Mirage.
To speak with Shohreh Aghdashloo was an actively heartwarming experience. Along with many other SWANA children in the West, I grew up with little to no representation on screen. But whenever I would see or hear Aghdashloo, with her iconic musky and commanding voice, it was inspirational. Even if it was just briefly in movies like The Exorcism of Emily Rose or X-Men: The Last Stand, knowing that there was this Persian person whom I could relate to culturally as a Kurd while still recognizing our distinctiveness provided that sliver of hope that more SWANA actors would break out into film and tv. Now, years later, as there is thankfully more burgeoning SWANA representation, we get to see Aghdashloo's voice act in a role that celebrates her Iranian cultural history and speaks to core themes for Iranian and other SWANA women worldwide. To speak with her about it was truly special.
For Aghdashloo, voice acting is virtually the same as acting on screen or on stage. "For an actor they're all the same," she says, "because at the end of the day we are all storytellers. If the story speaks to us, it doesn't make a difference what the medium is or how the story is going to be told." But there is one key difference, namely in not having to worry as much about her hair and makeup. "The only difference for me is the fact that with voiceover, you don't have to go through three hours of hair and makeup and costumes, and wear those heavy costumes all day."
Elaborating more on this, Aghdashloo says acting is about allowing the character to inhabit her body and mind, seeing herself as the conduit to bring them to life. In the case of Roshan in Assassin's Creed Mirage, however, she found her more relatable than usual. "[I] just pay attention to my character and try to turn myself into a vessel, allowing the character to travel into my body and speak out for herself, and in this case for me as well, and for many, many women in many generations for how to stand up for justice, " she says. "My character has a great sense of justice, and that's why she's fighting to make the people in her town a better place to live in, by getting rid of the people who are abusing others. This is incredible what she's doing, and she's not alone. Right now as we are speaking, billions of women are doing it around the globe. More or less. Less in more developed societies, and far more where they are deprived of getting themselves educated."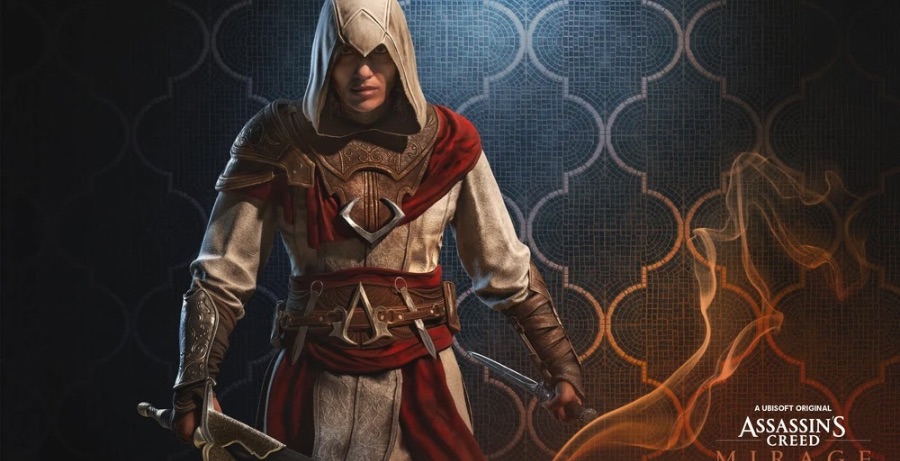 Through Roshan, Aghdashloo is both inspired and hopes to inspire audiences, and especially women, worldwide with Assassin's Creed Mirage. "We are all Roshan," she says. "The only thing we need is a good mentor to get us on the right track and say 'Fight for your rights. Fight for a better society. Fight for justice for all.' Not like they will bring it to you, or you're born to it. One of the meanings of Roshan in Farsi is 'vigilant'. Every woman needs to be vigilant, especially in these sorts of situations where the woman needs to protect herself and other people."
Aghdashloo is a versatile actress, playing a variety of different people, and allowing those various characters to inhabit her. However, in the case of Roshan, a Persian woman warrior who fights for justice, she found the experience particularly more meaningful than just existing in the Assassin's Creed franchise, especially in this current geopolitical moment in Iran with the Kurdish Jina "Mahsa" Amini's death that sparked Kurdish and Iranian women to rally for their rights to this day. "When I started, it was bit more than a year ago. Jina's death had not happened. I'm working on this character, I'm doing my research. When I heard the word 'Hidden Ones', I thought, 'I've heard this word before, where did I hear it?' There was a group called the 'Hidden Ones', and I remembered they were talking about "Ghayebyun", what we call them in Farsi."
Aghdashloo recalled learning about the Hidden Ones in school, and she reflected on how this role pertained to both her past and present. "The Ghayebyun belong to a certain time in history when Hasan-e Sabbah and his friends started cleaning up their society of bad people and standing up for justice, and I thought 'It sounds like it inspired Assassin's Creed Mirage,' and I asked [the creators] and they said yes! I went to the internet and [bought] the book [about Ghayebyun] for myself and read it again, because we had to read it when we were going to high school in Iran. It was a part of our history."
She continued, "I had to immerse myself in it and find all the small things I could use as tools, and all of a sudden, Jina is killed by the Morality Police for sharing a bit of her hair, and my world was upside down. I thought, 'It's now more than ever we need characters like Roshan.' Although we're talking about a game, it speaks so well for today as well. I was so happy doing this, portraying Roshan, to tell the world there are female warriors [in our region]. There were in the 9th Century, but now there are female warriors in Iran, Pakistan, and Afghanistan, who are proving to me that the generation is not dead, it's not finished."
The past year has been particularly poignant for the Iranian Aghdashloo, as the movement for Jina inspired her in this new role, and reminds her of the need to dismantle oppressive patriarchy. "I was just bewildered when it happened asking 'How could it be possible?" she asked. "'At the same time I'm presenting this courageous woman and female warrior?' They start popping up here and there after Mahsa was killed by the Morality Police. To be honest with you, when they were chanting "Jin, Jiyan, Azadî" and "Zan, Zendegi, Azadî", I was thinking that after portraying Roshan, it makes a lot more sense to me now, on how much we need to have our own freedom and be able to live the life that we think is right, and make a choice for ourselves, rather than our fathers or forefathers making a decision for us."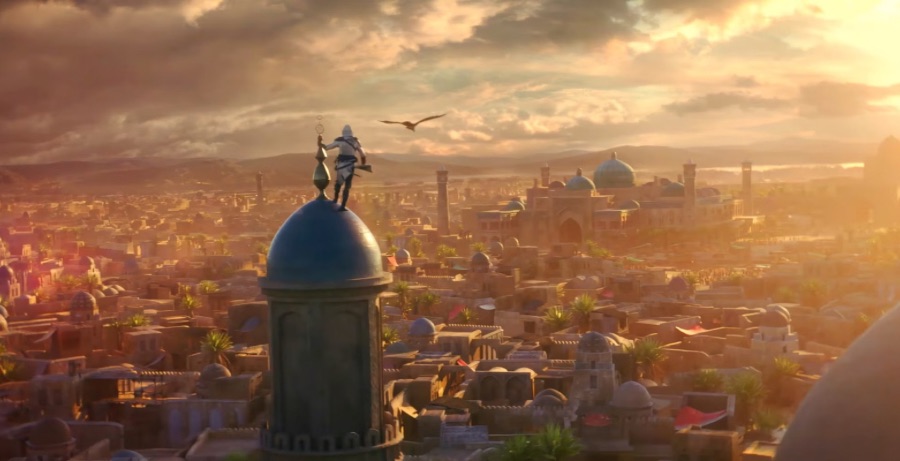 Aghdashloo knows that representation isn't liberation, but she knows that it can inspire those who feel represented in the hero she plays to claim their own destinies. "It doesn't make a difference really [if it's fictional]," she says, "because that little girl in the Middle East or elsewhere who is under pressure, tyranny, they realize that there is a hope. If she did it I can do it too. If the imaginary character is doing it and if she made it, I can make it. You know what I mean? A little bit of hope. And that's far more than enough. I love the fact that because this is going to go everywhere and knowing that it has a fan base of millions of people, people are going to watch it no matter whether they are men or women, and I hope that with this one, brothers and sisters, partners, girls and boys, they play together because Ubisoft made it for all of us, genderless, regardless, all for justice."
Besides the personal relatability of her character, the broad scope of the game amazed Aghdashloo with their recreation of 9th century Baghdad, as they fine-tuned details found in SWANA countries that she herself has visited. "They've done an amazing job with the city. I just watched a bit of it. And it blew my mind. Baghdad in the 9th century, you know the Golden Age of Baghdad. What they have done is unbelievable. It's like you're watching a movie. You're watching a giant, larger than life a movie [and] it's just a game! It's so elaborate with all the details, especially when we go into the bazaar. I've been to Middle Eastern bazaars before."
She adds, "I love going to bazaars, and for me, Cairo's bazaar and Istanbul's bazaar were the most beautiful ones. This one took my heart away. I couldn't believe what I was watching. I was just saying that a couple of people here, when they asked me what is the difference between the bad work and the good work I say 'It's all about details, details, details!" You just have to see it and the music. The music! I can't get it out of my head now. It's a mixture of Eastern and Western music. It's all in the details in the way you tell the story."
Ultimately, Shohreh Aghdashloo believes that Assassin's Creed Mirage will inspire people everywhere to join together to rally for justice, as it effortlessly portrays gender equality. "It's about boosting the female kind of warriors. Situation attitude, believe "Yes, you can do it you can fight shoulder to shoulder with a man. There is a place for you in society, and a good one. All it takes for you is to take a step. Yeah, you see what I mean? You want to be a part."
Assassin's Creed Mirage releases on PlayStation 4|5, Xbox Series X|S, Xbox One, and PC now.