If a perfect marriage could exist between the types of Assassin's Creed games Ubisoft has developed over the franchise's more than 15-year history, Ubisoft Bordeaux delivers it with the first new Assassin's Creed title in nearly three years, Assassin's Creed Mirage. Over the years, Assassin's Creed titles have ranged from narrow action games that emphasize stealth to expansive adventure games prioritizing combat over stealth through their RPG elements.
I have never believed one style of gameplay to be superior in the franchise to another, enjoying elements of every release in the storied series. But because Assassin's Creed Mirage truly bridges the most essential elements of every game the series has published until now, it feels fair to say that this is truly a game any fan of the series, new, recent, longstanding, or dormant, can enjoy equally. Visceral assassinations, parkour across vast landscapes and the bustling streets of ninth-century Baghdad, this Assassin's Creed game brings together iconic features in a modern take.
For those who have played the most recent entry in the series, Assassin's Creed Valhalla, Mirage's main character will be familiar. Basim Ibn Ishaq played a major role in Valhalla, but now he takes players back about ten years earlier in the Assassin's life to his rise from a cunning street thief to master among the Hidden Ones of Baghdad, an ancient organization, under the tutelage of Roshan, a deadly master assassin. During a time of internal and external crisis in the Abbasid Caliphate of 861, Assassin's Creed Mirage delivers one of its most successful renderings of an ancient era yet with impeccable attention to historical, cultural, and architectural detail.
Basim was long enamored by the Hidden Ones' commitment to protecting the poor and innocent of Baghdad and longed to join them. Eventually, he is granted the opportunity and becomes central to their plot to uncover the identities of the Order of the Ancients, the nefarious masked players controlling the tides of politics and power in the region. With a steady blade and a hot temper, Basim not only grapples with the apparent enemy but also with the same thing every Assassin does throughout the series: free will, the burden of knowledge, and an ancient secret threatening to unravel everything.
Notably, aside from the opening cutscene, Assassin's Creed Mirage contains no modern-day portions whatsoever, despite its inclusion in virtually every other game in the franchise in some form or another. Instead you're main focus is only vibrant city during the Golden Age of Baghdad. Not that the game doesn't include allusions to and implications for the future of the series.
Within one of the shortest but most concise and effective plots in recent franchise history is an exceptionally fun game. Foremost, stealth is truly back at the forefront in this game. At every turn, players must make a calculated decision as to how they should approach each mission. Whether en route to assassinate a target, stealing information, or spying on informants, players can certainly approach things however they want.
A heavy hand can take you into combat successfully, but more than ever, the game encourages you to crouch down, climb up, or blend in to sneak around and avoid detection. Many areas are too overrun with heavily armored enemies or bowmen to hack and slash your way through with ease. Patience and scouting will serve you well to avoid death or, like me, running out of the engagement area, losing the enemy's tail, and restarting my quarry.
A notoriety meter is back in a major way for Mirage, making enemy soldiers recognize you almost instantly after committing murder in front of crowds. While this isn't a mechanic I personally missed in recent games, it makes sense to bring it back so as to encourage less open combat. Also as a means of discouraging too much open combat, Assassin's Creed Mirage has done away with recent staples like the bow and arrow or special attacks, leaving you to just your two-handed sword and dagger combo and a small tray of classic Assassin tools like throwing knives, smoke bombs, and blow darts.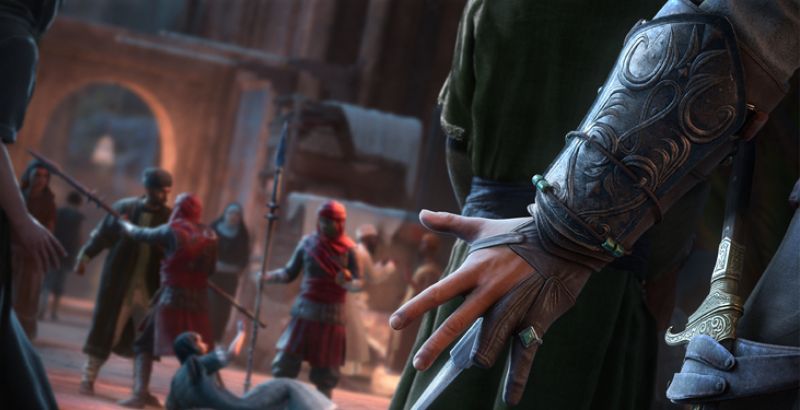 Removing these features, again, makes sense in the context of trying to push players away from open combat and towards stealth. It also makes sense in the context of the game's general compression of the recent formula, like shrinking from massive maps towards a small single city and its surrounding wilderness or making the list of Order members to uncover and kill the smallest it has ever been. But having grown rather used to those tools for making combat a bit more interesting, let alone easier, it does feel missed.
Plus, for as much as the stealth is vastly improved in Mirage over perhaps any entry yet, the game still gravitates naturally towards open combat at all times, despite its best efforts. As soon as you are made, every enemy nearby will converge upon you. Escaping and restarting is an option, but it's timely, given the return of notoriety and the fact that the enemy awareness meter seems to take a long time to cool off, and it isn't always clear as to why it won't when it doesn't. There is no button to quickly reset from a previous checkpoint like many previous entries had, so your only other option quickly becomes fighting.
The combat itself is fine. It's based on the same parry and dodge system that has long been part of the series. But there are only three enemy types essentially, each of which you can eventually learn to dispatch with ease by one means or another. So all of the wonderful stealth routes built into the game become moot rather quickly if you're not careful. This also renders some of the mid-game missions a bit repetitive. As novel and exciting as the newest iteration of the game's mission board, the investigation system is, the classic Assassin's Creed pitfall of repetitive missions does start cropping up briefly during the main crux of the game.
Thankfully, things do switch up regularly enough that this is only a brief issue. And Mirage has reached an ideal version of missions with multiple paths to success. Nearly every major mission in the game expects you to explore the area, find clues as to how to proceed, and often, make you choose from a few different options as to how you may do so. Especially during the bigger assassination missions, there can be any number of ways to enter the building you need to break into, for example. This is a game that could benefit from replayable missions like older games in the franchise because there are a number of ways each egg could be cracked.
When you're in between missions, Baghdad is an incredible city to explore. It's lush with proof that it is a truly metropolitan city with traders from around the world, codex entries to discover real-life information about the place and time in history, and a spectacular realization of the landmarks of the city and its region. Like recent games in the series, armor and weapons are hidden in chests around the map, as well as other collectible and upgrade scrolls.
None of them feel quite as essential to collect as in the game's past since a fully upgraded weapon functions nearly the same as any other in power and form. They just look different and contain one perk each, most of which have a menial impact on gameplay and none of which are transferable to other weapons that deal more damage. Unfortunately, even if you can switch aesthetics and keep another weapon or armor's build.
There are some kinks in Assassin's Creed Mirage that hold it back from perfection, but without a doubt, it is the sharpest, most succinct entry in the franchise yet. With the best elements brought together throughout the series' many games, Mirage stands out as at once completely classic and fully modern. No matter your history with the franchise, this is an excellent jumping-on point as well as a continuation of an excellent lineage.
Assassin's Creed Mirage releases on PlayStation 4|5, Xbox Series X|S, Xbox One, and PC October 5th, 2023.
Assassin's Creed Mirage
TL;DR
There are some kinks in Assassin's Creed Mirage that hold it back from perfection, but without a doubt, it is the sharpest, most succinct entry in the franchise yet. With the best elements brought together throughout the series' many games, Mirage stands out as at once completely classic and fully modern.