Zeno Robinson is becoming a prolific voice actor, having appeared as many fan-favorite characters. From voicing the English dub of Hawks in My Hero Academia to fan-favorite character Hunter in The Owl House to Goh in Pokémon Master Journeys: The Series, he's amassed a formidable round of projects. He's also worked on series such as Demon Slayer: Kimetsu no Yaiba as Genya, along with roles in Dragon Ball Super: Super Hero, Young Justice, Akudama Drive, The Case Study of Vanitas, and many, many more.
His latest role is the English dub for the breakout anime series Zom 100: Bucket List of the Dead, as the lead character Akira Tendo. We spoke with Robinson about what he shares in common with Akira, the process of developing a voice for a specific character, and what type of role is on his own bucket list.
But Why Tho: Could you talk about the process of getting the role of Akira? Had you read the manga prior to getting the part?
Zeno Robinson: As far as Akira and getting the role, I didn't read the manga prior to booking the job. I'd seen it since I'm on the VIZ app, and I have the VIZ App and the Shonen Jump app. I thought it was a cool name. I knew I had to check it out at some point since it had a cool name and had zombies. I thought the main character looked cool, and at some point, he seemed to grow out his hair, so I was wondering what led him to have long hair like this. The audition came into my inbox, so I auditioned. Once I booked Akira, I went and read the manga. I said, "Wow, I can't believe I hadn't read this before." I can't think of a better way to be introduced to it than getting to play Akira. I'm very blessed and honored.
I'm kind of caught up. I know what happens in the most recent chapter, but there's a lot of middle stuff I still need to get through.
But Why Tho: You mentioned getting the audition — is that something where someone reached out to you to audition for it? What's that process like?
Zeno Robinson: With dubs and things like that, there are a few studios that do a lot with anime dub, and I'm on some of the rosters. Sometimes they'll reach out to me, email me, or reach out to my agent, and they'll send it my way. I don't necessarily remember which one it was for this, but I'm on the roster, and the email found its way into my inbox that they'd be working on a dub for Zom 100 soon. They provide you with some materials, with the character breakdown and with a link to the trailer. Sometimes you'll get a scene, but for Zom, I think we just got the trailer to work off of. I read a little bit to get a feel of the character.
I tried not to overthink this one. It's funny. I was like, "I'm not going to book this." I looked at it like there's no way I'm going to book this, so I'm not going to do all the stuff. I'm just going to do my thing. I'm just going to go for it. Then I booked it and was like, "Wow, look at that!" [laughs].
But Why Tho: Why did you think you weren't going to book it?
Zeno Robinson: I don't know. We actors can just be very self-deprecating, and we'll just talk ourselves out of specific things. I think for me I'm just not used to voicing the bright-eyed protagonist. I know that I can do it. I guess I'm just not used to getting it. I didn't want to get my hopes up and be like, "I got that one," because I didn't want to be presumptuous. I didn't think I was going to get it. I thought it was going to go to a bigger or more notable actor or someone who maybe had a more extensive resume who already played these types of characters and leads. It was kind of unexpected. I often play the best friend or the angry guy. Like with Hunter on The Owl House, I'm the angsty young guy. The bright-eyed lead character isn't a character I get to do all the time, so I didn't expect it.
But Why Tho: What's been your favorite part of getting to play the character so far?
Zeno Robinson: Honestly, it's such an interesting juxtaposition in the way where I'm like, "I don't think I'll play this character" because people pass me as this particular character time. Because I am that particular character type in my own life. So I think what I love about playing Akira is connecting with him on all of our similarities. We're alike in a lot of ways, in trying to find the bright side in a bad situation, and we're both very pure-hearted and want to help people and follow our dreams. We have all these things we want to do and are very aware that we don't have all the time to do them.
I'm constantly inspired by Akira and his boundless optimism and how he handles such a grim situation. It inspires me to think about my life and what I want to do, to come up with almost a bucket list of my own. That's been my favorite thing to go on this journey with Akira and experience all of these things with him and, in turn, see myself reflected in him and him in me. It's been great.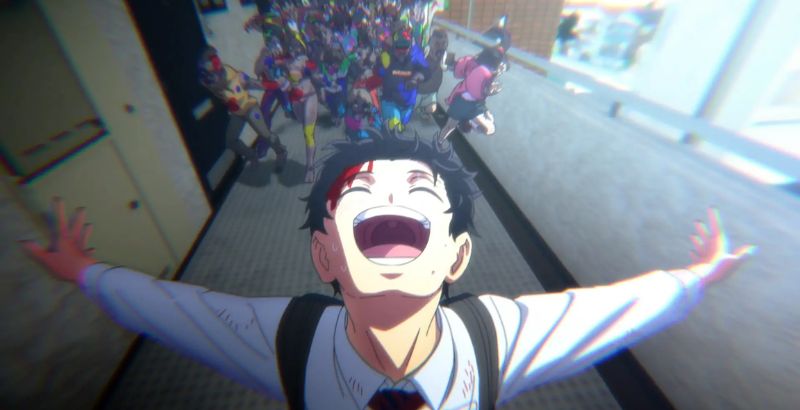 But Why Tho: It must be fun too with that first episode which puts you — you, the voice actor, and me, the audience — through the emotional ringer. It's such an incredible premiere episode. How was it getting to play the gamut of going through a depressive episode to the pure euphoria Akira experiences at the end?
Zeno Robinson: I love it. I love nuanced storytelling, and I love complex storytelling. Part of the reason why I'm in voice acting is to experience those things feel those emotions, and be able to do those emotional rollercoaster scenes. I'm so honored to be able to tell that story in that way. It was fun. I had a great time. It's very cathartic, like acting and feeling it and getting to express those feelings as he goes through getting his job, and it's great, then it's not great, he's depressed, borderline suicidal, and then the euphoria, and we go back to the boss, and quitting the job, the confession — it was such a great arc. He went through so much in just that first episode, and I love every second of going on that journey with him.
But Why Tho: Do you have a process of crafting a specific character's voice and how you approach it, and has that process changed over the years?
Zeno Robinson: I try to mostly trust my instincts. I try to find the voice where it lives in me. I had a voice acting teacher who told me to look at every role, every character, like a toy. When you were a kid and played with toys, you'd come up with little voices for them. As a kid, the voices were appropriate to that character. If it was a big guy as a kid, you probably put on a big voice for him. So I try to do that in a more refined way because I'm a trained actor. I try to look at every character with as much information as I can about them to craft the voice.
So Akira, for example, the voice I use in the show is different from the one I used in the audition. In the audition, I went based on the trailer, and then when I booked the role, I did more research on his personality, I read the manga, and in reading the manga, I was like, oh, the voice I use isn't going to work. I'm going to change it a little bit. Then I combined that with what the casting director wants, what the producer wants, the director…It all combines to create what will ultimately be Akira's voice.
I came in with an idea, and then they refined the idea, and I refined their refinement. That's how we found the voice. I want to always, as an actor, present a strong idea and then let them tell me if that's in alignment with the original creator's intention or the producer's intention of what they want the voice of their character to sound like.
I try to do as much research as I can on my own, I bring it to them, and they change it if they need to. Sometimes, they don't need to change it, and that's great. Like with Hawks in My Hero Academia, I came in with an idea of how I wanted the voice to be based on my audition, and we refined it by hearing it after Yuichi Nakamura's performance. That created Hawks's voice, and it's a combination of things.
But Why Tho: You bring up Hawks, and I was going to ask about how the fan reaction has been to you being cast in this role and being a part of this series. Before I knew My Hero Academia was likely the biggest reaction you faced due to the sheer scale of the series — was there similar positivity with Zom 100?
Zeno Robinson: It's been very positive. I'm very honored and grateful to have fans and a supportive community that is always excited to see me do something. When it came out that I was playing Akira, a lot of people seemed excited about it. Some people were like, "Man, he doesn't play a lot of protagonists," so they were excited to hear me as a lead. Some people were like, "Oh, I knew it was going to be him," or "I had a feeling it would be him," which is surprising to me. It's pretty cool people would assume I'd be playing a role like that. It's been mostly positive. Even when it came out and people were watching it, they'd tag me, and that stuff is really touching. I'm glad I'm able to meet these expectations that people have for me, especially when it comes to art and a show like that, where I'm able to rise to an occasion to bring them the best possible product.
BWT: Going through your career, I love seeing how many of my personal favorite shows you've popped up in, such as Sk8 the Infinity or Horimiya. You've obviously done a lot of action-based, shonen series. Is there a genre you're still hoping to get to explore? Or, you've been in a lot of legacy series. Is there one you haven't been a part of yet that you'd like to be?
Zeno Robinson: I don't know! I think some things that would still be cool to be a part of are things like the Teenage Mutant Ninja Turtles, like, that would be cool.
But Why Tho: Especially these days!
Zeno Robinson: Yeah! The movie was so good — I love the Ninja Turtles. Yeah, I want to play Static still. There's still a lot of things I haven't done. I think Kingdom Hearts would be cool to be a part of. But there are things I like being a fan of as well. As far as anime is concerned, I haven't done a cutesy, movie, romance anime yet. That would be fun, right? Horimiya is one of my first slice-of-life series, and that's really fun. But maybe like a premiere anime movie. Like Makoto Shinkai. That's something I haven't done; like Makoto Shinkai, one boy and one girl go on a magical adventure type of story. That's something I'd like to cross off of my proverbial bucket list.