I've been a fan of the Dragon Ball for nearly all of my life, but recently I've found myself drifting away. Through no fault of its own, I haven't done much outside attending recent feature films. That is until I watched Dragon Ball Super: Super Hero and immediately started binging Dragon Ball Super. While "is this good for newcomers" is a question that most shonen anime feature films, that answer is a little weird when it comes to Dragon Ball Super: SUPER HERO. The latest Dragon Ball feature film in the franchise, the film leans heavily on the past to give Piccolo and Gohan some much-needed shine. While I can't recommend the film to newcomers, for those who haven't been in the franchise for a while, it's the perfect entryway back. So, I've put together my three reasons to watch Dragon Ball Super: SUPER HERO when it hits theaters on August 18, 2022.
In Dragon Ball Super: SUPER HERO, the Red Ribbon Army that was once destroyed by Son Goku is back, well in a way. Individuals, who carry on its spirit, have created the ultimate Androids, Gamma 1 and Gamma 2. Calling themselves "Super Heroes" they start attacking Piccolo and Gohan which leads both of them to unlock new strength and power. Here are three reasons you should watch Dragon Ball Super: SUPER HERO.
Perfect Comedy
Sure, Dragon Ball as a franchise can get serious, and does, a lot. But the truth is, the comedy of the franchise is one of the reasons many fell in love with it. Balancing comedy and action is key to the success that Dragon Ball Super: SUPER HERO achieves. Much of the humor that comes throughout the film is rooted deeply in Dragon Ball. Which is no surprise given the full commitment and deep involvement from Dragon Ball's original creator Akira Toriyama at the helm—writing the film's original story, screenplay, and character design.
With Papa Piccolo at center stage, references to iconic filler episodes like, you know, how Piccolo doesn't have his driver's license, and Gohan's daughter Pan playing up much of the naive punchlines like Goku once did, this film just works. It all feels like a callback to the past, however it doesn't lose sight of the characters' futures. This leads me to the next reason to watch Dragon Ball Super; SUPER HERO.
Piccolo & Gohan
While Dragon Ball Super: SUPER HERO manages to put up some extensive nostalgia by creating parallels to the Cell Saga and the past, it never loses sight of showcasing how far characters have come. This is particularly true for Piccolo and Gohan. For Piccolo, we get to see him step into the best dad/granddad spotlight in some of the best ways. Not only does the script poke fun at the fact that the best dad of the franchise is more of an uncle, but Papa Piccolo gets the chance to be loving and soft in the front of the movie while also getting a climactic action sequence in the finale. Piccolo gets to be the versatile character we know and love all while his connection with Gohan is also explored.
For Gohan though, we see him following down the same path of his father, only instead of training his body to be strong, his research as a scholar is his main focus. While we see Piccolo scold Gohan for shirking his fatherly duties, we also see Gohan pushed past any power limit that exists in Dragon Ball currently and it's all thanks to Papa Piccolo and his love of his daughter Pan. Getting the chance to see Gohan fighting center stage and fighting for and alongside his family is something I have been wanting as a fan. This film is a love letter to Gohan, but even more so the relationship and future he has with his family and Piccolo is central to that as well.
Original Characters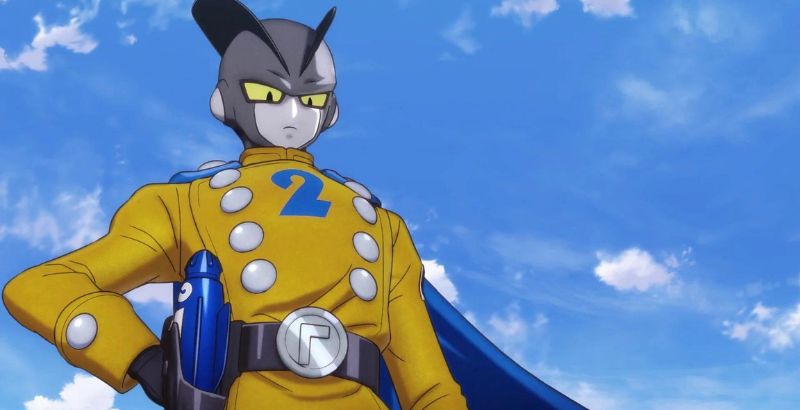 While you should watch Dragon Ball Super: SUPER HERO for all of the ways it caters to longtime fans of the franchise, you should also get your ticket because of the original characters. Gamma 1 and Gamma 2 are not only a riot on screen, they're also a rather emotional part of the film that I didn't expect. While Gamma 1 is more logical and reserved, Gamma 2 is loud and boisterous, using his comic effects every time he can. But the pair together are magic on screen with humor, heart, and action. In fact, the character designs and irreverence for the Z Fighters lets the new animation style be used to the fullest, I mean, running on a Kamehameha anyone?
Additionally, they add the element of complexity. As the driving force of the film's narrative, the two Gamma androids are dedicated to being superheroes and that means investigating their roles in the Red Ribbon army and separating fabricated history from the real events. All of this comes together to make stellar additions to a franchise stacked with memorable and exciting characters.
---
Distributed by Crunchyroll, the film will arrive in more than 2500+ movie theaters in North America on August 19. The film is available subtitled and dubbed in English. Tickets are now on sale.