It has been a tremendous year so far for anime. From returning favorites such as Demon Slayer to stand-out debuts such as HiDive's near, inexplicably great Oshi no Ko, and the rebooted Trigun Stampede, there's been no shortage of thrilling, and emotional series that captured our interest on a week-to-week basis. However, following the finale, there's little doubt that Skip and Loafer Season 1 is one of the very best debuts this year, if not the best, and one of the strongest slice-of-life anime in years.
The series follows 15-year-old Mitsumi who has moved from her rural town to live with her Aunt Nao and attend high school in Tokyo in order to pursue her ambitious goals. While there, she makes fast friends with the seemingly polar opposite Shima, who helps her find her way after she gets lost on her way to the school's entrance ceremony. Her motivation contrasts with his idling demeanor, yet he's transfixed by her eagerness and willful personality that results in her racing, barefoot, to the school to make it there in time, determined to be undeterred in making a good first impression.
Of course, that first impression goes sideways, but this introduces viewers to one of the first, key elements of the series — its overwhelming kindness. Even the description of Mitsumi's character is a disservice, calling her someone who isn't well versed in social norms when really she's just naive. The show acknowledges that, from her earnest rendition of a favorite song from childhood at karaoke to her awe at a fancy drink at a Starbucks adjacent coffee shop, and her ignorance in understanding why people from different social groups wouldn't be able to all get along. However, it never demeans her for that naivety, nor does it ever suggest it's something to be fixed. She grows more perceptive of certain social niceties as the series goes on, but overall her lack of caring about social status or popularity hierarchy is what makes her such a tremendous character, as she often can see someone's vulnerabilities without attributing it to something more than simply what her friend is feeling in the moment.
This in part is why introducing Shima as her first real friend at the new school works so well as he embodies everything she isn't, despite his laidback appearance. He cares a lot, but not about being popular — he's just come to learn that life is easiest when he gives people what they want, playing into a role he's less comfortable in as he is content working with. Due to Mitsumi's inability to hide her emotions, Shima is able to confide in her, however briefly. Rather than just play foil to her enthusiasm, he instead is allowed to be one of the many who soak up the exuberance she carries with her, learning from her in small increments, while utilizing his own joys and perceived failures to forge his own path, parallel to Mitsumi's while still remaining individually his own.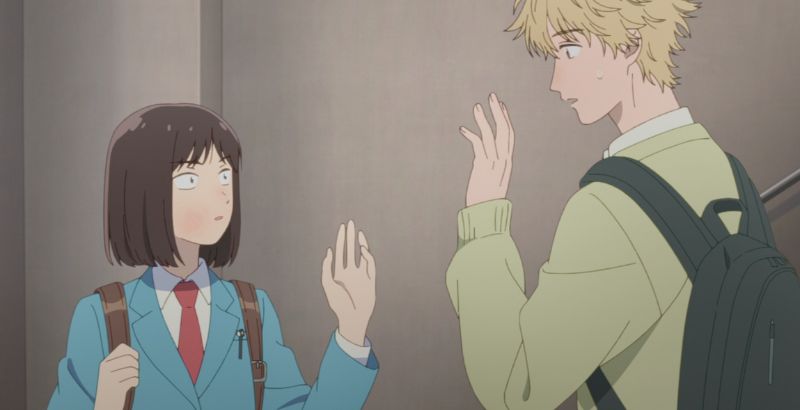 That agency that the show plays in for the characters, allowing them their own moments of growth without needing to attribute it all to someone else, plays with the compassion the series has for all its characters. This is especially true with Mitsumi's three other closest friends, Egashira, Murashige, and Kurume, all of whom begin with opposing personalities. Murashige and Kurume's friendship develops throughout the series, seen in pieces but no less potent, while Egashira's characterization is particularly profound in small beats, such as the change from caring about only eating healthy food in a group setting to her being comfortable enough with her friends to partake in sweets. Their sleepover episode remains a highlight of the season, demonstrative of the charm and insight of the show that remembers both that these characters are teenagers, prone to mistakes, and also that emotions at 15, and 16 years old are overwhelming, and a choice to return to a sleepover despite reservations can shift the world on its axis in how it affects you.
That empathy for the entire cast is one of the more beautiful, engaging aspects of the series. Beyond the characterization, the series excelled in the technical aspects. Based on the manga by Misaki Takamatsu, series director Kotomi Deai has adapted the original with a respectful eye for what made the manga stand out in the first place. With colors that imbue the series with the nostalgia born from youthful coming-of-age stories, and soft lines and transitions that add to the visual language of the story, Deai's work is tremendous. The score composed by Takatsugu Wakabayashi is a similar standout, and we see how the direction and music marry in the premiere itself, as the score accelerates and grows louder to keep pace with Mitsumi's breathless charge ahead.
Really, the crux and healing nature of the series is witnessed in the OP, created by DMM Pictures with the theme song "Mellow" by Keina Suda. It's sweet, and unbearably cute, a tremendous introduction to these characters. The series doubles down on the energy, resulting in a timeless story of one girl's coming-of-age journey and the significance of friendships made in these formative years.
Skip and Loafer Season 1 is formidable due to the tender heart it wears on its sleeve, demonstrative of strong, defining artistry and coherent animation that flows at a patient, immersive pace. The characters themselves are the heart of the series, with Mitsumi, in particular, being a breath of fresh air as far as protagonists go, but the entire series exemplifies the magic that happens when all parties involved are creating art to serve the same purpose and doing so with palpable love and joy over the story they're telling.
Skip and Loafer Season 1 is available to stream on Crunchryoll.
Skip and Loafer Season 1
TL;DR
Following the finale, there's little doubt that Skip and Loafer Season 1 is one of the very best debuts this year, if not the best, and one of the strongest slice-of-life anime in years.