After the first couple of episodes laid down the foundation, Destined With You Episodes 3-4 move things along briskly. While we see a complete personality overhaul in Jang Shin-yu (Rowoon), it's not completely unwarranted. However, it is drastic enough to prompt some headscratches. Meanwhile, after adjusting to her immature personality, viewers get to see Lee Hong-jo (Jo Bo-ah) go with the flow, except when it comes to Shin-yu. With him, she butts heads, but we all know that she's slowly softening up to him.
In Episode 3, we start right where Shin-yu has his accident on the side of the road. An accident won't stop him from meeting up with the presumptuous Yoon Na-yeon (Yura). Marriage is on her brain, but for Shin-yu, all he wants is a break from her, especially after a brief blink-and-you-missed-it moment of mistaking her for Hong-jo when entering the bar.
During this, Hong-jo is busy making a love spell to potentially win over an unrequited crush, Kwon Jae-kyung (Ha Jun). Ignoring the ethical ramifications of this act, she's determined to find a way to get Jae-kyung to drink it the next day, and, bless her heart, she tries to slip it into his water before a meeting without thinking of the consequences to herself but also to others who might be impacted.
Before she can confirm whether or not Jae-kyung drank her love potion, she gets called away. The precious potted plants she worked so hard to set up have been destroyed, and the mayor is big mad. The culprit is just under her nose, and Shin-yu admits to her that he's already taken responsibility for destroying the plants. Before she gets the chance to process, he tells her to submit for time off and go with him somewhere. Reminding her of the deal she made with him to perform one spell for him from the book and using her public humiliation at the City Hall as an excuse, Hong-jo goes with him.
Throughout Destined With You Episode 3, Shin-yu's heart towards Hong-jo is wavering. The beginnings of a crush have taken hold. We see it while he drives them to Mount Jiri, in the long stares while Hong-jo performs the healing ritual on him, and how the camera frames her for his gaze. The crush on Hong-jo is solidified further when they get back from their trip, and Jae-kyung reaches out to Hong-jo to see if they can meet up.
Complicating matters is his girlfriend. When he returns from his trip, he finds Na-yeon at his door with a bunch of items. She's ready to start living with him and only has marriage on the brain. Shin-yu tells her that he needs time to reconcile with his health, but she refuses to agree to break up. Her eyes are set on him. With his growing feelings for Hong-jo and the past bad blood between Hong-jo and Na-yeon, this sets up the stakes for another showdown between the two women in future episodes.
His feelings lowkey turn into obsession when Shin-yu follows Hong-jo to her meeting with Jae-kyung. Growing suspicious by the suddenness of his feelings, he starts putting the puzzle pieces together. Between the timing of when Hong-jo tries to give Jae-kyung the love potion, Shin-yu's proximity, and confirmation from the CCTV footage he can pull, the young lawyer starts to believe he mistakenly drank the potion.
With that said, there's plenty of tug-of-war between whether or not Shin-yu truly believes in the validity of these spells in Destined With You Episodes 3-4. But as we learn in Destined With You Episode 4, he can't pass up a good opportunity to troll Hong-jo.
Destined With You Episode 4 picks up after Shin-yu confesses to Hong-jo that he likes her. Much lighter in tone and full of hilarious moments, the bulk of the episode for our two leads is spent with Shin-yu making Hong-jo uncomfortable with his over-the-top antics to prove how much he loves her. Using her mistake with the love potion as justification for why he has feelings for her, he takes any moment he can to rub it in her face.
Throughout the episode, Hong-jo is driven to annoyance by Shin-yu's sudden appearances. But sometimes, his borderline stalking behavior has its benefits. One night, conveniently after Hong-jo's landlord informed her someone new was moving in, she is followed through a dark alley on her way home. Just when things get intense, Shin-yu is there to save the day. That and to brag to her about the strings he's pulled to fix the broken lights in her neighborhood.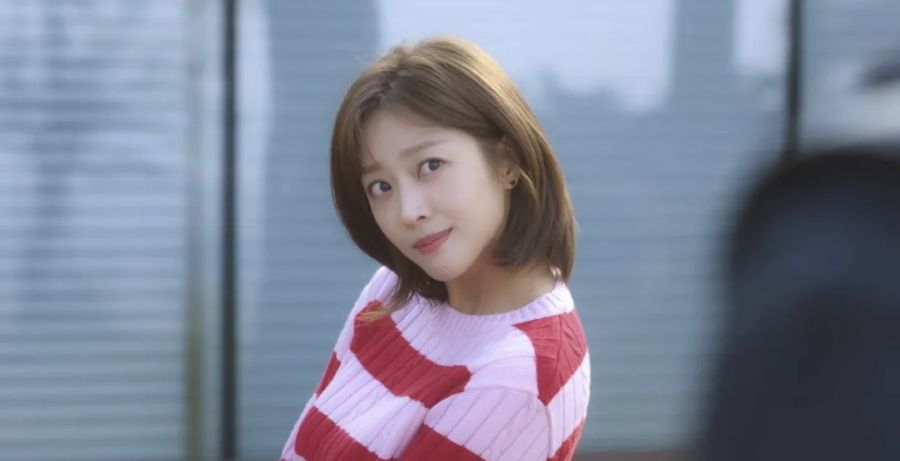 Good deeds don't go unpunished. Eventually, both, wanting an end to Shin-yu's antics, visit the shaman of Shin-yu's old shrine to try to acquire answers for how to break the spell. At first, it is assumed that they cannot break the spell. We're briefly shown through Hong-jo's reading of the spellbook that harm will come if she tries to break off what she's done. By the episode's end, though, Shin-yu realizes there is no breaking. Their destinies are tied together, spell or no spell.
Speaking of destiny, two major developments occur outside of our two lovebirds. In Destined With You Episodes 3-4, we finally get an appearance of the much-speculated Ma Eun-young (Lee Bong-ryun). In the first episodes, she was said to have gone on leave due to a marriage scandal. However, in Destined For You Episodes 3-4, she has returned and is ready to rectify all the problems her colleague, Gong Seo-goo (Hyun Bong-sik), has caused.
Seo-goo has been worrying over Eun-young for some time but has also been lashing out at Hong-jo for presumably taking a position he felt entitled to. With Eun-young's return, we see how quickly he is put in his place by his superior. We also see how he wears his feelings for her on his sleeve, even going so far as to stay up late acquiring evidence to get back at anyone who criticizes Eun-young online. Whether or not these two go anywhere romantically, it can't be denied that these two are tied together by destiny, too.
We also see more development with Hong-jo's crush, Jae-kyung, particularly in Destined With You Episode 4. In his meet-up with Hong-jo, he tries to get her to see the light. He tells her to find someone better for her and that he is not as kind as she believes him to be. She points out that now she realizes how lonely he is, which seems to hit a nerve. But loneliness is a theme in Destined With You, and it has now extended to Jae-kyung.
We learn through a message that he is in a not-great place with his dad but also has a low tolerance for bullying antics. At least, as it involves him. He goes after Hong-jo's colleagues and tells them to take down the video they posted exposing him or else. This, coupled with his explosive discussion on the phone when it is discovered he is the new tenant living beneath Hong-jo's home, paints a particular picture. There's an edge to this seemingly kind man, and what does that spell in the end for Hong-jo?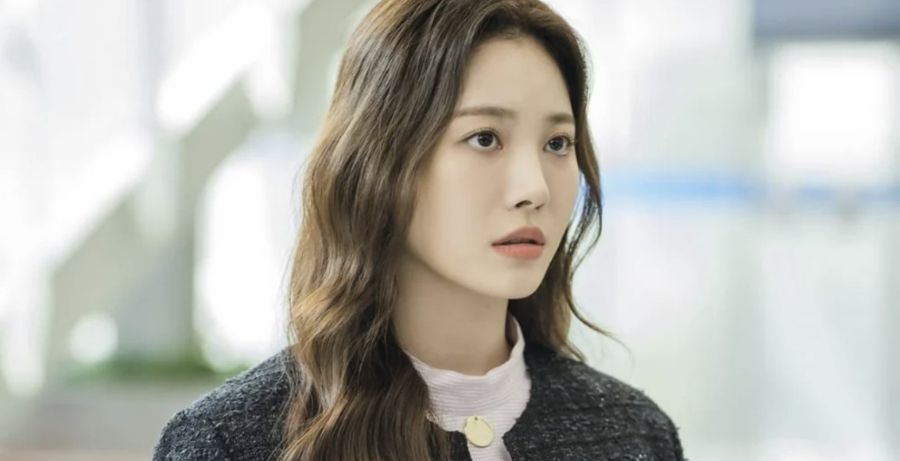 Destined With You Episodes 3-4 feature a lot of plot but also further develops the romantic elements between our two leads. How the series is handling the magical elements so far seems unsure as to how far to go with its supernatural mysticism. We have confirmation via the shaman of the temple and the mysterious hands that assault Shin-yu that there's some magic at play here.
However, the push-pull surrounding Shin-yu's feelings and their suddenness has us in muddy territory, especially regarding the writer's intent. If not magically influenced, why does Shin-yu have such an unrealistically drastic personality shift? This is sure to be explained in future episodes, but with such a drastic change in Shin-yu's emotions, a little more clarity would have smoothed out this confusion and further cemented how far magic goes and exists in the world of Destined With You.
As far as any mystery is concerned, we have Shin-yu's dreams and Hong-jo's relation to them to cling to. A young girl in traditional attire starts to appear at random in his dreams after the healing spell. Whether this is a dream detailing something from his ancestral past or something else is not yet clear. But it can't be denied that Hong-jo is somehow connected.
In Destined With You Episodes 3-4, a lot happens, but this time with intention. After the unnecessarily slow Episode 2, we're going full steam ahead in the romance development department. While Shin-yu undergoes a drastic personality shift, some would say almost too drastic, it's clear there are genuine feelings under the young man's skin. As for Hong-jo, while she is busy dealing with Shin-yu's obnoxious antics, she is also juggling a deep sadness for her father. With the reveal that the two are permanently entwined by destiny, the door is open for future episodes to explore what that means.
Destined With You Episodes 1-4 are now available on Netflix, with new episodes airing on Wednesdays and Thursdays.
Destined With You Episodes 3-4
TL;DR
In Destined With You Episodes 3-4, a lot happens but this time with intention. After the unnecessarily slow Episode 2, we're going full steam ahead in the romance development department.