Destiny is a hard thing to shirk. Some of the best, compelling Kdramas have focused on the unbreakable bond of destiny. With Netflix's Destined With You, we're taken into a potentially multigenerational tale focusing on a civil servant, Lee Hong-jo (Jo Bo-ah), and a workaholic ace lawyer, Jang Shin-yu (Rowoon). While it's too early to say where exactly the series will go, based on Destined With You Episodes 1-2, the foundation is set for the struggles ahead.
In Episode 1, we open on the mysterious first meeting between Hong-jo and Shin-yu. Laid out on her back, dazed and confused in a haunted shrine, she thinks the young man is the grim reaper, come to take her away. The reality is he's there to scope out the death trap that his familial property has become, prompted by the unfortunate death of a YouTuber. But that's jumping ahead a bit.
We leap backward six months prior to this meeting and see how deftly Hong-jo handles civil complaints regarding communal matters. As a ninth-level civil servant, she usually handles the stuff at Onju City Hall that others would rather avoid. This becomes most apparent when she gets transferred over to a different department. The core group of workers there treat her passive-aggressively. They give her tasks they don't want whilst simultaneously refusing to include her in any group activities. Lonely, all Hong-jo can do is the best job she is able to do.
While Hong-jo is passive, Shin-yu is the opposite. We see his ruthlessness and intelligence represented in a court hearing for potential fraud. Willing to describe in detail how a widow and her deceased husband conspired to defraud the construction company, he holds nothing back. His work ethic is impressive, but his interest in his law firm is running thin. And there's the matter of his mysterious inherited family illness.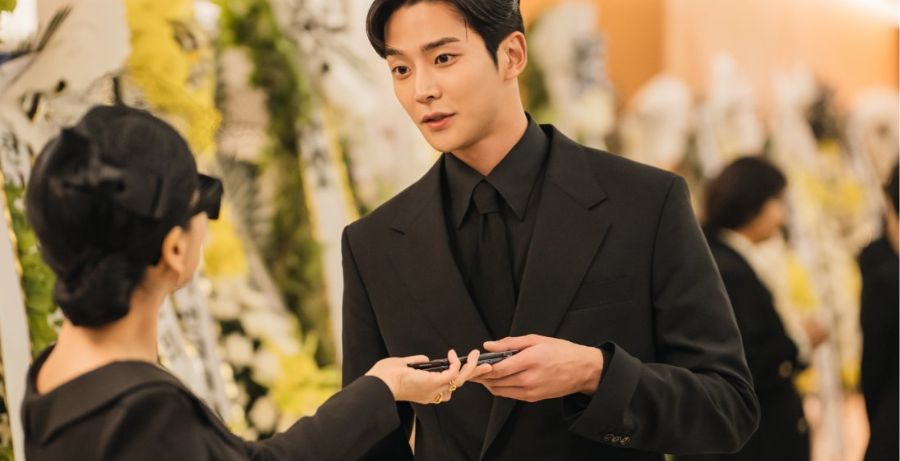 Manifesting as ominous hands, one blue and one bloodily red, these manifestations are leading to his failing health. Members of his family don't live long, and the sword of Damocles hangs over this young man's head. All this is set to change when he comes face to face with Hong-jo.
With his family's private property being the cause of multiple complaints, Hong-jo is on a mission to demolish the haunted shrine. She butts heads with Shin-yu, but destiny has a funny way of circumventing things. With the approval of the shrine's former shaman along with a message for Shin-yu, Hong-jo's life is supposed to get easier, but it's not. Instead, Shin-yu, upon the shaman's instructions, gives her a mysterious box meant for her. Her new task? To get it open.
Destined With You Episode 1 lays down the foundation for our characters. We learn of this mysterious curse that seems to inflict on the men in Shin-yu's family. Subdued and analytical, Shin-yu is isolated by his illness and is trying to find new meaning in his work. Hong-jo also finds meaning in her work. Handling all tasks thrown at her without complaint, she hopes that her work will also help her make friends.
Destines aside, both Shin-yu and Hong-jo are linked by their loneliness. Shin-yu is isolated so far by his illness. Hong-jo has no friends or family to eat or spend time with. As of now, loneliness is shaping out to be an underlying theme to be explored in Destined With You.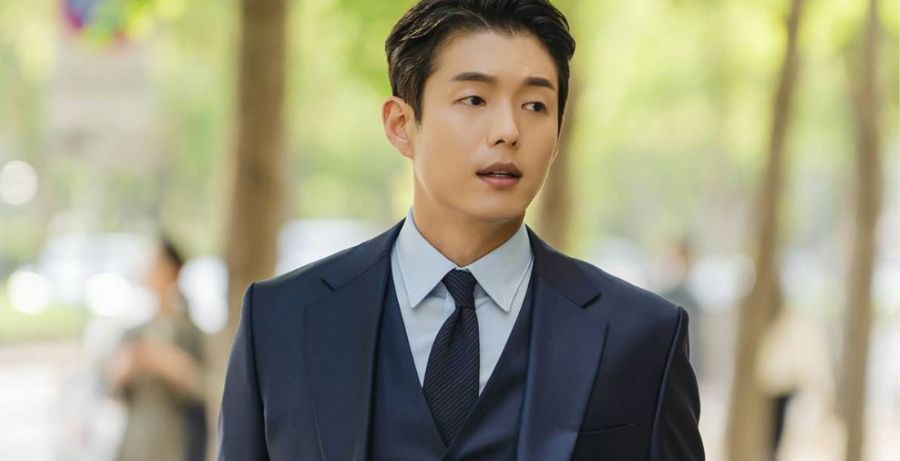 This theme carries over in Destined With You Episode 2, but not much happens. The bulk of the conflict in Episode 2 focuses on Hong-jo trying to open up the box. The real highlight comes with what she finds inside – a spell book written by shaman Aeung-cho. While Hong-jo dismisses the spellbook as a funny prank, Shin-yu looks up whether or not the name has weight. Finding out that the shaman was real startles him.
However, the revelation that his ancestor was at the hand of the shaman's death yields minimal response, which is an odd acting and directing decision. Perhaps it is too early in the series for the dots to be connected quite yet. This detail did not go unnoticed. And the fact that Hong-jo is the only one that could open the box means that somehow there might be a connection between her and the shaman.
Another mystery that hopefully will develop sooner rather than later is Kwon Jae-kyung (Ha Jun). Compared to Shin-yu's girlfriend, Yoon Na-yeon (Yura), who gets filled out a little bit more in Episode 2, Kwon is still somewhat of a blank slate. He's nice, but the character doesn't stand out from what we've been given so far. Hong-jo has a crush on him, but he rejects her without much emotion. The revelation that she was rejected getting spread all over city hall carries more weight than Kwon does. As it stands, if he's supposed to carry any weight, you can barely feel it.
Destined With You Episodes 1-2 lay down the foundation of the characters and the mystery ahead. While Episode 1 sets the stage, Episode 2 almost seems lacking comparatively. Whether due to the lack of action or forward movement in the plot, it's hard to say. However, where Episode 2 ends leaves us on a potentially climatic cliffhanger. Will the love spell be a success? Is Shin-yu okay? There's plenty of curiosity stoked by the ongoing mystery that's been shown so far.
Destined With You Episodes 1-2 are now available on Netflix, with new episodes airing on Wednesdays and Thursdays.
Destined With You Episodes 1-2
TL; DR
Destined With You Episodes 1-2 lay down the foundation of the characters and the mystery ahead.