With the successful detonation of the world's first nuclear weapon in 1945, J. Robert Oppenheimer ushered in the creation of a new realm — an atomic world full of grave questions and even more worrying answers. Christopher Nolan's viscerally anticipated account of that complicated figure, the aptly titled Oppenheimer, takes on a similar effect, ushering in a new form of blockbuster biopic. It not only breathtakingly marries the sonic with the visual but makes its true spectacle an explosive volley of deeply indicting conversations — an epic that unfolds more as a brainy slow-burn than an outright explosion.
Oppenheimer is a deeply interrogative character study and a sprawling historical document that unleashes its most incendiary blows when its scorching depiction of political overreach takes precedence over the race for atomic armament. As it tracks the exceptional mind who directed the Manhattan Project to build the bomb that ended World War II, our subject is methodically vilified for vocalizing earned concerns that contradict America's arms-race mentality.
Nolan is a filmmaker who has unequivocally earned his stripes for his visual mastery of the medium rather than his skills as a cinematic dramatist. His sheer command of spectacle and style has dominated many a year's film discourse, and that's very much the case here. Yet, with Oppenheimer, he crafts a science epic that is just as deafening in its quiet moments as its loud ones. The film is best described as a thicket of captivating conversations, and though it can threaten to drag — especially in scenes featuring mid-century men engaged in heated, deeply complicated conversations about quantum mechanics — Nolan gives them immense force with his signature chronological interweaving.
He laces the film with two separate, utterly absorbing Washington hearings, one for Dr. Oppenheimer (Cillian Murphy) and one for Lewis Strauss (Robert Downey Jr.). At first, they contrastingly bubble in the background, but they slowly consume the narrative, completely occupying the final act. Moreover, there is an abundance of key, emotionally affecting discussions that continue to develop as they are revisited. One such discussion is a moving conversation between Oppenheimer and Albert Einstein (Tom Conti) that gracefully explores the consequences of scientific achievement and concludes with a sorrowful impeachment of America's propensity to create and then destroy its heroes.
The chronological maze cements a film that not only tests its audiences but is aggressively messy, creating an experience that feels both lost and very methodical. That messiness quickly becomes the key to its sprawling formula. Shifting periods and conversations at the drop of a single word, each gives force to the next discourse regardless of its place in the timeline of events. It's a mad concoction that is as dizzying as it is captivating, cementing a masterwork that is incredibly difficult to nail down in just one viewing and begging to be poured over for years to come as it incites re-evaluations of its profoundly ill-defined protagonist.
The twisting, labyrinthine structure is thoroughly rewarded by the breathtaking centerpiece that is the 1945 "Trinity" atomic bomb detonation test in New Mexico, which makes way for the historically devastating bombings of Hiroshima and Nagasaki. The fallout crowns Oppenheimer as a national hero despite the acidic moral reservations that mark Murphy's vivid, sunken visage. These internalized ethical qualms play out as heart-wrenching, surreal visions of blinding light and ash that engulf a conflicted Oppenheimer as he slowly reckons with the muddled line between good and evil. The film's subsequent transition to the sickening smear tactics of the McCarthy era is viscerally captured in a relentless stream of dialogue-driven vignettes that painstakingly trace each betrayal and act of loyalty.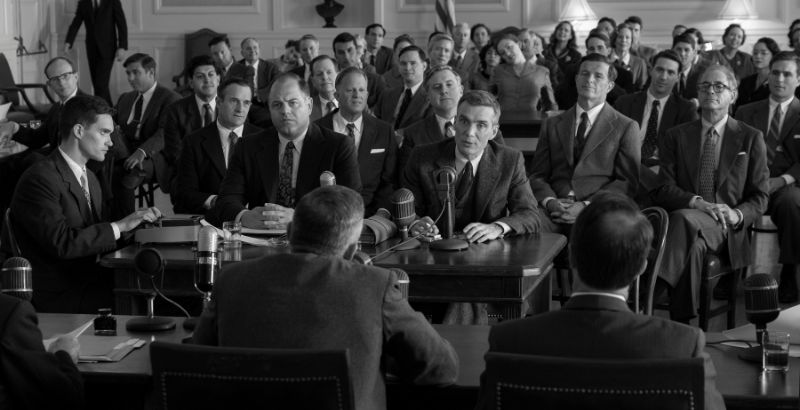 Nolan deftly builds toward a powerful crescendo that mournfully basks in the humiliation of Oppenheimer and his combative Wife, Kitty (Emily Blunt), at the hands of the vindictive Strauss. As a result, it's a three-hour experience that rarely lulls, expertly employing each moment of its runtime to reinforce the next until its ear-splitting, heartbreaking conclusion. This is all underpinned by Ludwig Göransson's thundering, wall-to-wall score that sits at a perfect crossroads between goosebump-inducing and woefully elegiac.
In a never-ending ensemble of giants, Downey stands tall as the Machiavellian Strauss, who poisons the most influential of public officials against the all-too-honest Oppenheimer. Downey nails both the seething contempt under his clean-cut persona and the torrent of rage that spills out in a great late scene.
Murphy's soft-spoken yet expressive portrait is mesmerizing, to say the least. His pale, piercing gaze is reflective of his wily determination and his moral naivety, which cathartically gives way to a palpable level of inner torment when he realizes the extent of the power he has bestowed upon mankind. His academic peers, Ernest Lawrence (Josh Hartnett), Isidore Rabi (David Krumholtz), and the smug Edward Teller (a great Benny Safdie) all make a memorable impression.
Matt Damon's Major Leslie Groves, who oversees the nuclear development project, strikes a perfect balance between humor and sternness. His implicit respect for Oppenheimer's intelligence unearths a wonderfully moving duality. Blunt's role is never relegated to that of a supportive spouse. Instead, she surges with conviction, sorely unapologetic about the life she has led, especially her past ties to the American Communist Party.
There is also a bevy of small but significant roles, the most notable of which being Casey Affleck's ruthlessly inquisitive intelligence officer and Jason Clarke's viciously accusatory Government Counsel. That's not even mentioning turns from Josh Peck, Alden Ehrenreich, David Dastmalchian, Florence Pugh, Kenneth Branagh, Rami Malek, and Gary Oldman.
Oppenheimer is a wholly distinct entry in Nolan's canon, one that is incredibly talkie and thoroughly embedded in a sweeping sense of gravitas. It's fueled by an overabundance of close-ups of faces that struggle to reckon with who they are and ones that have succumbed to what others think they are. It's an incredibly mournful epic that uses its philosophical and emotional weight to exert its hold over viewers and utterly absorb them into its all-encompassing vision.
It's messy, flawed, and, at times, overwrought. But then again, so was Oppenheimer. It's rare to find an epic that embraces its central figure so holistically in its attempt to discover what kind of place in history he deserves for unleashing hell on earth.
Oppenheimer is playing in theaters July 21st.
Oppenheimer
TL;DR
It's messy, flawed, and, at times, overwrought. But then again, so was Oppenheimer. It's rare to find an epic that embraces its central figure so holistically in its attempt to discover if he's deserving of heaven after setting the stage for hell on earth.