Everyone loves a good underdog story. Sony and PlayStation Production's latest video game film is not so much an adaptation of the source material but a retelling of a true story – in case you didn't know that already from the movie's trailers and marking campaign. In some cases, you might even see Sony Pictures' Gran Turismo sold as Gran Turismo: Based on a True Story. Point in case the studio and filmmakers really want you to know that this actually happened. And this is apparent from the very start of the movie, where we're given an introduction to Gran Turismo creator and mastermind Kazunori Yamauchi (Takehiro Hira). Directed by Neill Blomkamp and written by Jason Hall (screenplay & Story), Zach Baylin (screenplay), and Alex Tse (Story), Gran Turismo surprisingly has tons of fun with its concept and delivers a feel-good underdog tale that's hard not to root for.
Neill Blomkamp's film is, admittedly, rough around the edges. Gran Turismo isn't trying to reinvent the wheel of sports biopics, and to be fair, it doesn't really need to. But with that comes the inevitable feeling of having already seen this story done hundreds of times before, down to almost every plot element. The underdog athlete gets the girl, faces off against an elite egotistical rival around the same age, and ultimately makes their family proud despite years of parental conflict. Still, if it ain't broke as they say! Even though Gran Turismo is quite predictable at times, it's the cast that features Archie Madekwe, Orlando Bloom, David Harbour, Djimon Hounsou, Geri Halliwell Horn, and Takehiro Hira and features Blomkamp's earnest directorial touch that keeps you hooked. That alone deserves some credit because regardless of if you know how this story ends, you're willing to stay along for the ride on the sheer adrenaline and acting prowess alone.
We follow Jann Mardenborough (Archie Madekwe), a struggling working-class young gamer from Cardiff, Wales, with dreams to one day make it on a real race track. He's the best Gran Turismo player in his region, having beaten all of the local competition numerous times. His dreams don't have a chance of becoming a reality until an idealistic motorsport executive from Nissan marketing, Danny Moore (Orlando Bloom)—who is based on real-life executive Darren Cox—pitches the GT Academy to both Kazunori Yamauchi and Nissan's motorsport division. With the reluctant help of retired (or failed former racecar driver) Jack Salter (David Harbour), Moore wants to unveil the untapped potential of sim drivers, most of which who have clocked in more hours behind the wheel than professional racers, to the world. Jann easily makes it into the GT Academy by winning an online competition, but the long road ahead is going to be what makes or breaks him.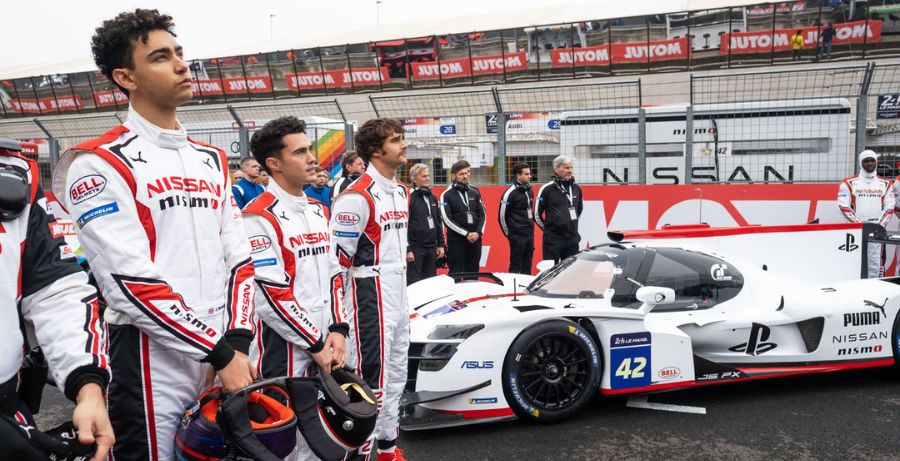 Sony's Gran Turismo takes us from Jann Mardenborough's days playing GT at home to his trails at the GT Academy, wherein he faces off against the best players from across the globe for a spot on Team Nissan, to his early days as an official driver needing to prove himself in a field where everyone is rooting for him to fail. Everything leads up to the 24 Hours of Le Mans, otherwise known as the hardest and riskiest race in the world, where Jann's whole career is put on the line.
The two-hour and twenty-three-minute runtime allows enough space to cover all of this ground efficiently enough. Yet, it does feel tedious when we're just going through the ropes of your average biopic. Get the girl and face off with a stereotypical rival. It's all necessary character work for Jann but sometimes a bit too bland.
The movie is at its best when Archie Madekwe and David Harbour share the screen together. Their mentor-mentee dynamic sells the whole film, keeping you invested at all times. Madekwe brings a genuine youthful energy that leads to a charming screen presence. There's also some obvious naivete to the character that we see naturally progress into full-blown confidence on the race track. Harbour, on the other hand, has been proving his comedic range in various roles outside of Stranger Things for some time. However, Gran Turismo fully utilizes him beyond his comedic timing. Sure, he's appropriately hilarious at the right times, but he also provides this story with its heaviest emotional beats. Harbour gives the film loads of heart as the undeniable favorite from the cast.
Alongside an effortlessly charming Orlando Bloom as the marketing executive, David Harbour and Archie Madekwe give Gran Turismo an imperfect trio to root for. Harbour and Bloom, as the two acting heavy-hitters, give the film the gravitas it needs at times with enough space for Madekwe to show his own worth next to the big names. Again, it's a proven formula that only loses effect in the hands of less-experienced storytellers. Thankfully, director Neill Blomkamp steps up to the plate after his experimental sci-fi horror film Demonic left fans wanting much, much more in 2021. For that matter, Blomkamp's filmography as a whole has often been met with divisive reactions; people still talk about the letdown of Chappie to this day. Love or hate him, Gran Turismo is arguably Blomkamp's most competent, if not impressive, work in years.
The South African filmmaker clearly understands the "if it ain't broke" approach of the script and chooses to have fun leaning into the tropes to sell a heartwarming story. It's within the concept of an unconventional video game movie based on real events that Blomkamp experiments more. With French cinematographer Jacques Jouffret by his side, Blomkamp earnestly tries to visually convey the mind of an expert gamer, showing us the track as Jann would see it playing the actual GT games and inserting him into a virtual car and vice versa.
Now, for as silly as some of that might sound, it's super admirable and does give Gran Turismo a unique identity separate from the competition. The camera movement and visual scale of the race sequences themselves are always purely thrilling, justifying Gran Turismo for a watch in Dolby Vision or even 4DX for those wanting that extra kick.
With a story that can't be denied its heart and valor, plus imaginative action-packed thrills on the race track and, more importantly, a true sense of cinematic spectacle, Gran Turismo is a solid good time. Fair warning, with this being a Sony movie based on a PlayStation video game that takes place in reality, the Sony references are off the chart. This could be the most Sony movie that has ever Sony'd thus far, with PlayStation sound effects even inserted into the race sequences and endless product placement.
Having said all of this, Gran Turismo bodes well for the future of Sony Interactive Entertainment, PlayStation Productions, and any future franchise. With more video game live-action retellings in the pipeline, like God of War for Amazon, the success of this film could mean more risks outside of straightforward adaptations. After Gran Turismo, that's a prospect Sony would be foolish to pass up on, given they know how to market them correctly.
Gran Turismo is available in theaters everywhere on August 28, 2023.
Gran Turismo
TL;DR
With a story that can't be denied its heart and valor, plus imaginative action-packed thrills on the race track and, more importantly, a true sense of cinematic spectacle, Gran Turismo is a solid good time.