While the previous episodes were slower in plot, we see the payoff in Gu Won's (Lee Jun-Ho) and Cheon Sa-rang's (Im Yoon-ah) relationship in King The Land Episodes 7-8. Gu Won shows up with medicine at Sa-rang's place, which inadvertently forces an introduction between Gu Won and Sa-rang's friends, Gang Da-eul (Kim Ga-eun) and Oh Pyeong-hwa (Go Won-hee). Her friends smack talk Gu Won but, in order to help Sa-rang save face, he claims he is Manager No. By requesting a private audience with her, we see how much Sa-rang's feelings toward him have changed.
Sa-rang presents jealousy over a client that showered Gu Won with affection. He notes this, and it makes her take pause. This dance that they do is something that continues when she escorts him outside. After asking her out on a date, she makes up another excuse. But, after saving her from a scooter, he uses the opportunity to hold her hand. While she protests at first, she eventually acquiesces. This leads us to see how much has already changed.
What hasn't changed is how poorly other employees at King The Land view her. After enduring Su-mi's criticism over Sa-rang's promotion and having to serve her, Su-mi gets rightfully reprimanded by Sa-rang's superior. Gu Hwa-ran (Kim Sun-young) arranges a press conference to capitalize on and take responsibility for Sa-rang's rescue. Taking advantage of the power imbalance between the two, Hwa-ran reminds Sa-rang how much money was spent on the rescue. Meaning that Sa-rang owes her.
Hwa-ran's continued insistence on being seen as the one on top finally pushes Gu Won over the edge in King The Land Episodes 7-8. Whether forcing her employees to abide by a script, like Sa-rang has been a couple of times in King The Land, or shirking her responsibilities onto her brother if it means the chance to see him fail, Hwa-ran remains a major symbol for everything Gu Won despises. The thing we are now starting to see in King The Land Episodes 7-8 is that her power is waning.
With cameras on her, Sa-rang adds an addendum to the press conference script, giving Gu Won credit where credit is due. This leads to a casual confrontation in the board meeting room between Gu Won and his sister. Their personalities and work styles clash, but it's clear when their father comes in that her press conference has impressed him. The topic quickly turns into how the King Hotel was going to land the contract with VIP Guest, Prince Amir. Seizing the opportunity, Hwa-ran puts the responsibility on him to land the contract. Little does everyone know that Gu Won knows the prince from his time in school abroad.
Squid Game's Anupam Tripathi does a phenomenal job as Prince Amir. He steals every scene he is in and proves that Amir is a great playful adversary for Gu Won. A primary concern I have is in the representation of culture onscreen. Our first introduction to Prince Amir is him drinking in a bar surrounded by many women. While this is clearly meant to provide context for his womanizing ways, there was something about the scene that didn't read right, and I'm curious if others felt similarly.
When Prince Amir arrives, he becomes head over heels infatuated with Sa-rang. The experience also serves as a lesson for Gu Won on how to maintain contracts and compromise himself. It's a lesson he mostly fails due to how emotional he gets over Sa-rang. He yells at Amir, who gives as good as Gu Won, tricks him out of experiencing a traditional Korean ceremony, and more. That said, ever-present is his concern for Sa-rang, who is always aware of her place in these scenarios.
There are loads of humorous moments in King The Land Episodes 7-8 between Tripathi, Jun ho, and Yoon-ah. With Gu Won's more bratty grumpy personality clashing against Prince Amir's more bombastic vibrant personality, there's plenty to enjoy from their bickering. Yoon-ah provides the neutral energy needed to balance out Tripathi's and Jun ho's performances. Taking on the straight-man role, she is always there to keep things moving along before the bickering becomes redundant.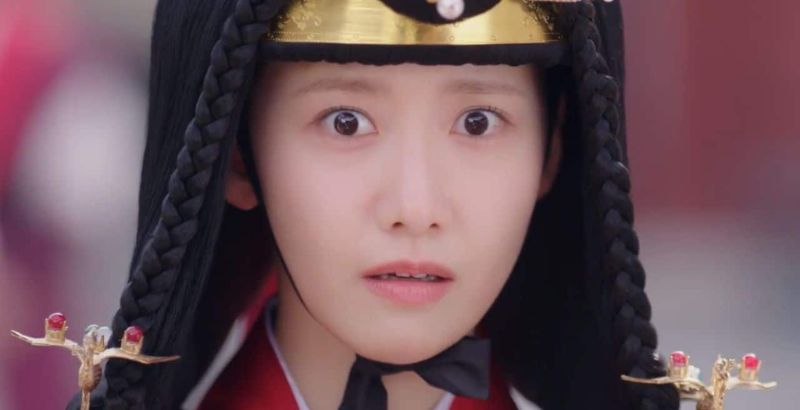 She's also the one that continues to influence Gu Won with new experiences. Whether it's eating Ramyeon along the river, Gu Won experiencing his first Korean spa (mostly due to his stubbornness), or seeing even more so how much pressure the family business places on the employees, even outside the hotel, Sa-rang's influence continues to shape Gu Won.
It's ultimately her influence and Noh Sang-sik (Ahn Se-ha)'s discussion with Gu Won about his intentions that prompts Gu Won to do the impossible. He agrees to finally take on his sister. Through his experiences working in the hotel and alongside Sa-rang among other things, he's experienced firsthand how powerless the employees are in their positions. With his sister's attitude toward the employees, he realizes that in order to protect Sa-rang and the others, he must acquire power to protect them.
At the end of King The Land Episode 8, we see Gu Won orchestrate an entire date. Here we see how much he has grown in order to try to impress Sa-rang. We also see how he has come to listen and try to adapt along the way. Taking on the role of server and chef, at first, it looks like he will succeed. Unfortunately, he miscalculates how explosive flames are while cooking meat, and he sets the sprinklers off, soaking down his hard work.
Luckily, his reaction to his failure serves as the sweet spot to convince Sa-rang of everything she needs. Focusing on making sure she's safe rather than the food centers her in a way that she hasn't experienced in the past couple of years with her ex. And, for fans everywhere, we finally see all of the writers' efforts building this relationship to this point.
With Gu Won throwing his hat in the ring and he and Sa-rang reaching a new level in their relationship, King The Land Episodes 7-8 set up the stage for the remainder of the season. We have an epic showdown between two hotel heirs to look forward to but, most importantly, we have the romantic relationship to look forward to as well.
With things continuing to push forward, an improvement from Episodes 5-6, it's safe to say that there is much to look for as we venture onward in King The Land. The only concern that is worth noting is the handling of Prince Amir, and whether or not the writers will venture away from faux pas and stereotypes concerning that character.
King The Land Episodes 1 through 8 are now available on Netflix, with new episodes airing on Saturdays and Sundays.
King The Land Episodes 7-8
TL;DR
With things continuing to push forward, an improvement from Episodes 5-6, it's safe to say that there is much to look for as we venture onward in King The Land. The only concern that is worth noting is the handling of Prince Amir, and whether or not the writers will venture away from faux pas and stereotypes concerning that character.