Developed by Intelligent Systems and Nintendo, Wario and his "friends" are back at it again with WarioWare: Move It! for Nintendo Switch. Greedy as ever, Wario draws the lucky ticket to go on vacation to a tropical island. But of course, everything goes wrong right away for him and all of his companions. With 200 microgames, there's lots of playtime to be had solo or with friends in the latest edition to the WarioWare series. Some of the character vignettes in story mode can tend to feel like you need prior context on the characters to fully understand their personalities, but the simple art style and straightforward humor make for a charming game nonetheless.
Vacation-Mode Wario looks good on the goofy guy. It's a fun setting for the slapstick oddity of WarioWare: Move It! It doesn't have a huge impact on the gameplay, but it gives the game an aesthetic and color palate to at least unify itself. This goes a long way in keeping you engaged with the game for longer periods of time. It also drives the game's story mode. Story mode is the perfect way to accustom yourself to the microgames, the poses, and the finicky nature of the JoyCon controls.
Like all WarioWare games, the crux of Movie It is its few-second-long minigames. Whether competing with friends to do them faster than each other or just competing to play them right at all, there are no misses. Every single one is quick and straightforward. You may not nail them all on the first try, but they all require only small amounts of repetitive motion to complete, and many will give you a chuckle at how ridiculous they are. All of the microgames are divided into poses, cleverly explained the first time you encounter them in story mode verbally and visually. You hold the JoyCons in a specific way for each pose, but how you have to move to complete the game thereafter is different every time. The key is just to maintain the correct stance while you wiggle around and suss out the right way to win as fast as you can.
This is mostly a deeply satisfying experience. Not only because the games are simple and either charming or funny, as well as all rendered in eclectic art styles, but because figuring many of them out is almost a little puzzle. A stance that has you holding the JoyCons out to the sides in Scale Form might require you to move your arms along any of the three axes to succeed, but usually, only one at a time, keeping things simple enough to decide how to move on the fly.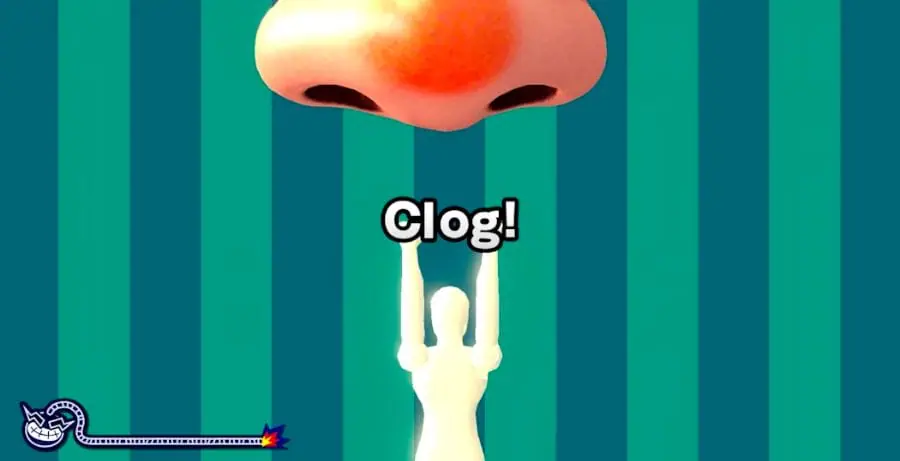 The only aspect of the form system that doesn't work is when you have to drop your JoyCons. This is not only hard to do from certain poses but impossible if you, like many people, don't possess the strings that clip into your controllers to wrap around your wrist. It's obviously part of every warning in every motion control game since the Wii that you should wear them, but I personally lost those strings many apartment moves ago. It's strange to expect you to make use of a separate component to play the game in full.
The microgames also suffer from the same motion control hiccups as basically any Switch game. It's not only completely inaccessible to players who don't have a full range of motion or space to stand up in completely (or who are just too lazy to play standing up), but it also feels like one in every ten games loses its calibration. Perhaps some of these instances were simply because the JoyCons were being held wrong, which does happen regularly and is part of the challenge of the game. But most of the time, when controls felt unresponsive, it felt like a technology issue more than an input error.
But when the controls are working, which is most of the time, it's impressive how well the motion controls are sensitive to the smallest movements and to so many different poses. There is decent generosity to the range of motion accepted as correct inputs in many games, which helps the flow as things speed up. You fail a little less regularly than you might otherwise if the controls were always so hypersensitive.
WarioWare: Move It! is a great entry in the series, making excellent use of the JoyCons' high-definition motion controls in classic absurd Wario fashion.
WarioWare: Move It! is available now on Nintendo Switch.
WarioWare: Move It
TL;DR
WarioWare: Move It! is a great entry in the series, making excellent use of the JoyCons' high-definition motion controls in classic absurd Wario fashion.