Godzilla is a character that has stood the test of time. Reimagined in all sorts of ways, it has adapted and transformed over the course of 70 years to change with the world its audience lives in. For us here in the States, we've spent the past decade with the MonsterVerse, which, admittedly, has failed to capture the right balance between the human elements within a kaiju story so that it can stand on its own two feet. In Toho Studios' latest Godzilla venture, Godzilla Minus One, we are reminded of what has long been missing in our kaiju fare here: soul.
In Godzilla Minus One, we meet Kōichi Shikishima (Ryunosuke Kamiki), a kamikaze pilot who has deserted his post to fix his faulty plane. This decision throws him face to face with a pre-suped-up Godzilla, but the legendary creature's impact is undeniable. He survives the attack but is forever changed. The survivor's guilt eats him alive. Reinforced by soldiers, civilians, or his own demons, the war is still going on for Shikishima as the years go by. Now, in 1948, just when Shikishima's ready to permit himself to let go and allow himself to live again, Godzilla has returned and has more power than ever before.
While Godzilla is the hook, the character Shikishima and those around him keep us invested. Their struggles, their sorrow, and their pain are all tangible. Whether as cannon fodder in a war none of them thought they could win or civilian casualties written off by governmental bodies, these everyday people are the heart and soul of this film. All of them are trying to find some sense of normalcy after the war's closure, but when Godzilla emerges from the oceanic depths, they are faced with the remnants of their lived history.
In some ways, it can be argued that Godzilla is representative of the past. There's the obviousness of the prehistoric design it's carried throughout the multiple incarnations it has shifted into. But, in Godzilla Minus One, its looming presence takes the citizens of Japan back to war. Having just barely crawled out of the wreckage left behind in the aftermath, everyone is stumbling along to move on. With the newly mutated Godzilla, its evolution propelled by the United States' Bikini Atoll Operation Crossroads nuclear tests (with the region suffering from the long-term effects to this day), the war still exists in the hearts of the soldiers who returned from the front. They must either confront this beast or leave behind a restless, painful future for the next generation.
Directed, written, and with visual effects by Takashi Yamazaki, Godzilla Minus One is a love letter to the kaiju we all know and love. But it also serves as a testament to Yamazaki's skill and attention to detail that the film is so successful. The rendering and execution of the titular creature is nothing short of breathtaking. The detail of the scales, the texture of the skin, and how the body changes when dealt damage show how meticulous Yamazaki and his team are.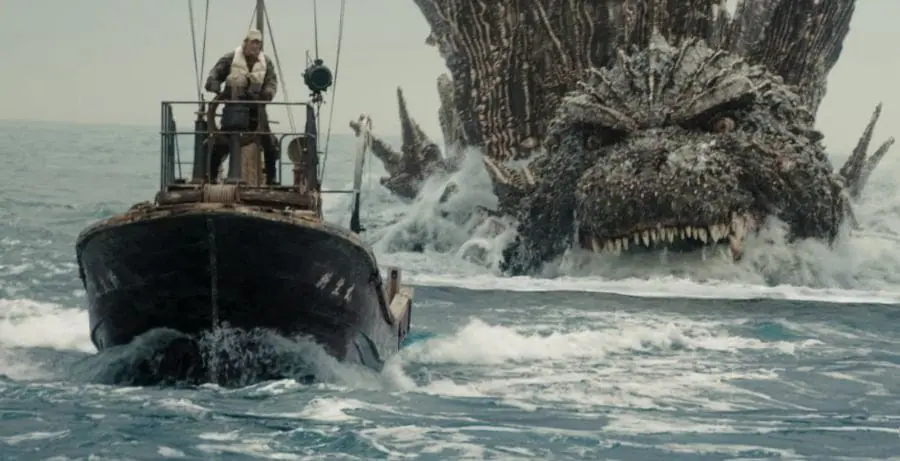 Running at just over 2 hours long, you'd think that the film would struggle with pacing, but it doesn't. Instead, by focusing time on developing our characters' internal struggles, building out their family, their motivations, and their characters, and then tying them to the incoming threat of Godzilla, Yamazaki can successfully keep things moving along at the right speed. Never once was there a dull moment, and that's saying a lot.
Tonally, Yamazaki strikes a balance between heartfelt, comedic, and serious without sentiments feeling out of place. Part of this is achieved through the dialogue itself and the delivery given. Oscillating between the different tones helps again with that pacing, but also keeps things from being bogged down. Given the serious nature of World War II and its subsequent aftermath for Japan, that balance is even more impressive.
Part of this would not be possible without the impeccably dedicated cast. As the protagonist, Ryunosuke Kamiki portrays the complexities of survivor's guilt and PTSD with care. He wears Shikishima's guilt heavily but, as he stands the risk of losing everything, seeing the emotions shift in his eyes and in his body language show how truly skilled his acting is.
There isn't much time spent with Noriko but, as the light combatting Shikishima's darkness, Minami Hamabe provides that contrast to Kamiki's performance. Noriko is ready to move on from the war, even after what she's witnessed, but understands the pain that has its hold on Shikishima. If there is a sequel, more time spent on Noriko would be nice. She felt the most underserved character in this. Taking her place is Shikishima's support group of found family: Shirō Mizushima (Yuki Yamada), Kenji Noda (Hidetaka Yoshioka), Yōji Akitsu (Kuranosuke Sasaki), and even Sumiko Ōta (Sakura Ando); all of whom get their individual moments to shine. Through these four actors, we see the various levels of trauma left behind by the war, and particularly through Mizushima, we see the hope and what the future represents.
Godzilla Minus One is a reminder to audiences why we fell in love with this kaiju, but also the universe in which it resides. It's not enough to have flashy monsters just smashing each other to bits. Without the proper balance, the lessons these creatures carry on their scaly backsides can't be properly conveyed to audiences. In Godzilla Minus One, we are reminded to take courage, to find our motivation to live, and to ultimately persevere against even the most impossible of obstacles.
As it stands, Godzilla Minus One will win the hearts of fans everywhere. Not just for Godzilla, but for the human characters within that reminds us why it is important to infuse soul into a kaiju or monster film. If able, viewers should aim to see the film in theaters to capture the full breadth of the sound design, score, and visuals to create that wholly immersive experience.
Godzilla Minus One releases in the US on November 29, 2023.
Godzilla Minus One
TL;DR
Godzilla Minus One will win the hearts of fans everywhere.