Little Goody Two Shoes bridges beauty and horror while embodying the nostalgia of 90s bi-shoujo anime and religious horror dynamics between people fit for A24. Developed by AstralShift and published by the Square Enix Collective, the arm of the publishers aimed at publishing indie games, Little Goody Two Shoes is a puzzle horror game that pushes its players in tactile ways to explore. We got the chance to talk with Kira and Enbee from AstralShift about Little Goody Two Shoes, anime, and bringing horror to life with beautiful art.
Kira is part of the original AstralShift team behind Pocket Mirror. He is an experienced artist who has a keen technical understanding of both design and the more traditional art forms alike. Kira's expressive and nostalgic art style is one of the driving forces Little Goody Two Shoes' charming character designs.
Patrícia is the lead writer at AstralShift, and part of the original AstralShift team behind Pocket Mirror. Coming from a linguistics background, she is able to use the knowledge she's gained to great use, and the quality of the writing in our titles speaks for itself.
This interview was conducted via email with AstralShift.
---
BUT WHY THO: When I played the demo…it was the 90s shoujo aesthetic that pulled me in immediately. Why did you all choose anime as the style for the game, and more specifically, that particular decade and genre of artwork for the game's cinematic moments as a Portuguese studio?
Kira: From the beginning of the project, we wanted to make sure the visuals were striking and evocative, hence the bold shapes and exaggerated designs typical of 90's anime, which is very dear to our lead character artist (that's me!) and the team. With the theme of the game being a fairytale-esque horror experience, we knew we wanted to evoke a sense of nostalgia and familiarity through the cast of characters and the visual universe of Little Goody Two Shoes.
Although we are a Portuguese studio, we are long-time anime and JRPG aficionados, so naturally, our visual identity has a strong inspiration in the animanga universe. Legendary shoujo anime such as Revolutionary Girl Utena and Card Captor Sakura really helped shape the design choices and expression of our strong and determined heroine, Elise, and create a mystical feminine aura around Little Goody Two Shoes.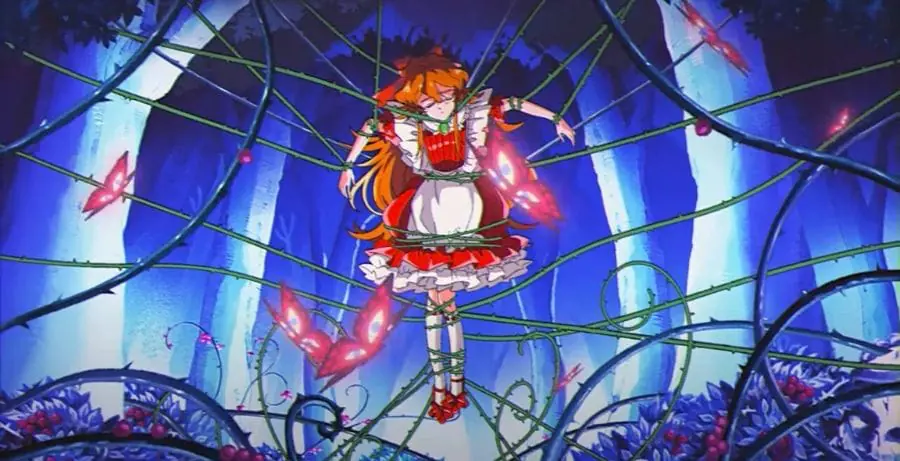 BUT WHY THO: There isn't combat in the game. Instead, players get to have a fairly nostalgic feel of strategic movement through dungeon-like areas where they avoid dangers and solve puzzles. Was this always going to be the main mechanical way to move through the story? Why?
Ebee: Yes, this was always our goal from the get-go! Coming from an RPG Maker horror background, with most of the genre's titles sharing these same features, we find that placing a vulnerable player in the face of danger heightens the feeling of dread and horror.
Additionally, it ties in perfectly with Elise's circumstances throughout the story — her being an average girl treading into the frightening woodland in pursuit of her dreams. We find that being unable to defend yourself and instead having to learn how to best navigate your surroundings not only perfectly encompasses her journey as the protagonist but puts the player right in her shoes as well!
BUT WHY THO: There is a strong element of religious horror to the game, especially as you interact with the priest in the town. Where did you take inspiration from to build that element of the town out? What movies or other media would you say helped inspire this specific style of dread?
Ebee: We've always taken great inspiration from folk horror and its religious horror elements for Little Goody Two Shoes. Movies like The Witch have inspired us to explore the fear and paranoia that comes with feeling vulnerable in the face of fear, while Midsommar helped us give shape to Kieferberg's tightly-knit community, albeit not in such a radical sense.
Elise's flimsy relationship with religion weighs heavily on her feelings of isolation and otherness toward Kieferberg's townsfolk. Given the game's supernatural themes, we found religious horror would tie in best with the story's development and create a nice backdrop to Elise's journey!
BUT WHY THO: Little Goody Two Shoes is a very beautiful game, from the sprites to the hand-illustrated elements as well. Why do you think beauty plays so well to the growing horror of the game?
Kira: Thank you so much! We made a deliberate choice to employ elements of beauty in order to create a high contrast with the dark and grotesque aspects of the game in a poetic way. Little Goody Two Shoes features concepts of beauty and tragedy that are very intertwined to create a theatrical and mystical atmosphere to go with our fairy tale concept!
There is an on-going theme of temptation, what with Elise being willing to do anything to attain her distant dream, and the whimsical atmosphere of the game builds onto this idea. Just like Elise's dream, the seemingly harmless and romantic aesthetic of Little Goody Two Shoes' world hides a darker truth underneath.
A good part of our in-game illustrations is either hand-drawn or include traditionally painted elements, using watercolors and gouache paints, which create a dreamy and cozy atmosphere! Studio Ghibli background masters such as Kazuo Oga and Shichiro Kobayashi play a huge role as main inspirations for the lush and vibrant environments of our game!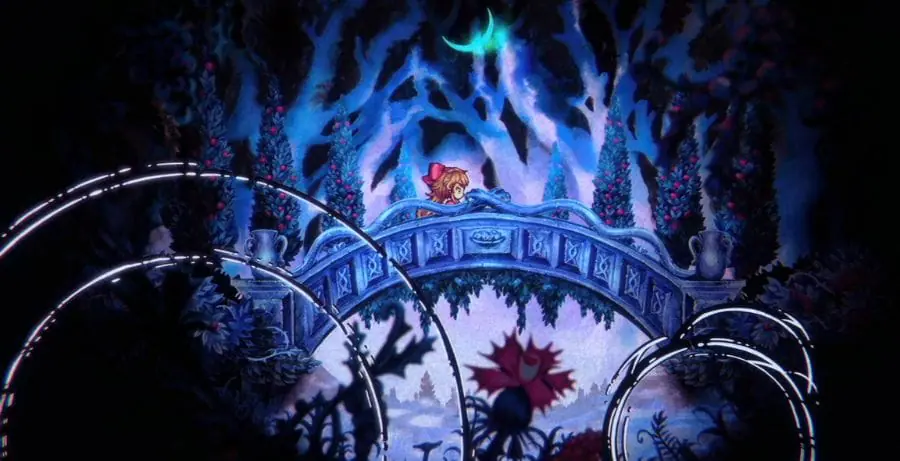 BUT WHY THO: The music of Little Goody Two Shoes is absolutely phenomenal—including the anime opening-esque song we saw in the demo of the game. Can you talk a little bit about the importance of sound design as a part of the horror of the game and how you came up with the soundscape of the game?
Kira: We are glad to hear you enjoyed these moments – we really gave it our all to make sure our game had a proper anime opening. All the cool Japanese adventure games back in the 90's and early 00's had very eye-catching animated openings with killer songs, and we had to make sure Little Goody Two Shoes got one as well!
We are also incredibly thankful we could count on Diana Garnet's presence to sing the opening. She is a vocal powerhouse, having sung an opening for Naruto before, so it was an absolute pleasure to have her voice Elise and sing the opening and Elise's insert song!
We really value the importance and impact of a good soundtrack in a video game at AstralShift, so the soundscapes in our game couldn't be an afterthought! For the soundtrack, we took huge inspiration from a wide array of sources, from 90's anime to the music scores of Italian moves from the 70's. All these influences contributed to create a colorful and lovingly crafted OST that features 57 original tracks!
A lot of work also went into the sound design aspect, with each footstep matching the type of surface, different wind intensities to highlight the weather, among lots of other details to make the town of Kieferberg as lively and believable as possible.
---
Little Goody Two Shoes is available now on Steam, Xbox Series X|S, Nintendo Switch, and PlayStation 5.