Have you ever wondered what a modern-day Real Time Strategy (RTS) mobile game could look like? If you throw in one of the oldest RTS franchises, Warcraft, then you get Warcraft Rumble, the new free-to-play game by Blizzard set in the Warcraft universe. You may be wondering if this could work. As someone who's played Warcraft since Warcraft 3 and getting the chance to play a pre-release version for at least a couple of hours, this mix of the legendary series' history works surprisingly well.
At first, the art style and trailers may give the appearance that the game doesn't take itself seriously. When you understand the premise, everything begins to make complete sense. Warcraft Rumble is the game that people in the universe play to relax. Think of it like the characters in the Warcraft universe have a card game and now a board game about their storied history. Prominent figures like Jaina Proudmoore and Cairne Bloodhoof, down to more common enemies like a necromancer, have been recreated as Minis in a way for in-universe characters, and you to collect and explore Azeroth's Eastern Kingdom and Kalimdor.
The gameplay is simple yet surprisingly deep and digs into Warcraft's roots. The gameplay feels like a much faster take on RTS gameplay. Each match lasts up to four and a half minutes, with the goal being to take out the enemy's base or champion mini. To do this, you summon one of four minis in your hand by spending gold. As you summon a mini, it comes to life and begins to run down one of the lanes on the map. Whenever a mini encounters an enemy mini that it can attack, it will automatically do so. That's the surface-level overview.
Quickly, the game shows that it's much more than just throwing minis on a map. It uses a rock-paper-scissors style match-up with minis to give an advantage to some over others. Then, as you think about gold management, how to get gold that spawns on the map from gold veins or chests, mini abilities, and map hazards, it quickly becomes complicated yet strategic.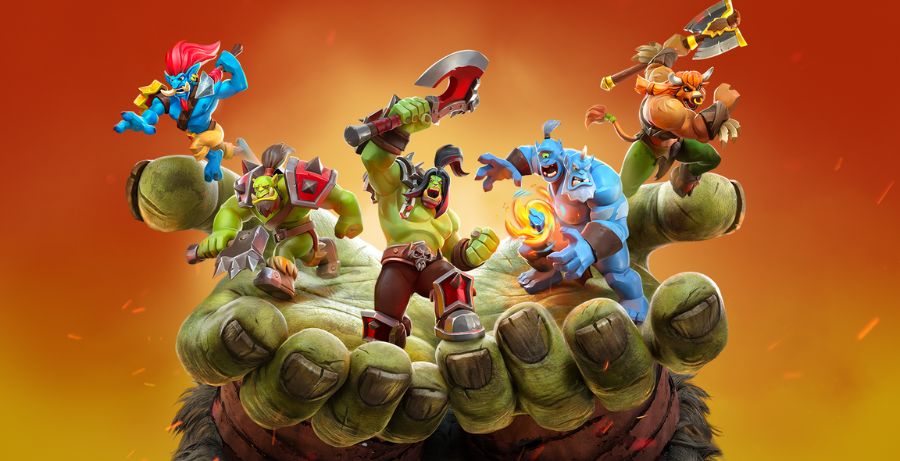 What shined in my short time playing Warcraft Rumble was that there were never overpowered minis. You can level them up and make them more powerful, but there is always another one that can be summoned by the enemy to take your strong one out quickly. Swapping minis out of the six-mini roster was encouraged to overcome challenging levels. Hit a wall? Switch one out for another and dive back in to try a new strategy.
Plus, being a free-to-play mobile game, there were a lot of fears about having an "energy meter." Like those mobile games where you can only play X number of times before the game forces you to take a break or spend money to keep playing. There is no such mechanic here. It's highly encouraged to replay older levels as you unlock harder versions of levels or to keep playing through the campaign. Plus, there was no sign that one would be added. So far, this feels like a complete game someone could pick up and play through.
There are several modes, too, that were available to try that each shook up the game in fun ways. Like the PvP mode, which lets you play a match against another player for in-game bonuses. Dungeons, which has you attempt three maps consecutively to level up your leader mini. Arclight surges, which make old levels harder for new bonuses. And quests, which help you get experience for specific minis. Even the store makes buying new minis with in-game currency a fun minigame. As you purchase new minis in the three-by-three grid of a store, some grid spaces become empowered. If you buy a mini from one of those empowered spaces, that mini gets an extra experience boost to level up even more. Its subtle touches in more mundane portions of the game are surprisingly fun and thoughtful. In other words, every portion of the game available to try out shows that fun and player experience were at the forefront.
Warcraft Rumble feels like a passion project by fans who love the history of Warcraft. Don't be dissuaded or fearful by the free-to-play monicker. After playing several hours, this feels like a complete game with microtransactions available for those who want to spend the money. Plus, without the limiting features that normally come with free-to-play mobile games, there is a clear focus on the most important part of creating a game: the fun. You should check this one out when it's available for all because if you're like me these past couple of days, you will not be able to put it down.
Warcraft Rumble is available on November 3rd on iOS and Android.