A planet being drained of its life, a young man striving to become the best SOLDIER he can be, and an unwitting squad drawn into a journey they didn't expect, these are the stories, both familiar and new, that Final Fantasy VII: Ever Crisis, developed by Applibot and published by Square Enix, invite players to play through in the newest mobile entry in one of gaming's longest running and most storied franchises.
There is more change and history to the Final Fantasy franchise than arguably any other in gaming. With each iteration bringing something to the gameplay or visual presentation, the series has been the epitome of the expression the only constant is change. Final Fantasy VII: Ever Crisis looks to meld some of this ever-constant change with familiar elements taken from previous forays into Final Fantasy VII's world to create something fans can indulge in while they await the release of Rebirth.
The core element that sits at the center of this game is its narrative experience. Retelling the stories of Final Fantasy VII Remake and Crisis Core: Final Fantasy VII, along with an entirely new story titled Final Fantasy VII: The First Soldier, which takes place before the others, gives the player lots of adventuring to look forward to. The visual presentation in these narratives does a fantastic job of capturing the essence of both the original adventures in the world of Midgar, as well as the modern takes on them.
Between battles, characters are presented in a mildly comical style that aptly captures the feeling of the original PlayStation release of FF7, while not resorting to the ugly polygonal character models the system was known for. These semi-goofy, almost childlike models bring the narrative to life in a way that feels laid back and fun. When characters perform classic emotional responses like stepping back in shock or the double fist-pumping, "Let's go" action, the visuals feel perfect for the moments. Even softer moments like the iconic water tower scene feel well suited to the visual design employed.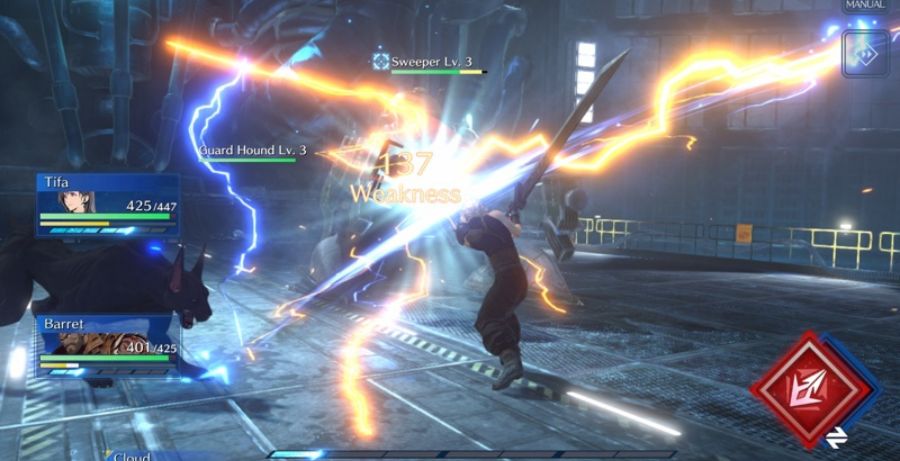 When Final Fantasy VII: Ever Crisis moves to combat, the cartoony look is left behind for far more realistic designs. Coming shockingly closer than I would've thought possible to modern console counterparts, the action has all the flash, bang, and general coolness one could ask for. Super abilities are delivered with cool animations that showcase the characters' personality as well as their combat power. It is a dazzling experience to watch.
While the combat in Final Fantasy VII: Ever Crisis is always a pleasure to watch, playing through it can be a different story. The game utilizes familiar elements of Final Fantasy gameplay, like the Active Time Battle Gauge (ATB gauge), to create an experience that draws from the past, while also streamlining it to make it more approachable. While it is far more approachable than many RPG combat systems are, the price of this is a gameplay loop that is only occasionally engaging.
Each battle sees the player's party set in the foreground, back to the camera, and their enemies arrayed across from them. Each character will automatically deliver basic attacks while their ATB gauge charges. When the gauge is charged enough, the player can initiate one of the several abilities they have at their disposal. There is no mana that is required to activate any action, it's simply on the timer. Because of this, combat is often reduced to merely waiting for the gauge to fill and then pressing a single button, then waiting to do it again. The AI that controls the other two party members is even impressively crafted, making micromanaging them a nearly non-existent concern. There are exceptions to this stumbling block. Boss battles force the player to engage with additional elements that give the combat some much-needed, moment-to-moment engagement.
The first element that brings a bit more life to Final Fantasy VII: Ever Crisis's gameplay is the stance feature. The player has the option to switch between offensive or defensive stances at any time during combat. Swapping mostly occurs when a big attack is incoming and the party needs to be able to weather the hit through the defensive stance's improved toughness, as well as increased effectiveness of healing actions. Swapping between the two at the right moment can be crucial for surviving boss encounters that deliver large-scale, punishing attacks.
The other element that tries to bring a bit of freshness to the game's numerous conflicts is the player's ability to interrupt an enemy's superattack. While the attack is charging, the player will see an icon appear above the enemy along with a number. If the player's party can hit the enemy with the required type of attack enough times, they will cancel the attack and send the enemy into a stunned state. Not only is the enemy temporarily incapacitated, but the ATB gauge fills up faster during this time, allowing for additional damage to be dealt.
While all these systems seem like they should combine to make an engaging combat experience, there is one crucial thing that undercuts it all: the enemies run on preprogrammed attack patterns. Once you've fought an enemy a few times, and trust me, you'll fight every enemy type a bunch, you will notice that they always attack in the same sequence each time. This seems like a design choice to facilitate the auto-battle feature, but whatever the reason, it drains the fun out of battle once you can recognize the opponent's rhythm.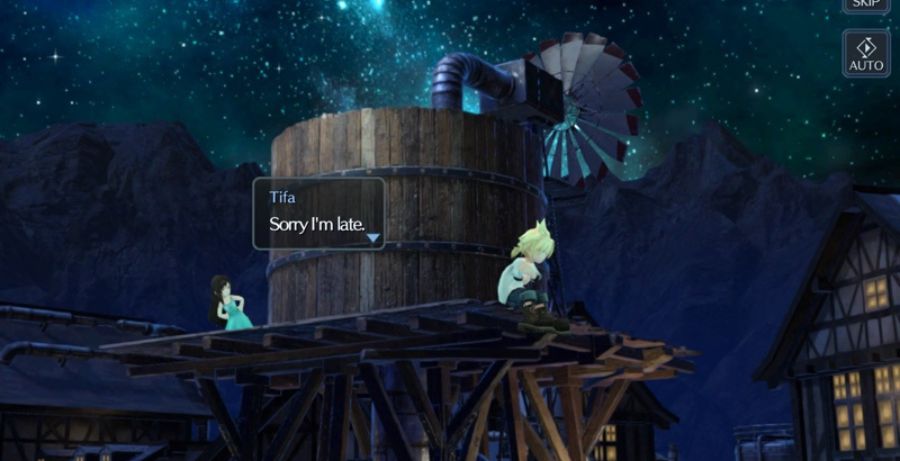 These repetitive elements are further exacerbated by the need to grind for resources. While the amount of resource grinding isn't as voluminous as some other games, the fact that every battle plays out the exact same way makes them feel far more tiring than they might. You can auto-battle through these encounters, but if you need to let the AI handle battles because you don't want to, it feels like an obvious sign that your gameplay is flawed.
Behind Final Fantasy VII: Ever Crisis's combat systems are several upgrade paths that give the player lots to chase, though with some elements having noticeably more impact than others. Like the vast majority of RPGs, the player's characters earn experience after battles that increase their level once a certain threshold is reached. These level-ups deliver increases in stats that help the player but rarely feel noticeable in the moment-to-moment gameplay.
There is also a skill tree that allows the player to further improve the stats of each character in a way that is more customizable. Each path features branches the player can opt to journey down to improve their favorite characters how they want.
The most notable impact on characters' performance in battle is their weapons. Weapons can deliver large stat boosts to attributes and give access to new abilities that allow the character to widen their options in combat beyond whatever skills the player has equipped them with. But, now that we are talking about weapons, we have to talk about everyone's favorite discussion where mobile gaming is concerned, microtransactions.
Like many free-to-play games, Final Fantasy VII: Ever Crisis runs on a loot box, or gacha, system. This is how players acquire newer and better weapons. At least in the early game, the player receives a steady stream of currency with which to purchase additional weapons and lower-grade weapons can be upgraded into higher-level models with some grinding for resources. So even if you don't manage to get one organically, you can upgrade weapons to the highest level over time.
While players shouldn't feel a need to spend money to keep pace with the challenges the game will throw at them, it never lets them forget that the option is available. Banners will occasionally pop up reminding the player of limited-time offers for guaranteed five-star weapons and other similar opportunities.
All told, Final Fantasy VII: Ever Crisis is a mixed bag of a game. While it delivers visuals I wouldn't have thought possible on a mobile device, the repetitive combat does a lot to bring the experience down. Coupled with a need to grind for resources forcing the player to experience the same battles over and over again, what is left is a game that is gorgeous to look at with charming stories to tell, but can be less than steller to engage with.
Final Fantasy VII: Ever Crisis is currently available for iOS and Android devices.
Final Fantasy VII: Ever Crisis
TL;DR
Final Fantasy VII: Ever Crisis is a mixed bag of a game. While it delivers visuals I wouldn't have thought possible on a mobile device, the repetitive combat does a lot to bring the experience down.