The phrase "every frame is like a painting" gets thrown around quite a bit these days to describe some films, but that's hardly ever the case. However, we can honestly use that hyperbole to talk about Deep Sea, an astonishing artistic achievement that had its Canadian premiere at Fantasia Fest 2023.
This Chinese animated wonder directed by Tian Xiaopeng follows Shenxiu (Wang Tingwen), a girl immersed in sadness. After her parents' divorce, she was abandoned by her mother and is now constantly ignored by her jerk of a father, who has a new wife and child and pays little attention to her.
On the night of her birthday (that no one remembered), while on a family trip on a cruise, a raging storm casts Shenxiu overboard. But instead of drowning, she's sucked into the ocean by a Hyjink, a magic creature that might have a connection with her mother. Both end up in a giant restaurant ship run by a human chef named Nanhe (Su Xin) alongside anthropomorphic employees, such as otter musicians and walrus cooks. Much to Shenxiu's dismay, Nanhe captures the Hyjink but promises to return it when the restaurant reaches five-star status, which is not an easy feat given that every time Shenxius becomes sad, a terrifying monster called the Red Phantom threatens to tear everything apart.
It took over seven years for Tian Xiaopeng to develop Deep Sea. To do so, he and his team created a visual effect called "particle ink painting" that, inspired by the xieyi style, uses traditional abstract ink paintings to organically generate 3D images. Xieyi encapsulates a philosophy of spontaneity, expressiveness, and freedom which is perfect to represent the oceanic elements of this film. It's as if Deep Sea's animations were always flowing like water, with no constraints.
It's an extraordinary technological milestone that results in a movie that continuously blows your mind with its vibrant multicolored landscapes. The underwater realm, which is reminiscent of Spirited Away, is populated by beautifully designed 3D characters, from cute otters to the astonishing squid-like Hyjink. The aesthetic attention to detail in every character is impressive, and even more when a big twist reveals the inspiration behind the nature of each of them.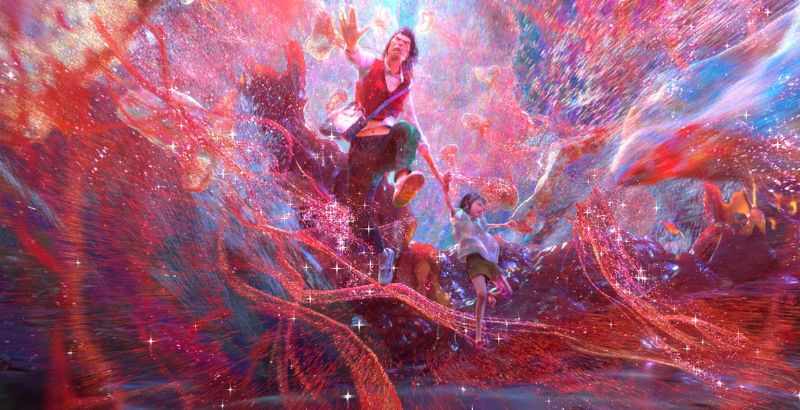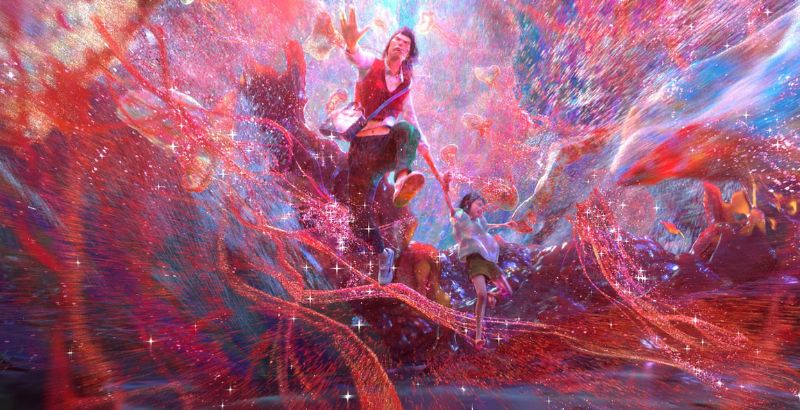 There are barely any breaks, as Deep Sea swiftly flows from one rainbow-colored scene to another. It's a stimulant experience, but it can be too much, particularly when the narrative elements fall behind. Shenxiu's arc gets lost in the chaos and her character is left undeveloped. Nanhe, on the other hand, becomes a much more interesting piece of the puzzle. When Xiaopeng tries to shift the attention to Shenxiu again, the movie loses steam because, unfortunately, you care little about her.
But just before the screenplay starts to derail the movie, the moving and heart-wrenching third act flips the story on its head to deliver a powerful emotional impact that makes you see many elements of the movie in a new light. However, although Xiaopeng's intention to talk about child neglect and depression is praiseworthy, his handling of these themes in the final minutes is a bit of a mixed bag. On one hand, the whole thing about smiling and "fight through it" feels a bit reductive given the magnitude of the issue at hand. But, on the other, there's a great message about the importance of receiving help and having someone with you to defeat the darkness.
Despite its many narrative setbacks, Deep Sea stands tall as a ravishing feat of animation brought to life by a never before seen technique. Tian Xiaopeng takes us on a dreamlike yet sometimes exhausting journey where the most beautiful of imagery, as well as important reflections on mental health, await us.
Deep Sea screened at Fantasia Fest 2023.
Deep Sea
TL;DR
Despite its many narrative setbacks, Deep Sea stands tall as a ravishing feat of animation brought to life by a never before seen technique.