It's happened. Sunblink developers and Sanrio have teamed up to create Hello Kitty Island Adventure, an adventure social simulator. That's right. It wasn't just an old wives tale first mentioned in a much earlier 2000s South Park episode. It's real and there's quite a lot to explore at Big Adventure Park as you and all the Sanrio friends work together to restore a resort in shambles.
Players awaken to a friendly greeting from Hello Kitty while aboard an airplane. Here is when you'll get a brief on where you're going while meeting a few friends already along for the ride. The short initial intro and avatar creation slyly underplay players for the unexpected. Quite abruptly, players will catch a glimpse of an expansive, brightly colorful environment while exiting the otherwise bland plane. Feelings of excitement and wonder swell and are hard to deny as players set eyes and foot on the island.
Whether you're familiar with Sanrio or not, players will find the friends to be delightful and aesthetically adorable. Each character has a clear, distinct personality that sets them apart from the rest. While embarking on this grand adventure, you'll learn more about each Sanrio friend as you engage in conversations and quests.
Through interactions and helpful tips from others, you'll learn everyone's likes, because friendship is key in Hello Kitty Island Adventure. You further the storyline by growing your bonds with each friend by gifting them a likable item and fulfilling requests. Quests can be as simple as gathering lost items scattered throughout the island. Yet, others can be multi-step, like crafting a tool to locate artifacts recessed in a tomb with its own set of puzzles to solve.
The island is quite large, so there's plenty to explore. Thankfully, fast travel helps with all the back and forth between different areas of the resort. With so much you can do, you are never bound to stick to the main objectives. Instead, take selfies with Gudetama hiding all around the island or exhale a calming breath by a shoreline and fish. Whether crafting items to furnish a home or catching bugs, players can easily shift their intentions.
The number of options players can engage with, personally can feel overwhelming for me in games like these. While that feeling was still there, simmering beneath, the well-organized quest menu didn't bury me in anxiety. Organized into their appropriate sections (ie: Daily Quests, Friendship Quests, etc.) it's easy to see what you need to do and can do.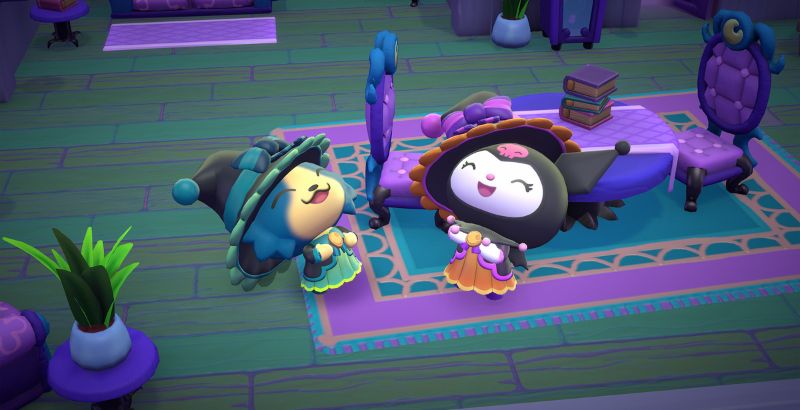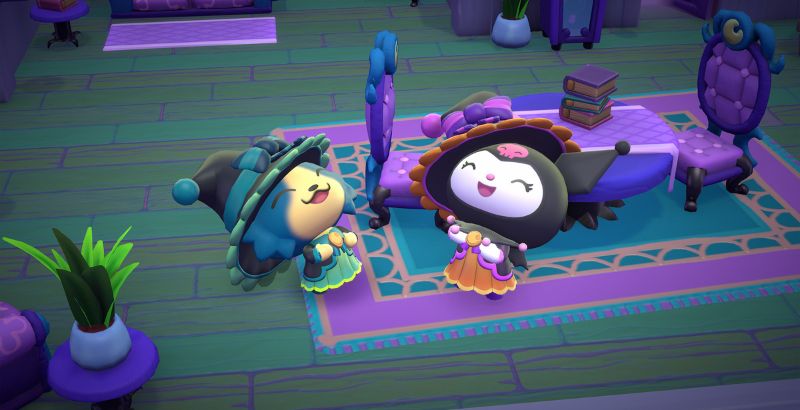 Similar games that nestle in this genre resonate with an inner desire to exist in a space that allows comfort and ease. It's absolutely comfy with a big fluffy blanket in your softest lounge attire, plopped on the couch energy. Hello Kitty Island Adventure bridges what we often experience in cozy titles with light adventure game applications. While players can awkwardly hop over rocky terrain or dive into the depths, certain actions like bouldering cliffs use stamina. It is gauged by a green color wheel that gradually depletes as you attempt to scale potentially higher inclines.

As briefly mentioned earlier, ancient tombs also scatter the island. When entering, players are prompted with a minor puzzle. Typically, simple and not overly difficult at all. Stepping on a tile in the world can set off a timed skill check course to collect items in order to obtain something more valuable. While optional, it does challenge players to go fast. The unexpected mechanics and touches add variety and break up the monotony of typical fetch quests.
Time passes but not in real-time on the island. The day slowly turns to night. The passing of time is how Daily Quests are generated for players, so there's always something new to do. Each day in real-time, however, players are given daily rewards when logging back into the game.
Sanrio has always been exceptional at branding "cute" into every fiber of its world and characters. Unarguably, it's iconic. Already having a foundation that embodies wholesomeness, Hello Kitty Island Adventure just adds another medium to its arsenal by perfectly integrating itself into the cozier side of video games.
Sometimes you just want to get away. An idyllic vacation always seems to linger on our minds as we trudge onward in our daily lives. Days turn to weeks. Weeks turn to months. We long for a momentary relief not knowing when that will be. For now, Hello Kitty Island Adventure serves as a minor getaway to a place that is cheery with friends and full of adventure.
Hello Kitty Island Adventure is available exclusively on Apple Arcade on July 28, 2023.
Hello Kitty Island Adventure
TL;DR
Hello Kitty Island Adventure serves as a minor getaway to a place that is cheery with friends and full of adventure.