Hulu's horror offerings for Huluween are in full swing this month, and the latest is The Mill. Written by Jeffrey David Thomas and directed by Sean King O'Grady, the film is a single-location horror film where capitalism and your job are the villains grinding you to dust.
The film focuses on Joe (Lil Rel Howery), a businessman who wakes up in an open-air concrete prison cell beside an ancient grist mill in the center. With no idea how he got there and no substantial connection to the outside world, Joe waits for information. When he gets it, he learns that he must move the grist mill a full rotation in order to meet his work quota, only he doesn't know exactly when he'll hit it. He can overshoot his quota, but then it becomes his new standard, and if he falls too short or doesn't show constant improvement, he runs the risk of being killed. Forced to work as a beast of burden to stay alive, he must find a way to escape before the birth of his child.
Sure, there is nothing subtle about The Mill. It's a story about burnout and company culture and how workplaces exploit us. Joe works a literal grindstone until he can not anymore. We see an attempt at collection bargaining broken by someone Joe has never met, and we get an explicit explanation of how burnout happens. But maybe we don't need subtleties. Maybe, instead, some horrors need to be confronted in no uncertain terms to give the audience a look into their own relationships with those themes.
For this one, those overworking may just understand that by overworking, they've created a new baseline pace for their employers to exploit and, in that process, have made everything harder on themselves. By using the mill and Joe, it's clear that the audience is being talked to. We're being talked out of overwork, and we're being brought through one person's test to see our own.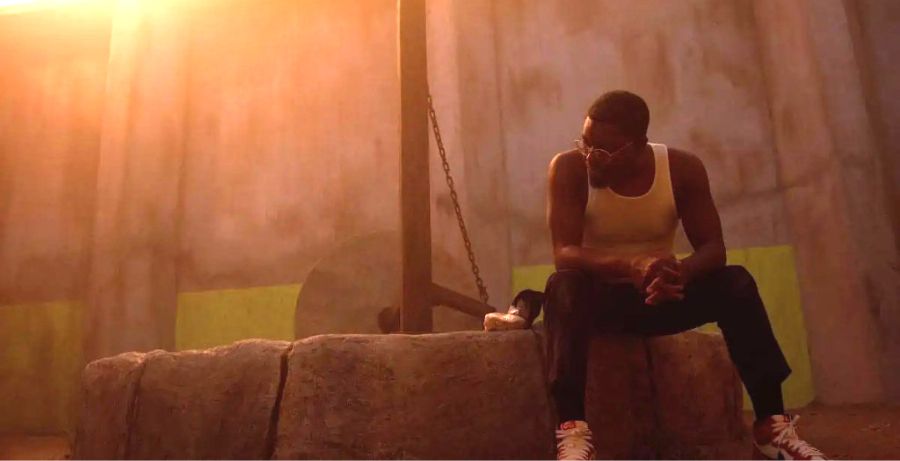 Despite its specificities, it's easy for viewers to map our own deteriorating work-life balances onto Joe and the titular mill. It's easy because it's the experience that takes hold of the narrative, making names and places not matter nearly as much as the takeaway from the film, which is simple. You mean nothing to your company. Burnout doesn't just hurt you but the others around you. And escaping it all is a conscious choice.
What The Mill lacks in nuance, it makes up for in a claustrophobic dread imposed by the walls of the cell, practically built, and the absolute desolate nature of one man and a grindstone for nearly the entire film. The scale of the set design and its practical application make everything about the film feel tactile and, in that way, more desperate.
Additionally, Lil Rey Howery gives a stellar performance as Joe, a man who refuses to break and keeps himself further and further, only to realize the futility of it all. But after he discovers that futility, he keeps pushing in and breaking more and more, the mill taking more from him with each rotation. Howery's performance and the ways in which he showcases realization, mobilization of others in the cells, and the abject horror in realizing that there is no escape from the work is something that stands out against other single location-single actor stories.
The Mill is one of those mid to low-budget horror films that thrives in its constraints. Scaled down with only conversations through a cell wall and a projection of company goals projected on a wall, allows Howery to do the work and build empathy with the audience, speaking with us and as us. The film has its weaknesses, but its strengths outweigh them. However, if you find yourself not wanting to see a reflection of burnout in your Halloween celebrations, this may be one to avoid.
The Mill releases on October 9, exclusively on Hulu.
The Mill
TL;DR
The Mill is one of those mid to low-budget horror films that thrives in its constraints.