Teru Momijiyama's (Shino Shimoji) discovery that Iko Koishikawa (Nao Tôyama, Rascal Does Not Dream of Bunny Girl Senpai) will be her classmate left the girl in an uncomfortable spot at the end of the last episode. Feeling guilty for the knee injury Iko suffered while Shy/Teru was saving her, Teru struggles to approach the girl, despite Iko's kind, outgoing personality. But before the school day is out, Teru will know much more about Iko than she would've expected in SHY Episode 2, "With All My Heart."
This episode shifts the main focus of its narrative from Teru to Iko as the show dives deep into the girl's history. Her recent episode on the roller coaster is not the first time Iko has found herself needing to be saved. How these recurring moments of danger and pain have shaped Iko and her image of herself, become the focal point of SHY Episode 2 after an ominous visitor "gifts" her a ring that he claims will set her heart free.
The opening of this episode predictably sees Teru's anxiety flaring up as she observes Iko interacting with their fellow classmates. Seeing the girl's injuries and feeling responsible, Teru can't help but wonder how Iko feels about her superhero alter ego.
While traveling the halls of the school, later on, Teru comes across Iko sitting in pain on the steps of an out-of-the-way staircase. In all the nervousness of her first day at her new school, Iko forgot to take her pain meds, and her knee is hurting terribly. Ever the hero, Teru offers to help Iko to the nurse's office.
Once the nurse has done what she can for Iko, she leaves so the injured girl can rest. Alone, Iko thanks Teru for the save and comments about how she reminds her of Shy. With Shy now in the conversation, Teru inquires if Iko resents Shy, as she failed to prevent her from getting injured. Iko's response that she is grateful to the hero for saving her and for working so hard for everyone puts Teru into tears, forcing her to excuse herself so she can clean up.
It is at this point that SHY Episode 2 takes a dark, unexpected turn. While alone, Iko is visited by an unsettling boy who offers to set her heart free when he slips a black glowing ring around one of her fingers. Despite his claim to care about Iko, everything about the boy is instantly unnerving. The animators at 8-Bit do a great job of delivering the boy's presence in the scene.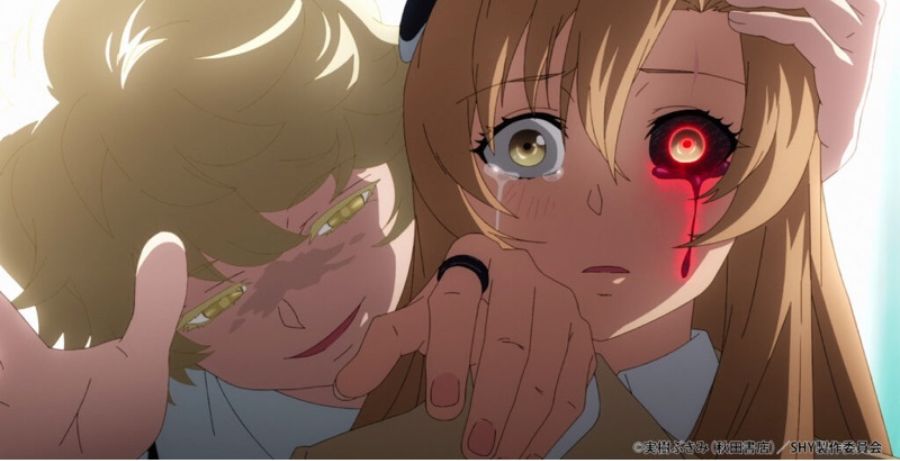 Appearing behind Iko initially, the boy slides his arms around her as he whispers his offer of freedom to her. The way the animation delivers this moment perfectly captures the perversion of what the boy's actions would usually represent. The kindness and compassion of holding someone as you offer to help is completely lost in the moment, replaced by a skin-crawling fear of what is to come next.
What comes next is shocking as Iko's body begins to transform into some form of crystal-like demon. Claws begin to replace her hands, and one of her eyes turns black, with think purple tears running down it. While the imagery isn't gory or overly graphic, given the tame nature of the visuals the series had shown off till this point, the viewer isn't expecting anything like this. For that reason, Iko's transformation hits harder than one might expect.
It is during this transformation that Teru returns and discovers Iko's peril. As she tries to help her new friend, the young man explains that this is merely her heart being set free. That the hate she holds in her heart is being allowed to run wild. Teru's immediate conclusion to this proclamation is that this hate is directed at Shy. Despite Iko's earlier claims, she hates Shy for letting her get injured. This is not the truth.
The true target of Iko's hate is herself. In flashbacks, we learn that the roller coaster wasn't the first time the young woman has needed saving. Her parents died saving her from a fire, and she has always blamed herself for their deaths. Had she never been born, her brother would still have parents. This self-blame is completely unfair, which Teru tries to assure her of.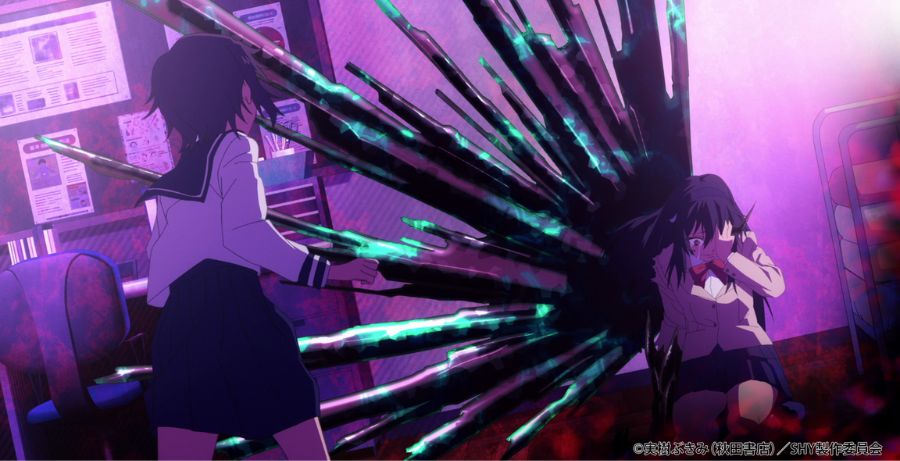 When the crystalline parts of Iko's body begin to lash out at Teru, she is forced to transform into Shy to properly aid her friend. This revelation shocks Iko but does little to alleviate her guilt over the struggles she is causing those around her.
As Iko's rage peaks in SHY Episode 2, Shy decides that she will help Iko by accepting all of the girl's feelings. This takes the form of opening herself up to Iko's attacks, letting her effectively burn out her anger till she is weakened enough for Shy to remove the ring and free her from her demonic transformation. Iko's return to normal is a touching moment as Shy, now exhausted from the fight, continues to assure the girl that what has happened isn't her fault and that she deserves saving.
The only moment that stumbles in this whole episode for me comes in what inspires Shy's final plan to save Iko. Just before Iko's big attack, Shy remembers an interaction she had with her grandfather. While several bits of wisdom are imparted to her during this scene, one thing her grandfather tells her is that people live for each other and that no one can be alone, even for a day. That living for others is when everyone is happiest. While I appreciate the sentiment to a point, it paints with too broad a brush. It feels like a reinforcement of the belief that those who spend the bulk of their time in isolation must be unhappy and need saving. This undercuts many people who genuinely like being alone.
Aside from that one small hiccup, SHY Episode 2 delivers a memorable episode that is as emotionally impactful as it is visually surprising. Where the anime will go from here feels wide open as the scope of what it is willing to deliver has been completely changed.
SHY Episode 2 is streaming now on Crunchyroll.
SHY Episode 2 — "With All My Heart"
TL;DR
Aside from that one small hiccup, SHY Episode 2 delivers a memorable episode that is as emotionally impactful as it is visually surprising. Where the anime will go from here feels wide open as the scope of what it is willing to deliver has been completely changed.