Shangri-La Frontier has been a fantastic look at falling in love with an MMO, and in Episode 4, that continues. Animated by C2C and based on the lite novel by Katarina as well as the manga written by Katarina and illustrated by Ryosuke Fuji, Shangri-La Frontier is directed by Toshiyuki Kubooka and written by Kazuyuki Fudeyasu.
In Shangri-La Frontier Episode 4, "A Trash Game Realignment of Elevated Tastes," audiences meet back up with Rakuro Hizutome (Yuma Uchida)—Sunraku in-game as he begins to navigate the Unique Scenario set in Rabituza, the new area he discovered after fighting the Lycagon the Nightslayer last in the last two episodes.
Shangri-La Frontier Episode 4 doesn't show Rei Saiga (Azumi Waki)—Psyger-0 in-game—as much as other episodes. Instead, we see her briefly in the beginning as she talks to the video game store owner about how she still can't find Hizutome in the game. While it's a moment that seems inserted at first, the owner's exposition tells the audience why Sunraku found himself in a level 80 Unique Scenario: he's a trash gamer.
Instead of disparaging the near-art of playing only trash games, Shangri-La Frontier shows the audience how the skills learned in playing games that are absolutely terrible force you to find inventive and patient ways to overcome obstacles and ultimately forge your own paths outside the confines of the traditional narrative in order to succeed. This is exactly what Sunraku has done.
For this episode, Sunraku is focused on understanding Rabituza and progressing to the next main city in SLF (the in-game name of the titular MMO) to beat the summer rush of new players. To do so, he does what any gamer would…he goes to a wiki. By animating Hizutome using the guides and wikis in the real world, he learns that he's the first to find the Unique Scenario and has to go in blind.
While others have found Rabituza and have had to work through challenges in the game to be a part of the new area, his experience by meeting the Rabituza Yakuza-inspired boss Vysache aka Aniki Vash (Akio Otsuka) or Emul (Rina Hidaka), the adorable vorpal bunny that's now his NPC companion, hasn't been outlined before. Intrigued and excited by entering a new scenario that others haven't, Sunraku is ready to take on the task only; he also gets slapped with another debuff, like the curse he received from Lycagon.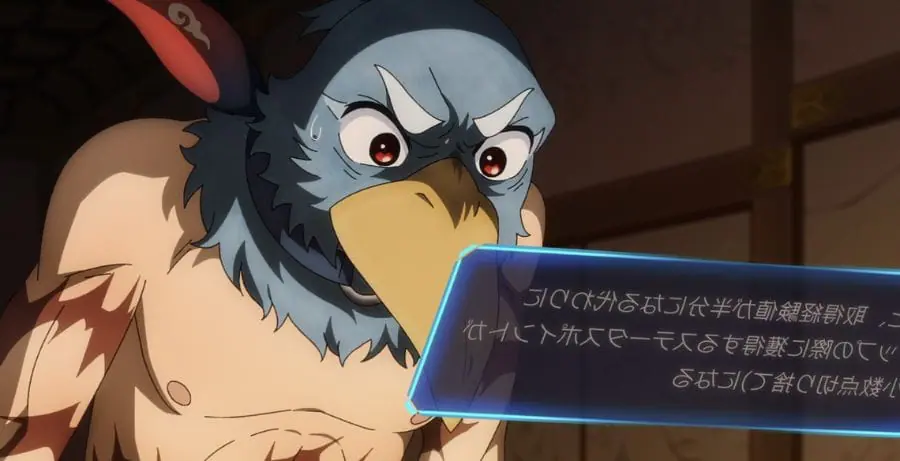 Now, with two debuffs that also have pretty exciting trade-offs, like causing enemies lower than you to flee and acquiring skill points in greater numbers at the price of having his experience points halved, Sunraku is definitely excited. Only his new Vorpal Soul debuff adds a collar to his outfit, which is already ludicrous and creepy. Unable to wear any boots or chest pieces because of his curse, now his blue bird mask has a collar, and he's bound to repel other players. But Emul's cuteness kind of overrides that, and her stats are a good way to compensate for the debuffs, which Sunraku notes is a great balancing choice.
Outside of SLF, we see that Hizutome isn't the normal socially isolated hikikomori gamer that we often see in anime, but instead has a friend group he's built around his terrible games. When he goes to have an "any glitch goes" match in a trash fighting game, he quickly convinces one of his friends to join SLF, and we can see the start of a clan forming since the duo already have a mutual friend playing as well.
Overall, Shangri-La Frontier Episode 4 is exciting in its ending moment, but throughout, it focuses on the game and how to play it. And that's a good thing. What sets this anime series apart from others in this niche genre is its ability to talk to gamers as an audience and develop the narrative in that way. Whether it's about SLF's balancing mechanics, its lore, or how people have been drawn to it, Shangri-La Frontier continues to develop the world of the MMO as much as it does Sunraku, and that's a huge strength.
Shangri-La Frontier Episode 4 is streaming now on Crunchyroll, with new episodes every Sunday.
Shangri-La Frontier Episode 4 — "A Trash Game Realignment of Elevated Tastes"
TL;DR
Shangri-La Frontier Episode 4 is exciting in its ending moment, but throughout, it focuses on the game and how to play it. And that's a good thing.