I'm picky about my controllers. Thanks to joint pain, prolonged playtime with heavier controllers and larger ones tends to wreak havoc on my joints. At PAX West 2023, I got the chance to demo the new REALMz controllers from PDP. Part collectible and all controller, this new line is one to get excited about. With Sonic, Transformers, and Pikmin, the new line of controllers features an aesthetic that puts the IP they're representing first. With a clear design, each one holds a world inside it with figurines and details for fans to enjoy. But even with the figurine inside, the REALMz controllers are easily the lightest controllers I've held. This means not only do the controllers look good, but they also play well too. Not to mention, the price point of $59.99 USD makes it an affordable option, too.
I've been using PDP products for some time now, and I've found them replacing my other gaming console peripherals because their quality as officially licensed controllers means that they come with reliability built in. I got the chance to talk with PDP's Director of Product Marketing, Michael Lai, and Product Manager, Paul Iverson, about the new REALMz product line, other possible collaborations, and the importance of ensuring that their controllers and headsets are fit for long playtime with both ergonomics and durability.
---
BUT WHY THO: When I saw the REALMz controllers, I assumed that they would be slightly heavy, especially with the figurine inside. But when I went hands-on with them at PAX West, they were extremely light. Did the design team have weight in mind in addition to the collectible quality? Can you take me behind how the controllers are constructed?
PDP: Many controllers actually have weights inside to make them feel heavier, as you can see, this is not the case with REALMz. Holding this controller, you will immediately notice the ergonomic attention to detail. It is very comfortable in your hands, and we actually considered, at one time, trying to advertise the ULTRA-LIGHT design for all-day-play comfort. We found that gamers are able to play longer and experience less fatigue with lighter controllers. Even with the lightweight, rest assured these controllers are durable and built to last.
BUT WHY THO: One of the things that sets PDP's controllers apart from others on the market is that they're approved by the console companies. With that in mind, there is something awesome about having Sonic on a Nintendo product with both the headset and the controller. Can you talk a little bit of how the IP conversations happened between PDP, Sega, and Nintendo? Was it a difficult negotiation? Also why Sonic and not, say, Mario on the controller?
PDP: PDP has great relationships with both Nintendo and SEGA due to a variety of projects over many years. They know how much effort we put into our winning designs and trust our quality.
SEGA was instrumental in helping PDP achieve the best designs and figurines possible. I wish we could share all of the different and amazing REALMz design concepts we've developed for the Sonic IP, and maybe you'll see a few of them on the market soon.
Nintendo was very supportive of these three new platforms. They are super easy to work with because everything PDP does is already in compliance with their standards. If you like the Pikmin design, then just wait for what is coming next!
BUT WHY THO: Are there any plans to expand beyond video games for the collectible aesthetic? Maybe a controller that has Crystal for Sailor Moon fans or the Going Mary for One Piece fans? It feels like the possibilities are endless for the kind of world PDP can bring to life.
PDP: Yes, anything is within the REALM of possibilities. If a new Sailor Moon game were planned, then we would love to consider that IP for our Switch platforms. We have also considered non-endemic IPs (anime, snacks, movies, etc.) for our Xbox platforms. While gaming is PDP's core identity and primary focus, our initial Sonic and Transformers IPs also have a strong presence in movies and cartoons beyond just the games.
BUT WHY THO: I have joint issues and small hands (I'm 5'4″, and most gaming peripherals aren't built for me). Are there any accessibility considerations that PDP has at the top of mind while designing collections? Like button mapping, weight, or size?
PDP: The REALMz Switch controllers are built for smaller hands. It is now my go-to controller for all my personal gaming (mainly Smash Bros). The REALMz Xbox controller is slightly larger and is extremely comfortable. It has back buttons, and all of the buttons can be reprogrammed, either manually or via the app.
Beyond REALMz, PDP has accessibility at the top of mind when designing products. A couple of examples are from our Pro BFG, which has modularity and reprogrammable buttons that allow access to all gamers, and our Pro Fight Sticks, which were designed with a 6.28° wrist slope for optimal positioning and ergonomics.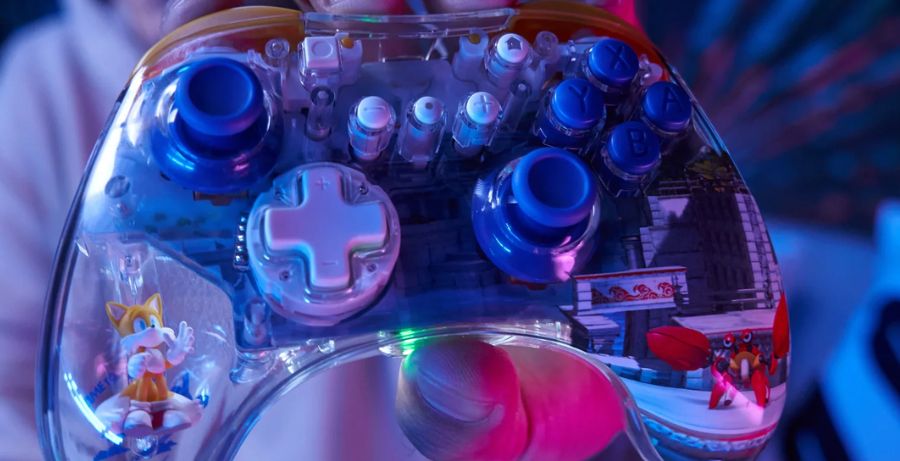 BUT WHY THO: RealmZ seems like a fantastic product that appeals to all ages. When it came to design, was the focus on the past histories of these products given both Transformers and Sonic's long multigenerational histories? Or was it mainly focused on the upcoming games for the properties?
PDP: Sonic IP was perfect for launch due to all their iconic ZONEz like Green Hill, Sky Sanctuary, Seaside Hill, and more. You are correct about the multi-generation aspect. Both IPs are so iconic, ranging from 10-year-old super fans up to 40-year-old ultimate collectors. PDP will consider both upcoming game launches and characters that are evergreen.
BUT WHY THO: This series of controllers is immediately recognizable as collector's items, maybe going up on a wall. But what went into testing the durability of the controllers for those who choose to use them daily? For example, keeping the clarity of the clear shell, or watching for stick drift?
PDP: Think of REALMz as a hybrid collectible. We want you to play with the controller and have it on the wall. They are lab-tested in full compliance and beyond the official Nintendo and Microsoft standards. I did a lot of aggressive personal testing myself, and this is now my go-to control for Super Smash Bros.
---
While I only got to use the REALMz controllers on the show floor, I'm excited about the possibilities that PDP has been creating in the peripheral space for both collectors and those looking for more options for controllers in general. That said, my time with both the Xbox and Nintentdo Switch controllers was really something to behold given that they had been in working order all weekend with the thousands of attendees putting them through the real durability test of constant play.
REALMz controllers and headsets are available for pre-order now and will ship just in time for the holiday season.