Having slain the dragon, Stark (Chiaki Kobayashi) now joins Fern (Kana Ichinose) and Freiren (Atsumi Tanezaki) on their journey north. But a new insidious threat awaits them when they come across a town that has received peace envoys from a Demon Lord in the hopes of ending a long-running conflict in Frieren: Beyond Journey's End (Sōsō no Furīren) Episode 7, "Like a Fairy Tale."
This episode opens with a flashback to The Hero's party as they discuss a grimoire they have been given, which is another supposed tome of Flamme but is nothing but a forgery. This prompts a discussion about how these forgeries have affected the ancient mage's memory. Heiter (Hiroki Tôuchi, Cyberpunk: Edgerunners) comments that having seen nothing but forgeries of her work, Flamme feels more like a fairy tale than an actual person. This comment has a subtle impact on Frieren since she knew Flamme personally.
From here, the story catches up with our trio in the present day as they clear a mountain path that was recently buried in a landslide, making it impassable for travelers. This short scene gives the series a chance to flesh out how Stark fits into the group dynamic he is a part of now. Frieren playfully misinterprets a bit of shortsightedness on Stark's part, and Fern pokes her bit of fun at the newcomer to their group, both having a spot of fun at his expense. It is a fun moment that lets the show deliver a bit of cheer before it becomes somber again.
Once the path is cleared, Frieren Episode 7 sees the group arrive at a small town about to hold its annual Liberation Festival to commemorate the day The Hero and his party slew the Demon Lord who ruled their land. As the party partakes in the festivities, we see them standing before a statue of Frieren's original party, all adorned with wreaths of flowers. While their host talks about how the town celebrates in this way to preserve the event none of them can now remember, it has been roughly 85 years since that day; Frieren's mind wanders back to the town's past, to when Himmel had the statue made.
This moment is the highlight of Frieren Episode 7, as we get a touching moment between Himmel (Nobuhiko Okamoto, My Hero Academia) and Frieren. Upon being asked by Freiren why he has all these statues made, Himmel responds initially with the explanation that, since humans don't live long, they need the statues to remind people of what they did. But as Freiren begins to leave the room, he adds that mostly, he is having them built for her. Himmel explains that he doesn't want Freiren to be alone once they are gone, so she never thinks of them as a fairy tale, as others have Flamme. This act of kindness and forethought builds up the history that Himmel had with Frieren, giving the viewer one more reason why this journey is worth it to Freiren simply to speak with him again.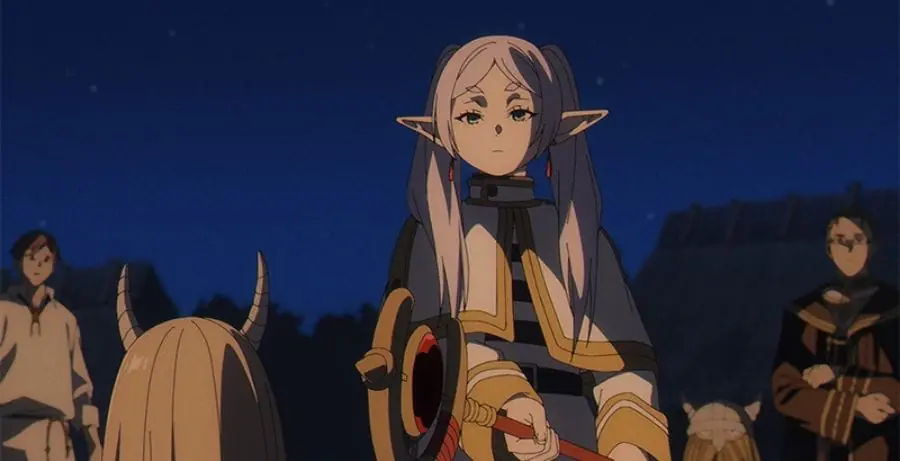 Surprising for no one who has been keeping up with the show, this sequence dances between the past and present beautifully visually, allowing the moment to highlight and contrast the emotion of both fantastically. The series continues to revel in the quiet emotional moments of the story, making each almost engulf the viewer in its soft but powerful themes.
Cutting to the next stop on their journey, the group finds themselves in a heavily guarded town that instantly gives uneasy vibes to the party. Shortly after arriving, Freiren discovers demons in town, and she attempts to kill them. The guards beset her, and the group learns that the demons are here as a peace envoy to end a long-running conflict between the local Demon Lord and this town. Freiren is thrown into the dungeon for her attempt on the envoy's life, though it feels evident that Freiren is simply permitting these events to unfold. While in jail, Freiren explains to Stark and Fern how she knows that the envoy is a distraction and that the demons mean to raze the town.
For the first time in the series, the narrative falls back on a tired element of high fantasy. The concept is that a being's race can determine its moral alignment. Even though demons are conscious beings capable of reasoning and learning, it is treated as a forgone conclusion that all must be manipulative and evil. This is expressed initially by Freieren in her story and is confirmed by the dialogue of the demon envoy while they are alone. When the concept was originally presented during Frieren's story, I had hoped the show might use the idea to give its lead a chance to learn once more and grow. Instead, it doubles down on the fatalistic view of its lead.
Setting the racial fatalism of the episode aside, Frieren Episode 7 does use the exploration of the nature of its demons to craft a fantastic villain. The demon envoy is presented as a cunning, manipulative enemy that manages to twist moments to the outcome he desires. How coldly he preys on others' empathy makes him feel even more monstrous than usual, given how core such themes have been emphasized as positive throughout the series.
Despite a disappointing stumble in elements of its world-building, Frieren Episode 7 still delivers a strong story. With a wrap-up that sees one of the demon envoys preparing to attack the imprisoned Frieren, the next episode looks to open with a bang.
Frieren Episode 7 is streaming on Crunchyroll.
Frieren: Beyond Journey's End Episode 7
TL;DR
Despite a disappointing stumble in elements of its world-building, Frieren Episode 7 still delivers a strong story.