Reading Time:
3
minutes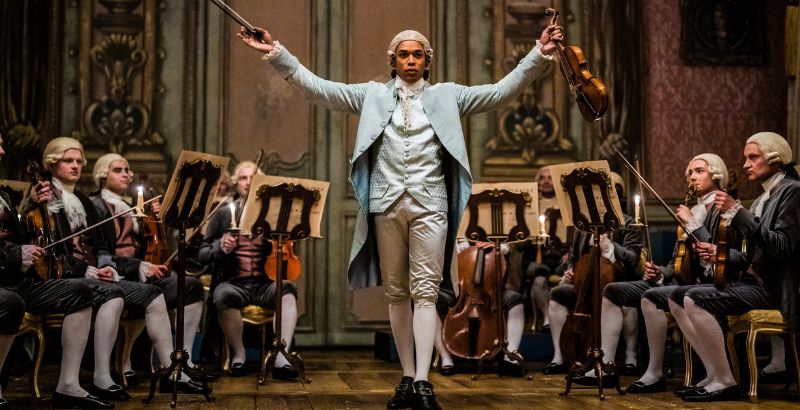 Inspired by the incredible true story of composer Joseph Bologne, Chevalier de Saint-Georges, Chevalier is directed by Stephen Williams and written by Stefani Robinson. The illegitimate son of an African slave and a French plantation owner, Bologne (Kelvin Harrison Jr.) rises to improbable heights in French society as a celebrated violinist-composer and fencer. The film chronicles his talent, his ill-fated love affair, and his falling out with Marie Antoinette (Lucy Boynton) and her court.
While the entire cast delivers memorable performances, and we get to see Samara Weaving like we never have before, this is Kelvin Harrison Jr.'s film and there is no way to deny his charismatic presence. In Cyrano, Harrison was a standout, and in Chevalier, he is a force. You can feel his talent, exhaustion, anger, loneliness, love, and longing in equal measure. He moves you with his words as much as in his body as performs. While it's been over a decade since Harrison picked up a violin, his ability to engage his audience in the film and that watching is haunting. You can feel every note and the emotion behind it, and while that comes from the wonderful compositions by Kris Bowers, it is also thanks to Harrison's emotive connection with the violin as well.
Chevalier captures the burden of excellence. Pushed to be an "excellent Frenchman" in order to not be torn down, Joseph's life even separated by centuries, is one that many marginalized people can understand, particularly when you're the "only one" in any given room, this is particularly true for Black people and people of color in systems built to favor whiteness as the default. The burden to succeed is placed on us in a suffocating way. You can not relax lest you prove those who would keep us out "right" and our emotions can be nothing but gracious. To be excellent is to perform for others, and what Chevalier captures in excruciating detail is the unrelenting suffering that burden causes.
Chevalier is a story about a Black master composer who was denied his rightful spot as the leader of music in Paris, France, and yet, his story still has relevancy today in that excellence only takes you so far when a system is built to harm you and commodify you. We see his life unravel when the racist Frenchmen belittle him and his talents, dehumanizing him and attempting to strip him of his art. It's rough to watch it all unfold when Joseph crashes into his tokenization and loses his world.
Joseph's story is heartbreaking. While the film's final moments tell the audience about how Napoleon tried to wipe Joseph Bologne from history when he reinstated slavery in France, the audience can see the way the French tried to do that while he was alive before the revolution. But in that heartbreak, Joseph has his mother, played by the beautiful Ronke Adekoluejo. She is there to catch her son, to heal him, and to show him that his power lies in the choice to continue moving forward. In the film's third act, Adekoluejo's Nanon counsels her son and consoles him, and Joseph is able to embrace himself.
From the second act on, Joseph is put into situations where his life is in danger, and in those moments my heart dropped into my stomach. When Black people are shown in period films, even those that are chronicling their life, it's almost always a tragedy. Stephen Williams and Stefani Robinson are aware of this reality and put the audience into moments where they know one way the story could end for Joseph. But instead of that, the film builds and manages to present Joseph's triumph, not because he was excellent as a Frenchman, but because he is a Black Frenchman who has stopped pushing away his identity. Excellence for Joseph doesn't come from the white parts of himself, but when he finally plays for himself.
Biographical dramas often preserve the histories of people we all know, and now they've been overly concerned with chronicling the lives of people who are still alive. Is there a place for this? Yes. But the power of a biographical film comes from its ability to recreate as much as preserve, to build back up what was forced out of history. In that way, Chevalier pushes a biographical film into the territory where it can have an impact in retelling a story that the past attempted to erase. Chevalier is a story about excellence and its burden of it and ensures that the audience will never forget Joseph Bologne.
Chevalier is playing in theaters nationwide April 21, 2023.
Chevalier
TL;DR
Chevalier is a story about excellence and its burden of it and ensures that the audience will never forget Joseph Bologne.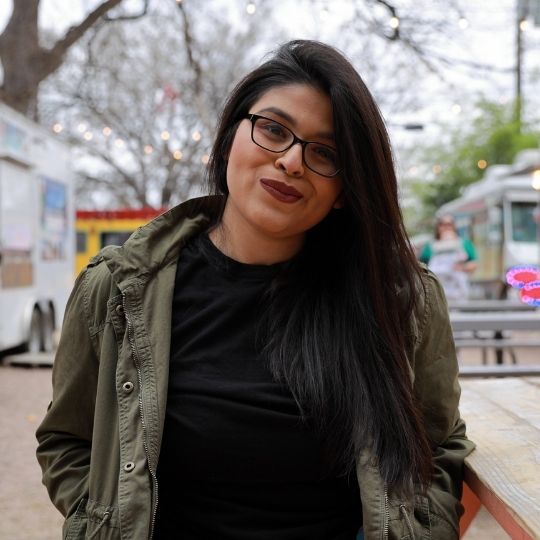 Kate Sánchez is the Founder and Editor-in-Chief of But Why Tho? A Geek Community. There, she coordinates film, television, anime, and manga coverage. Kate is also a freelance journalist writing features on video games, anime, and film. Her focus as a critic is championing animation and international films and television series for inclusion in awards cycles.