Having resolved to visit Aureole so she might speak again with Himmel (Nobuhiko Okamoto), Frieren (Atsumi Tanezaki) and Fern (Kana Ichinose) set out, following the path she took with her old companions when they resolved to fight the Demon King all those years ago. But while Frieren is an accomplished mage, not all threats can be handled purely through magic. If the duo hope to overcome the trials ahead, they will need to find someone capable of swinging a blade in Frieren Episode 5.
After a heartfelt departure from Eisen's (Yôji Ueda), the show sees its duo off on their little ten-year adventure. While riding in a wagon on their way to the next town, Frieren Episode 5 takes a moment to jump back in time via a dream of Fern's where we see one of her last moments with Heiter (Hiroki Tôuchi) before their departure. This interaction is as sweet as you'd expect, as Heiter asks Fern to be good for Fieren. The moment is a touching one and a beautiful last memory for Fern to have of someone as important to her as Heiter was. This moment's power is amplified thanks to the lovely lighting that is used to enhance the warmth of the moment, as well as the subtle, gorgeous music that brings out the best of the scene.
When the duo arrives at their destination, they learn that there has been a rash of disappearances in the town. People talk of seeing the ghosts of their loved ones in a nearby mountain pass and that many who see the apparitions are not heard from again. While it seems that Frieren has a good idea of what is causing these vanishing, she isn't immediately inclined to help. It is only when Fern makes the request of her master to aid the villagers that Fieren agrees to deal with the problem.
Like much of the show's exploration of its main protagonist, this moment in Frieren Episode 5 is handled in a deft way that keeps her from coming across as objectively cold or uncaring. Rather, it simply doesn't occur to her to pitch in until the subject is brought up by Fern. This feels attributed once again to her long life and how inconsequential concerns like one random monster feel to her. It isn't a good thing for her character, but it feels like an understandable thing given just how long she's lived. And since her journey is largely inspired by a desire to change how she views the fleeting lives of those around her, we can chalk her oversight up to her still needing to improve.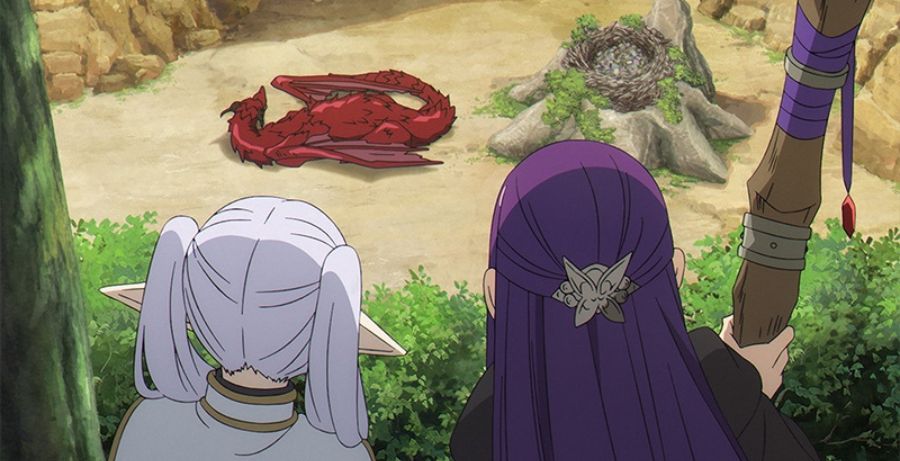 When the pair confront the monster, they are also shown departed loved ones. While Fern obviously sees Heiter, Freiren is surprised by who she sees. Expecting the visage of her master Flamme (Atsuko Tanaka, Ghost in the Shell: Stand Alone Complex) to appear, as had happened during previous encounters with such traps, she instead sees Himmel. This surprises her, as it further highlights the importance of Himmel's place in her heart.
After their brief confrontation with the ghosts, Frieren Episode 5 sees the pair crossing through a nearby canyon when they spot a dragon with its nest. The nest contains a grimoire in it, which Frieren sets her eyes on, as it contains one of the unusual spells she so loves to collect. However, after a brief clash, the mages fail to defeat the dragon, finding themselves in need of a fighter to aid them in the battle. Luckily, Eisen told Frieren of a young man named Stark (Chiaki Kobayashi, Mashle: Magic and Muscles) living in a nearby town who may be able to aid her on her journey.
How the series introduces Frieren's newest ally is interesting. Lauded as the hero of the town, Stark turns out to be something different than what the viewer initially expects. While a good-hearted person, he falls short of the hero moniker he is given by the people of the town, though the young man does sorely wish to be worthy of their praise.
The best part about this surprising introduction is how Frieren and Fern react to the young man's situation. Given their past interactions, you would expect Fern to be the more sympathetic of the pair. However, it is Frieren who sees past the first impression the boy gives off to find something more in his clear desire to be better, while Fern's first instinct is to simply write him off as a coward.
Frieren Episode 5 wraps up its story with a final reveal about Stark that makes Fern reconsider her earlier appraisal of the young man and sets the scene for their battle with the dragon next episode. While the narrative leaves viewers with some hints as to how the struggle will play out, this episode reinforces the fact that whatever viewers expect of this series' story, they are likely to get a far deeper tale than they think.
Frieren Episode 5 is streaming on Crunchyroll.
TL;DR
Frieren Episode 5 wraps up its story with a final reveal about Stark that makes Fern reconsider her earlier appraisal of the young man and sets the scene for their battle with the dragon next episode.