Wielding an abundance of charm, an evocative animation style, and further colored in with delightful and empathetic leads, Skip and Loafer has been one of the major triumphs of the spring anime season. In Skip and Loafer Episode 12, "Shining," the season finale delivers a moving moment of closure while promising that the story will continue as Mitsumi and Shima move forward in their individual goals while finding greater strength and inspiration through the other. Animation director Yusuke Inoue delivers an emotionally stirring close of the first chapter, tapping into the melancholy that's made up so much of the back half of the season while simultaneously making sure to depict the optimism and joy that come when a person can overcome personal hurdles, no matter how minor.
The school festival continues, and we pick up right where we left off with Ririka confronting Shima's mother, delivering a blazing indictment, asking her if she's "making Shima act for you again?" While we've seen Shima admit to having acted for others rather than himself as he spent much of season one putting his child acting career behind him in hopes of distancing himself, this is the first real confirmation from an outside force that the emotional needs of someone else largely defined his career. Ririka continues to be a difficult character to stomach in contrast to the rest of the ensemble, abrasive and unrelenting, whereas others have softened over time. However, for how small her growth has seemed in comparison, this moment solidifies that she too has layers to her, and her hurt due to Shima and understanding of him makes more sense when we realize how entangled the two were in one another's lives.
Shima, meanwhile, is sitting with his younger brother in an adorable sequence where we get the sense of impending healing between the two. This allows for a hint of a later instance following his mother's departure due to Ririka's words. Mitsumi, in the act of courageous defiance, stands between Shima and Ririka, her arms raised, in a nonverbal attempt to protect him by making herself bigger — the same thing the anteaters do in the book Shima had been reading to his brother. He's charmed by the image and touched, and it's a further reminder of Mitsumi's pure and inherent kindness. She might not see herself as someone who can stand among those like Ririka, but she'll still stand in her way if it means helping a dear friend out.
As in Episode 11, the school festival itself is secondary to the actual plot. It is used more as a catalyst for personal revelations and opportunities for characters like Mitsumi to reflect on her time in Tokyo. The biggest moment is hinted at through the name of the episode itself, "Shining," the first episode title of the series to be one word rather than two contrasting ones. While giving his final performance, Shima begins to wonder why his feelings over acting are so complex, and the contradictions of wanting his mom to see him perform and his relief in her having left.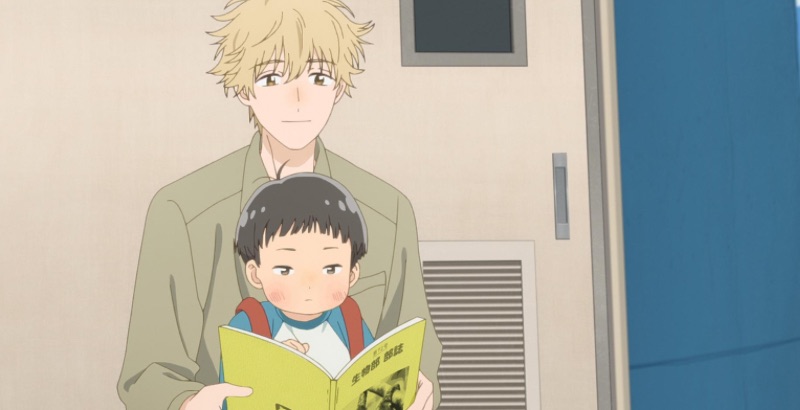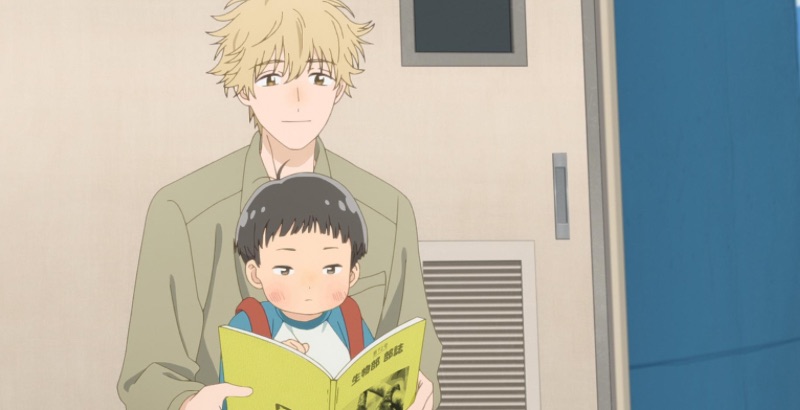 Shima has been defined as a people-pleaser since the start of the series, and he addresses this here. He believes that everyone is happier when he gives them what they want. He has to start questioning that belief, though, wondering if it's just become a default, easy approach to social interactions. He thinks about the president of the drama club and what he found so off-putting about them at first, and the differences he perceived to draw a dividing line between him and Mitsumi. Mitsumi, who is doing something for herself by pursuing a career that would help her hometown, that he conflated with being for others. He looks at Mitsumi and Kanechika and realizes that his jumbled emotions about them boil down to envy. He's envious of their assuredness in their pursuit of what they love.
At the end of the episode, Mitsumi reflects on the Shima she first met and how she couldn't believe a boy as stylish and popular could ever be friends with her. But now, in their interactions, she can see his youthfulness, reminded that he's only 16 years old. And she likes that new development. So often, the two have played roles meant to contrast one another, polar opposites in many ways that make it shocking to onlookers and themselves that they would have developed as strong a friendship as they have. Those differences haven't changed, but they've challenged one another, and their differences and similarities continue to overlap in intriguing, constantly developing ways, from Mitsumi's wandering attention to Shima's want to pursue his passion.
The level of detailed artistry and character development is evident in the opening — its thesis statement is delivered with clarity as Mitsumi's world grows from a single flower in an overwhelming city to a bouquet that makes up the flower crown on her desk in the OP's ending notes. Tokyo still looms large to her, and her childhood friends and family live hours away, creating a more isolating experience when she witnesses those who have established roots. However, as she says herself, she's found some wonderful places, and that is due to the people she's befriended along the way and has shared both magical and mundane memories with. Her arrival wasn't just a chance for her to experience the vibrancy of city life — she also brought with her color to better shape and shade those whose lives she's touched.
Written and directed by Kotomi Deai, Skip and Loafer Episode 12 is an impactful and moving depiction of the constant shifts of adolescence that beautifully build a coming-of-age story. With its pastels and soft hues, no level of severity touching the illustrations — be it character designs, or scenery and action animation — Skip and Loafer exemplify the best type of empathetic storytelling. This, plus the continued focus on the strength and necessity of platonic friendships — and how they're just as integral to our growth as romantic ones — makes the series one of the very best slice-of-life anime.
Skip and Loafer Episode 12 is a stirring finale of a heartfelt and thoughtful first season. As Mitsumi and Shima continue to discover greater aspects of one another through their interactions with those around them, the world continues to expand as they grow sturdier in their ability to face it head-on. Remarkable in how it uses unremarkable events such as a coffee date or a sleepover to discover pivotal moments in our lives, Skip and Loafer season one's ingenuity is in its capacity to find warmth and significance in the small, between moments that so shape our lives, just as important, and potentially life-changing as the monumental ones. It took just one missed bus for Mitsumi and Shima to meet, and in hardly a year, they've already begun to change one another's lives for the better.
Skip and Loafer Episode 12 is available now on Crunchyroll.
Skip and Loafer Episode 12
TL;DR
Skip and Loafer Episode 12 is a stirring finale of a heartfelt and thoughtful first season. As Mitsumi and Shima continue to discover greater aspects of one another through their interactions with those around them, the world continues to expand as they grow sturdier in their ability to face it head-on.