Reading Time:
4
minutes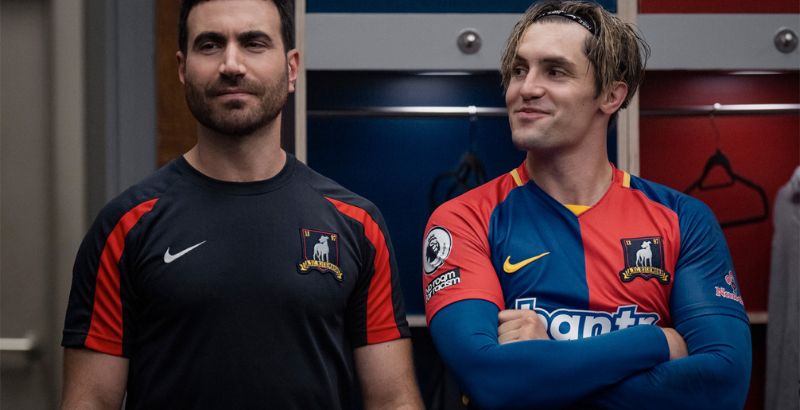 The pendulum of sweet and overindulgent swings in great swarths in Ted Lasso Season 3 Episode 10, "International Break." Many characters are given moments of long-needed closure, leading to some wonderful sequences that reach their crescendo due to subtle direction. That said, the sincerity of these scenes, while true to the character they're spotlighting, are also tacked on, many of the dynamics shown needing greater exploration in prior episodes — seasons even — to land with the right amount of earned gravitas. Instead, the moments hit at the heart, but it comes with the bitter aftertaste of something so overtly sugary that indicates the substance is less than the immediate effect.
As the third season ends with only two more episodes remaining, Ted Lasso Season 3 Episode 10 divides the characters into groups once more. While not as effective as "Sunflowers," there are standout moments. Most notably, Brett Goldstein's Roy, after a run of over-relying on some of his more caricature traits, is given his best episode of the season, paired with three of the most integral characters to his growth.
First, we get the episode's standout scene as Roy's niece Phoebe (Eloise Blomfield) is throwing him an "Uncle's Day" to celebrate him. She and his sister are already present, but Jamie (Phil Dunster) unexpectedly joins, too, having been invited by Phoebe, who says it only makes sense to have Roy's best friend present. The comment sets up the two men's guards, refuting the claim even when Phoebe points out that they spend every day together and Roy always talks about him. The scene would've already been a highlight, with Goldstein wearing his paper hat and receiving a tie-dye tee-shirt as a gift from Phoebe, but it's made heartfelt with Jamie's gift to Roy. Dunster's expressive face gives away his anticipation and delight at Roy being pleased with the admittedly thoughtful gift.
It's just one of the many Roy highlights. From begrudgingly wearing Phoebe's present to work despite the shocked faces of his co-workers to his realization of him being out of his funk that had so leveled him at the end of season two, we're finally given the growth and direction we've needed from him all season. It culminates in, again, a long-awaited moment where he goes to Keeley's (Juno Temple) to apologize. Her light has already been dimmed in "International Break," with her company being threatened, and while Roy doesn't fix that, he can offer closure as to why he broke things off. Temple and Goldstein have always had terrific chemistry, and it shines here.
Elsewhere other storylines are either too silly or rushed to land with the same level of impact. Sam Richardson is a committed and hilarious actor. While his performance as the returning Edwin Akufo reminds us of his versatility as an actor, it's too broad for the rest of the episode, which works in soft focus and musical interludes. He wants to form a super league of football where only the very best teams can play, hiking the prices so that only the most affluent would be able to afford games. Due to an impassioned speech from Rebecca (Hannah Waddingham), it doesn't come to pass, and we even get a moment of brief humanity from Rupert (Anthony Head), but the writing thinks it's all more poignant than it is.
Similarly, the scene between Nate (Nick Mohammed) and his father (Peter Landi) is long-awaited, but it all ties up too neatly. Everything we've seen of Nate's father has been passive at best, disappointed at worst, and we're supposed just to believe that all he wanted was for Nate to be happy. It's a beautifully acted moment, and Mohammed sells the disbelief and joy at finally earning his father's approval. We needed it to be better spaced out, and it's hard not to wonder if the season would've played better if Nate's redemption arc had been rooted in his relationship with his family and his reigniting of his small passions rather than in a romance.
That said, there are plenty of small delights for all misplaced or treated with a heavy hand. Cristóbal Fernández, as Dani Rojas, gets to stretch his comedic muscles as one of the players chosen to play for his national team in the international games that sees him pitted against Van Damme/Zoreaux (Moe Jeudy-Lamour) playing for Canada. Having been picked for the national team for England, Jamie gets to show off his growth again by wearing Sam's (Toheeb Jimoh) jersey number at Wembley to show his support for his friend who was unjustly left off of the Nigerian this year due to Edwin's interference. Nate takes another step in his journey by cleaning and preparing the locker room for Will (Charlie Hiscock) before he gets there, repairing his inflicted damage one small act of kindness at a time.
Ted Lasso Season 3 Episode 10 is a conflicting hour of television. Too long and drawn out in some of its more saccharine moments, there's no doubt that often, these beats still work. There's no denying that some of these interactions needed to happen either sooner in the season or spread out amongst the 12 episodes. We love the AFC team, so they're easy to root for, but so much of the engagement has been due to the actors' lasting charisma and less the writing as a whole.
Ted Lasso Season 3 Episode 10 is available now on Apple TV+.
Ted Lasso Season 3 Episode 10
TL;DR
Ted Lasso Season 3 Episode 10 is a conflicting hour of television. Too long and drawn out in some of its more saccharine moments, there's no doubt that often, these beats still work.
Allyson Johnson is co-founder and Editor-in-Chief of InBetweenDrafts. Former Editor-in-Chief at TheYoungFolks, she is a member of the Boston Society of Film Critics and the Boston Online Film Critics Association. Her writing has also appeared at CambridgeDay, ThePlaylist, Pajiba, VagueVisages, RogerEbert, TheBostonGlobe, Inverse, Bustle, her Substack, and every scrap of paper within her reach.