Reading Time:
4
minutes
After last week's disappointing outing, Ted Lasso Season 3 Episode 8 continues its bumpy ride to the end with another strong installment. Aside from one storyline, all of the characters and their plots move and transition into places that suggest closure, of some sort, is incoming. That narrative assuredness, along with some strong performances — from Juno Temple and Nick Mohammed in particular — make "We'll Never Have Paris" enjoyable. 
With a visit from his son, Ted (Jason Sudeikis) is left grappling with all he's missing and lost out on, and while the writing here is fine, it's the only storyline that misses the mark. The inevitable assumption at this point is that Ted will likely go home to the U.S. to live closer to his son. This is especially likely, given it is the final season. That being such an assumed scenario for the character, it makes his moping and erratic request of Rebecca (Hannah Waddingham) to have a private investigator track his ex-wife's new boyfriend tiresome. For a character who has evoked such growth from his team while simultaneously demonstrating his own self-improvement through therapy in season two, this moment wreaks of convoluted plotting rather than something realistic for the character. 
Ted has spent so much of the season alienated in some form from the team, be it through his inability to understand the sport he's coaching or through storylines that either have him thinking of home or with characters not a part of his team. It's similar to the need to see more of Richmond as a team on and off the field rather than individualized stories because Ted works beautifully as a character when he's with the athletes, Beard (Brendan Hunt) or Rebecca. 
This, in part, will make the following sentence hypocritical because Ted Lasso Season 3 Episode 8 also offers strong solo storylines. It's not impossible, just that this third season has often splintered its characters and best dynamics which further exacerbates the uneven final product. That said, when the show is at its best, it knows how to write individual storylines that both play on past plotlines — directly and indirectly — or brandish what we've come to know about the characters to make whichever triumph or loss leave a greater wound. 
An example of this comes by way of Nate and Keeley. The former is continuing his redemption arc, and while previously the way the show was tackling failed to engage, the writing for him and Mohammed's performance has managed to rectify those worries. While it would've worked better to see the character progress in his working relationships rather than primarily through his recent romance with Jade (Edyta Budnik), we're seeing how that kindness and attention are causing him to refocus on what he wants to be known for.
His flaws are still present, and he hasn't rid himself of anxieties as he wakes up early to brush his teeth and primp himself before his girlfriend wakes, in fear of her perceiving any faults, but he's trying. That we're seeing him trying and not succeeding the whole time (such as still unable to stand up to Anthony Head's Rupert) renders it so successful. Ted Lasso thrives on kindness that is understated rather than overwrought. While Nate's character was left irredeemable to many, the show and the writers do their damnedest to justify highlighting his ability and capacity for change. 
Elsewhere, Keeley's storyline also largely stands alone. As one of many famous women whose private images and videos have been leaked, she's dealing with a public fallout as the face of a popular company. What's also an invasion of privacy becomes worse when Jack (Jodi Balfour) fails to step up to the plate in her defense, defaulting to the type of vitriol and ridicule we've become well versed in. As Keeley puts it to Rebecca, we're either fighting to live in a world in which women's worth is measured by being sexualized or being demonized for being sexualized. Temple delivers a measured performance, captured beautifully by director Erica Dunton, reining in some of Keeley's more over-the-top personality traits and allowing facial gestures and her wide eyes to nurture most of her pain.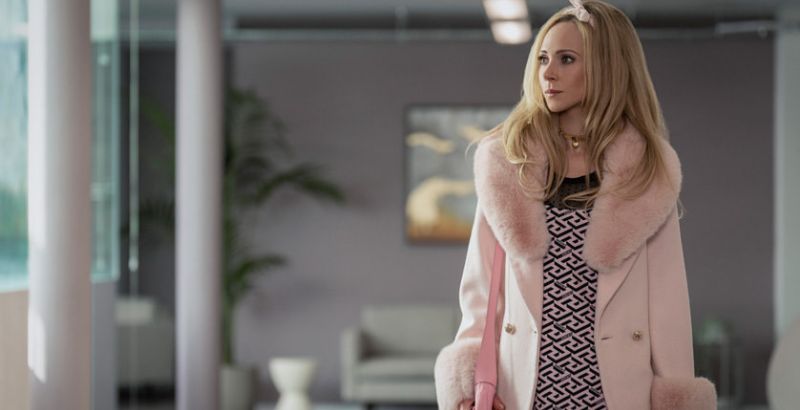 Her storyline allows the show to demonstrate the web of community these characters have built. From the locker room outrage that she's been put in this position which has the team deleting any of their risque photos of exes they might still have saved on their phone, to a heartfelt, often hilarious conversation with Rebecca, to an uncomfortable interaction with Roy (Brett Goldstein,) the history they all share runs deep. She and Jamie (Phil Dunster) manage to share a brief scene, and it wouldn't be as poignant as it is if not for the seasons worth of character development they've done and the inherent draw of both Temple and Dunster. 
The show excels in these character beats. It's why Trent's (James Lance) slow descent into being one with the team is so charming or why Beard's familiarity with Henry works so well. There's a reason why we love watching Rebecca talk Ted off the ledge and Roy and Jamie share a knowing look. Ted Lasso excels with personal relationships and friendships, and even if there's a want for romance between certain characters, it doesn't diminish that the show is extraordinary in handling its platonic ones that mean just as much to the fictional players as it does to us viewers. 
Ted Lasso Season 3 Episode 8 demonstrates the show's ability to tell individual stories without losing the heart of the series. With each episode running nearly an hour long, there's plenty of time for the show to have it both ways to engage in the comedic elements of the group dynamics while deep-diving solo narratives. The series needs to maintain this level of focus and bring Ted back further into the fold of the cast to close out the series on a high note. 
Ted Lasso Season Episode 8 is streaming now on AppleTV+ with new episodes every Thursday.
Ted Lasso Season 3 Episode 8
TL;DR
Ted Lasso Season 3 Episode 8 demonstrates the show's ability to tell individual stories without losing the heart of the series. With each episode running nearly an hour long, there's plenty of time for the show to have it both ways to engage in the comedic elements of the group dynamics while deep-diving solo narratives.
Allyson Johnson is co-founder and Editor-in-Chief of InBetweenDrafts. Former Editor-in-Chief at TheYoungFolks, she is a member of the Boston Society of Film Critics and the Boston Online Film Critics Association. Her writing has also appeared at CambridgeDay, ThePlaylist, Pajiba, VagueVisages, RogerEbert, TheBostonGlobe, Inverse, Bustle, her Substack, and every scrap of paper within her reach.