Reading Time:
4
minutes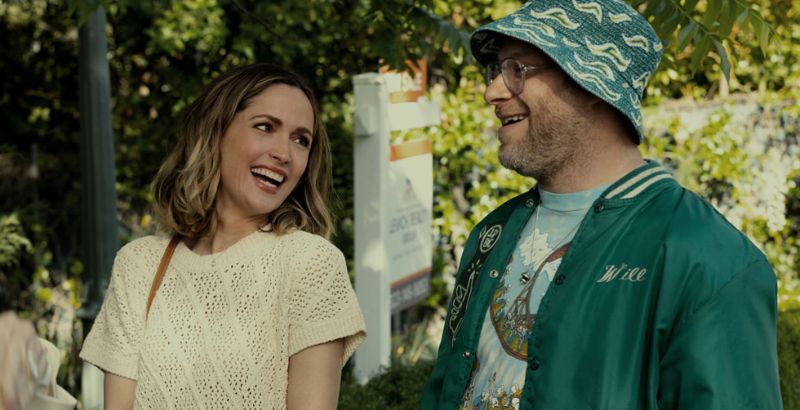 Rose Byrne and Seth Rogen star in the surprisingly mature take on adult friendship, Platonic. Playful in form and tone while possessing an eagerness to depict friendships in all their codependency, the comedy series allows Byrne and Rogen's chemistry to shine following their work in Neighbors where they played a married couple. The latest Apple TV series is refreshing in its willingness to depict the characters in their messiest, ugliest, moments as well as highlighting the significance of different types of relationships as we get older. The strongest message in an often very silly show hones in on the idea that just because people get married and have children it doesn't mean those platonic friendships aren't just as vital to our continued growth.
Byrne and Rogen star as Sylvia and Will, two old friends who had a falling out years prior when Sylvia wasn't able to support his relationship with his now ex-wife. Sylvia has been a stay-at-home mom since her first child, a fact that she feels the need to often defend, while Will is the brewmaster at a brewery he runs with his friends. Both are going through their own personal crises, from Sylvia's avoidance of finding a new home for her family and her reluctance in rediscovering her old career in law, to Will's inability to be flexible at work and his need for validation through his clothes and tastes. Their reconciliation proves both beneficial to the two as well as detrimental to those around them, allowing one another the space to be as chaotic and irresponsible as they need.
Clocking in at about 30 minutes each episode, Platonic breezes through its plot at a pace that's refreshing in a time where there's a glut of series that feel the need to extend what should be half-hour episodes to over hour-long installments. Quick-witted and deeply funny, the series takes what could, effectively, be a simple hangout comedy and allows it greater depth by focusing on the type of relationship we don't often see onscreen. And, if we do, it often goes the way of a classic (references on the show) like When Harry Met Sally when friendships between men and women can never stay platonic.
One of the greatest strengths of the comedy is that it takes the opportunity for romance off the table immediately. There's chemistry between the two leads no doubt but it manifests itself in a manner that highlights friends who've grown together for so long that their comfort level with one another is unmissable. It also gives plenty of time dedicated to their own individual relationships, most notably Sylvia's with her husband, human labrador Charlie (Luke Macfarlane.)
If and when jealousy appears due to Sylvia and Will's relationship, it's handled with understanding and an empathetic ear. There are no contrived misunderstandings for the sake of cheap drama. Rather, not to put too fine a point on it, the conflict is handled as adults would do so. They listen, they communicate, and they try to better themselves for the sake of their partner, even if it takes some stumbles along the way. Charlie is a lovable, fallible character, who when threatened by Will always admits to it and tries to work through his own insecurities.
It helps that the stars reteam with their Neighbors filmmaker, Nicholas Stoller, who co-created it with Francesca Delbanco. The two have a complete grasp on the strengths of their stars. Rogen is playing a more low-key version of some of his more notable performances. The difference is that now 40, he's imbuing his character with a newfound type of vulnerability as he worries about his place in an ever-youthful community.
Byrne is phenomenal, as always, with Platonic allowing her to give one of her best and funniest performances to date. Byrne is no stranger to showing off her considerable range and yet it's still always a delight to discover hidden comedic skills such as specific physicality.
Shot with an eye for the clutter and mayhem a five-person family can wreak on a household, the series is lived in and comfortable in the dynamics they've drawn out with no desire to overline them. If there are any drawbacks it's that Will's character isn't put through the same emotional wringer as Sylvia, though he suffers plenty of physical hardships and injuries to put him through his paces as well.
Refreshing and hilarious in how it depicts adult friendships, Platonic is yet another winsome comedy for the streaming service. By capturing the minute details of the friendships that survive over decades and through the most ridiculous and triumphant moments in a person's life, it's created a relatable and understated series that speaks to what it means to constantly try and grow beyond your own self-assigned limitations.
Platonic premieres the first three episodes May 24  on Apple TV+ with new episodes each Wednesday.
Platonic
TL;DR
Refreshing and hilarious in how it depicts adult friendships, Platonic is yet another winsome comedy for the streaming service.
Allyson Johnson is co-founder and Editor-in-Chief of InBetweenDrafts. Former Editor-in-Chief at TheYoungFolks, she is a member of the Boston Society of Film Critics and the Boston Online Film Critics Association. Her writing has also appeared at CambridgeDay, ThePlaylist, Pajiba, VagueVisages, RogerEbert, TheBostonGlobe, Inverse, Bustle, her Substack, and every scrap of paper within her reach.