Reading Time:
4
minutes
Darth Vader is more than just the mechanical nightmare of the Sith. Through various novels and comics, his story continues to be explored and fleshed out to give character to one of the most feared beings in the galaxy. Star Wars: Darth Vader – Black, White & Red is an anthology series that continues that trend. Writer Jason Aaron and artist Leonard Kirk lead the 4-part story for the Dark Lord, while other writers and artists will be featured in secondary stories. Darth Vader – Black, White & Red #1 gives three hard-hitting stories in the comic's inaugural issue.
"Hard Shutdown Part 1", the series's primary story, is written by Jason Aaron, while Leonard Kirk provides art, and Romula Fajardo Jr. provides colors. In only 6 pages, readers are treated to all the actions that one would expect regarding Darth Vader. During his search for a man named Sendvall, he is ambushed. An overwhelming Force is never enough to defeat the Sith Lord.
Kirk's art stays predominately red in these moments as Vader's power is fully displayed. The red of the Sith Lord's violence is contrasted well by the white of the stormtrooper, ambushers, and Vader's black armorer. However, when Padmé is mentioned, Vader is thrown off his game just enough to be shut down. The panels shift back to predominantly white, highlighting the situation's intensity.
Darth Vader – Black, White & Red #1 kicks off by having one of the rare instances of Vader in a vulnerable situation. We have seen Vader down and mangled in the Marvel Darth Vader comic, but that was at the hands of his master Darth Sidious. To have a relative nobody be able to incapacitate the mechanical menace is quite the feat. How he knows about Padmé is yet to be seen, but it creates an intriguing storyline.
Peach Momoko serves as the writer and artist for "Inescapable." Incredible is an understatement. It is rare for Star Wars to tap into the horror genre, but with no dialogue, Momoko weaves a beautifully tragic story of a woman haunted by the memory of Darth Vader. The questions the story invokes are boundless as panel after panel leans on Japanese-style horror artwork.
At first glance, the woman resembles a stormtrooper as the sand she lets slip from her hand looks more like a stormtrooper helmet than skulls. Is the woman a 501st Legion deserter who can no longer deal with the atrocities of the Empire? Is she a potential Sith Inquisitor that Vader is pursuing? Or is she someone completely different? The woman's white attire is reminiscent of Padmé's battle dress, but one of Padmé's handmaidens could also be possible.
Regardless of who this woman is and where her trauma with Vader stems from, one thing is clear. Peach Momoko delivers one of the best series of panels in a Star Wars comic I have seen. With Star Wars Visions pushing the norms of what Star Wars animation can be, Momoko shows that pushing the boundaries of what Star Wars is can also extend to comics. Momoko deserves her series. Of the three stories in Darth Vader – Black, White & Red #1, "Inesacaple" is truly the standout.
"Dissolution of Hope" is written by Torunn Grønbekk and is joined by artist Klaus Janson. The last story in Darth Vader – Black, White & Red #1 gives readers the most cohesive story to follow of the three. On an unremarkable Imperial base, Vader is set to investigate the irregularities reported on a weapons project. Rebels looking to destabilize the Empire have a plan to eliminate top-ranking Imperial officials and Darth Vader himself in one fell swoop.
As the story progresses, Vader's narration is displayed through black boxes befitting his menacing armorer. His ominous words take cracks at the incompetence of some members of the Empire but also the folly of the Rebel's ideology of hope. While the Rebels rely on radical methods that would make Saw Gurrera proud, they are always two steps behind the Sith Lord as Vader looks to root out the insurgents.
Despite having no characters of consequence outside Darth Vader, writer Grønbekk can garner sympathy for the Rebels. Through back-and-forth dialogue, their intentions are clear, and they are willing to sacrifice everything to send a message to the Empire by killing Darth Vader. It is a solemn reminder of how many Rebel factions met their end at the hands of Darth Vader before they could come together as the Rebel Alliance. More importantly, it shows that Darth Vader is not the one to be underestimated.
Star Wars: Darth Vader – Black, White & Red #1 delivers three distinctly different stories that convey the same message. Through vastly different writing and art styles, they all paint the picture. While Vader is an imposing physical presence, the psyche of the mechanical Dark Lord of the Sith is just as frightening. The series will surely stand as an opportunity for others to shine with their unique takes on the Star Wars universe. Jason Aaron and Leonard Kirk's story will continue throughout, but Peach Momoko, Torunn Grønbekk, and Klaus Janson prove they are powerful storytellers. I hope to see more from them in the future of Star Wars comics.
Star Wars: Darth Vader – Black, White & Red #1 is available now wherever comics are sold.
Star Wars: Darth Vader – Black, White & Red #1
TL;DR
Star Wars: Darth Vader – Black, White & Red #1 delivers three distinctly different stories that convey the same message.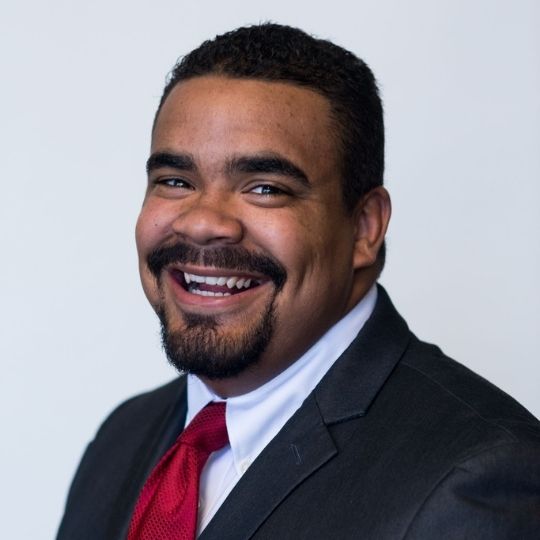 I am just a guy who spends way to much time playing videos games, enjoys popcorn movies more than he should, owns too much nerdy memorabilia and has lots of opinions about all things pop culture. People often underestimate the effects a movie, an actor, or even a video game can have on someone. I wouldn't be where I am today without pop culture.