Reading Time:
2
minutes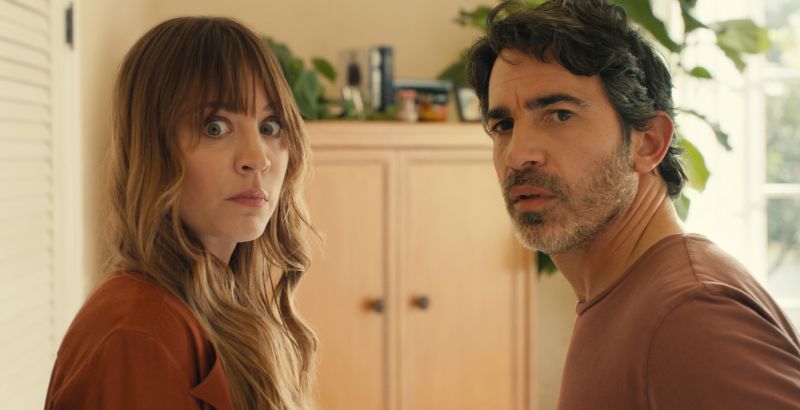 Streaming service Peacock has offered the first look at their upcoming series Based on a True Story. The creator, showrunner, writer, and executive producer of the series is Emmy-nominated Craig Rosenberg, who previously worked on other hit shows such as The Boys and Gen V. Those starring in the show include Kaley Cuoco, Chris Messina, Tom Bateman, Priscilla Quintana, Liana Liberato, Natalia Dyer, Alex Alomar Akpobome, Aisha Alfa, Annabelle Dexter-Jones, Li Jun Li. The executive producers are Jason Bateman and Michael Costigan, with co-executive producers being Roxie Rodriguez and Melissa Blake.
The dark comedic thriller will have eight episodes and will air on 8th June 2023. All episodes are to released together. As for the series itself, it will focus on a realtor, a former tennis star and a plumber. The trio will work together attempt to make the most of America's obsession with true crime. Kaley will play Ava Bartlet, Chris will play Nathan, and Tom will play Matt.
Showrunner Craig has said, "Over the last decade, a true crime phenomenon has swept over America. Podcasts, documentaries, and fictional shows based on true stories – they dominate the culture. Murderers have become celebrities, and celebrities have become murderers, which inspired me to create this show". He adds that he "became fascinated with the idea of a relatable married couple whose youthful dreams hadn't come to fruition and who saw the true crime tidal wave as an opportunity to change their lives and save their marriage". Furthermore on selecting Los Angeles as the setting of Based on a True Story, he said, "the city where everybody wants to be famous – became a vivid backdrop to our story of fame, ambition, aspiration and murder".
Additionally, the story will also involve Kaley's real-life pregnancy. Originally, the character was going to be a mother to older children. Instead, the character is now childless. But after Kaley fell pregnant, her character, Ava, was written to be pregnant. That switch, therefore, adds to a plot of financial stress for her and her partner, Nathan.
And whilst the couple has the excitement of bringing a child into the world, things have grown state romantically. So, to switch things up, they decide to start a true crime podcast. And it results in Ava and Nathan finding themselves involved with a serial killer case that occurs in their neighborhood. Finally, with Based on a True Story promising to be full of jokes, the showrunner reveals that the show will go places that the audience may not necessarily expect.