Reading Time:
3
minutes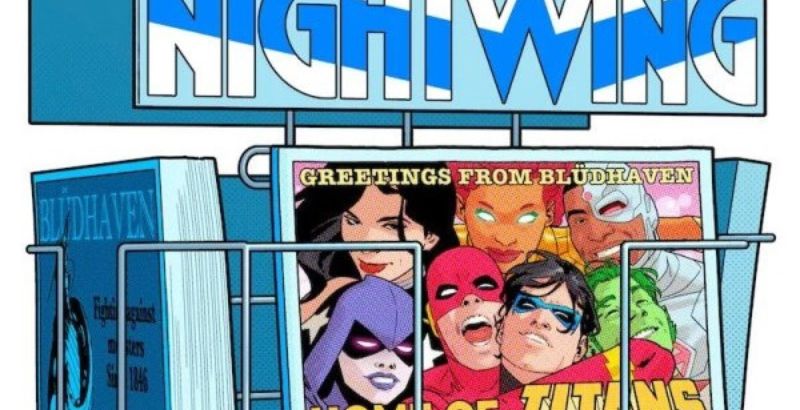 Nightwing #103 from DC welcomes you to a land of deviltry and mystery. As usual, the series tackles two stories. The first one, 'Rise Of The Underworld, Part 3,' is written by Tom Taylor, with art by Travis Moore and Vasco Georgiev (pp. 5, 13-18). Colors for both stories are handled by Adriano Lucas, with letters for both by the one and only Wes Abbott. Last time around, Nightwing and the Titans determined the best route to protecting Blockbuster's daughter, Olivia, was to go to Hell and seize the contract from Neron himself.
The first defeat Neron suffered in trying to abduct Olivia has caused a row in the Underworld, and old Superman foes like Blaze have come calling to challenge the Lord of Hell. Raven gets the Titans through the proverbial door to that realm and the team navigates through it rather easily. This particular moment in Nightwing #103 seemed off. The story is told very well, with Taylor's characterization holding out strong. However, while I didn't expect to see a surprise death scene or the story to enact some sort of cataclysm upon the Titans or Bludhaven, I did feel the journey into literal Hell read as sanitized. The level of struggle was minimal. Yes, they had Raven on their side, but this story also had Neron and Blaze and all of Hell's demons.
Now, the story does take us to a couple of very interesting places by the time it ends, so Part Four is set up with some flair and I can't wait to see how things play out. The art here by Moore and Georgiev is darker and inkier than the clarity offered by Redondo, but it fits the overall theme of the story. Lucas finds a perfect medium between his usual pastel perfection and the darker hues of the previous issue.
Nightwing #103 rolls into 'Night At the Circus, Part 3,' written by C.S. Pacat, illustrated by Eduardo Pansica, and inked by Julio Ferreira. We left off with Nightwing accusing the acrobatic mother of butting her own trapeze line, much to Superman's shock. I like how this played out, with Nightwing still playing the role of teacher to Jon Kent. While I'm on the fence about whether or not this story fits the typical characterization of the Nightwing we've grown accustomed to, this highlights Nightwing's mentorship skills. A strong decision was made with emotional damage delivered by the end of the story. Pansica's art is fine in Part 3, but here and there I spotted some weird body language at times. Ferreira's inks are moody, and establish a great sad tone when needed. Lucas still makes his colors here different from the first tale. Abbott is stellar in lettering, and some of the lettering SFX is large and highly impressive.
Nightwing #103 is a cool double feature that carries out one important task – establishing the leadership capabilities of Nightwing. I have some idea how I think these stories will end but for now, they're really shining the light on Nightwing's cool, level-headed, experienced approach to every degree of crimefighting. You'd almost never guess this guy was trained by the grim, impatient, entitled Batman. Get Nightwing #103 one for Nightwing's abilities as Hero #1. Get this for the uber-fun that is Olivia. Get this for the cliffhangers.
Nightwing #103 is available wherever comic books are sold.
Nightwing #103
TL;DR
Nightwing #103 is a cool double feature that carries out one important task – establishing the leadership capabilities of Nightwing.
William J. Jackson is a small town laddie who self publishes books of punk genres, Victorian Age superheroes, rocket ships and human turmoil. He loves him some comic books, Nature, Star Trek and the fine art of the introvert.