Reading Time:
2
minutes
Radiant Black #18 is written by Kyle Higgins & Laurence Holmes, with illustrations & colors by Stefano Simeone and letters by Becca See. It's published by Image Comics. In 1984, Wendell George is happily married and attempting to use his engineering skills to provide for his family. In 2002, Wendell has achieved great success, but his marriage and relationship with his daughter falter. In 2020, an older Wendell now works at Best Buy and ends up becoming Radiant Yellow. And in 2038, Wendell traverses the wreckage of a ruined world.
Throughout its run, Radiant Black has settled into a rhythm of sorts. Every time a major story arc ends, one of the issues will shed more light on one of the other Radiants. With Radiants Red and Pink having received their standalone issues, the spotlight now falls on Wendell. And continuing Higgins' penchant for pushing narrative boundaries with this series, the entire issue is split into four separate timelines due to Wendell's ability to see the future. And that's not even the most impressive part: the entire issue is one singular image!
While this approach to comic book art has already been experimented with, Simeone puts his spin on it. He divides the page into four sections, each with its timeline, and goes from there. Certain sequences feature a four-fold take on certain actions Wendell takes throughout his life, like the opening page. On that page, he wakes up at different points in his life, with a wealth of emotions etched on his face depending on the time. In 1984, he's fresh-faced and ready to face the future. But in 2020 and 2038, the years have taken their toll on him — his hair is greyer and his eyes sadder. Simeone also makes liberal use of the color yellow, lacing different shades of it throughout the background and in the bright glow of Wendell's powers.
As he did with Radiant Black #6 and Radiant Black #12, Higgins joins forces with another co-writer. This time, it's Holmes who happens to be an extremely popular sports talk host in Higgins' hometown of Chicago. Higgins and Holmes bring a surprising depth of humanity to Wendell's life, from his marriage slowly falling apart to his dogged determination to fix things. Throughout the issue, a saying is repeated: "Change and conflict spark emotion and growth." Not only does this double as an overview of Wendell's whole life, but it also seems to be the mission statement that Higgins and co-creator Marcelo Costa were striving for when they launched Radiant Black. All the Radiants' lives were in a state of change before they gained their powers, so it only makes sense for an issue to take that to the logical extreme.
Radiant Black #18 crosses through time and space to tell Radiant Yellow's origin story, providing an unconventional yet emotional narrative. Should Wendell follow in the footsteps of his fellow Radiants and receive a spinoff series, I look forward to seeing how his perception of time continues to affect the Massiveverse. Plus, I like seeing more of him as he's a really cool character.
Radiant Black #18 is available now wherever comics are sold.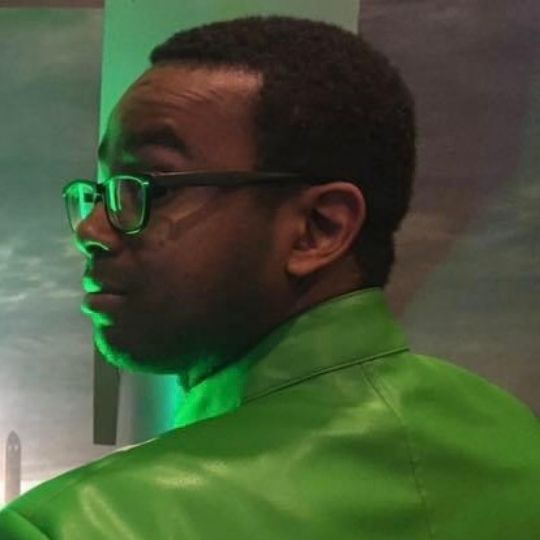 Born and raised in Texas, Collier "CJ" Jennings was introduced to geekdom at an early age by his father, who showed him Ultraman and Star Trek: The Next Generation. On his thirteenth birthday, he received a copy of Giant Size X-Men #1 and dove head first into the realm of pop culture, never looking back. His hobbies include: writing screenplays and essays, watching movies and television, card games/RPG's, and cooking. He currently resides in Seattle.