The new anime season is in full swing. With so many anime coming to Crunchyroll I wanted to take a moment and give you all my early impressions about several anime I've been watching. I'll give you my thoughts on what I think works or doesn't and my early feelings on how likely it is that the series could develop into something extraordinary. So, without further ado, let's kick off this Summer Anime 2022 Round-Up.
---
Lycoris Recoil
Animation Studio: A-1 Pictures
Synopsis: The city of Tokyo finds itself amid a time of unprecedented peace. The reason for this is the work of an unseen special forces group known as Lycoris that proactively stamps out violence before it comes to light. But when one of its members, Takina, breaks rank during a mission she is expelled from the home base and sent to work at a small satellite location. There she discovers Chisata. A living legend in the organization who left because she disagrees with the organization's methodology.
What Works: Lycoris Recoil's gun girl action/comedy story delivers charm and action while setting up a potentially deeper plot in its first several episodes. While Chisata comes across early on as a simple happy-go-lucky girl with an aversion to killing people, the show has already begun to hint at more to her than meets the eye. The exploration of her story, along with how her partnership with Takina looks to be changing the rigid, by-the-book Lycoris agent feel like they could produce a great deal of interesting character development.
What Doesn't: My only complaint with this series thus far is in some of the humor. Many of the jokes have been hit or miss. If this was purely a comedic series I would be concerned about it. Happily, Lycoris Recoil has enough other elements woven into its narrative that some failed humor doesn't look like enough to hold it back.
Odds of Success: High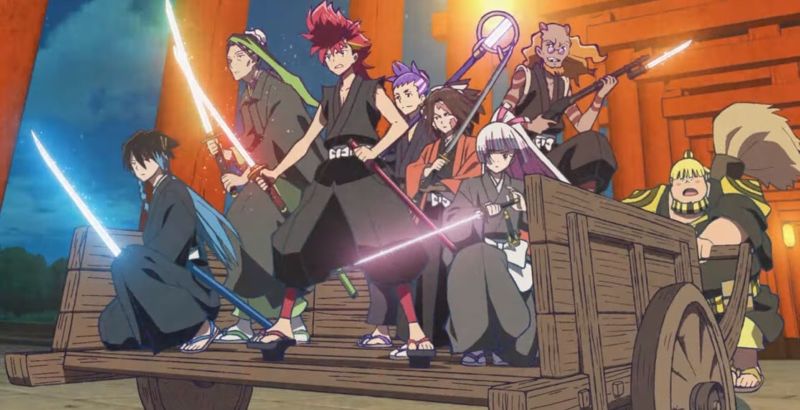 Animation Studio: Geno Studio
Synopsis: In Feudal Japan, a lone fighter named Ichibanboshi searches for the masked samurai that slew his family. But when the authorities apprehend him for fighting in public, it appears that the young man's time on this earth is over. But rather than lose his head, he is brought in on a secret. Seven of the leading keepers of the peace in Kyoto, known as the Shinsengumi, have been killed by a mysterious assailant. Now, desperate to maintain control of the city, the sole surviving commander has turned to seven criminals, including Ichibanboshi, to restore the ranks of this elite force.
What Works: This entry in our Summer Anime 2022 Round-Up is all about the characters. The seven new members of the cobbled-together Shinsengumi are a natural "dirty dozen" type group who all look to possess striking personalities and a wide array of backgrounds. Over the first few episodes, the series has begun to peel back the history of each character revealing some intriguing stories. If the show can continue to flesh out its cast in a way that remains interesting, as well as continue to weave these stories into the present-day plot in a meaningful way, this show could come together to be a great characterful tale.
What Doesn't: While the characters have thus far been the center stage of the show, little else has truly stood out. The stories are fine and the action, while brutal and effective, is always brief. With little else standing out, my biggest worry for Shine On! Bakumatsu Bad Boys is that the narrative won't provide an interesting enough vehicle to pull viewers in, no matter how well crafted the characters are.
Chance of Success: Moderate
Engage Kiss
Animation Studio: A-1 Pictures
Synopsis: The independent floating mega city of Bayron, renowned for the discovery of a new revolutionary energy source called Orgonium, is plagued by demonic entities called D Hazards(Ds). Kept from the public, Ds are dealt with by the government through special contractors who take on jobs to eliminate them before they are exposed. One such company is run by down on his luck Shu. His little firm is struggling to survive and often has to depend on his partner Kisara, who is still in high school, to support him. But there is more to Kisara than meets the eye. She and Shu have entered into a special contract to help Shu achieve his life's goal. But there may be a terrible cost involved.
What Works: This entry in our Summer Anime 2022 Round-Up looks to dive into the serious end of the genre, despite its goofy first impressions. When the show reveals the nature of Shu and Kisara's contract in episode two, the themes surrounding the show's action/fantasy vibe take a decidedly dark turn. How far Shu will go to get what he wants and what those around him will do to save him look like compelling narratives that I sincerely hope the series handles well.
What Doesn't: The biggest stumble this series has is in its decision to have Kisara be a high schooler. While the nature of her connection to Shu goes a way to explain this, the fact that the show just had to have the main (adult) protagonist shaking up with a high schooler is cringy at best. They easily could've avoided any awkwardness by making her be the same age as Shu, but for some reason, so many anime seem to believe lead female characters can't possibly be over 18, so here we are.
Chance of Success: Moderate
Animation Studio: Shaft
Synopsis: Ruby Rose has one dream. She strives to become a Huntress like her mother and help make her world a better place by defeating the evil monsters known as Grimm. Now, teamed up with her sister Yang and classmates Blake and Weiss, the quintet looks to survive their training and prove they have what it takes to become Huntresses.
What Works: To sum it up, pretty much everything. The main cast provides some great chemistry that blends high school drama with life and death struggles, the action provides gorgeous stylized breaks for the story, and the world-building is paced perfectly to keep the viewer informed while never dragging down the pace of the story. If it can keep this pace up it could be one of the best action anime of the year.
What Doesn't: I have nothing to put here.
Chance of Success: Extremely High
My Stepmom's Daughter is My Ex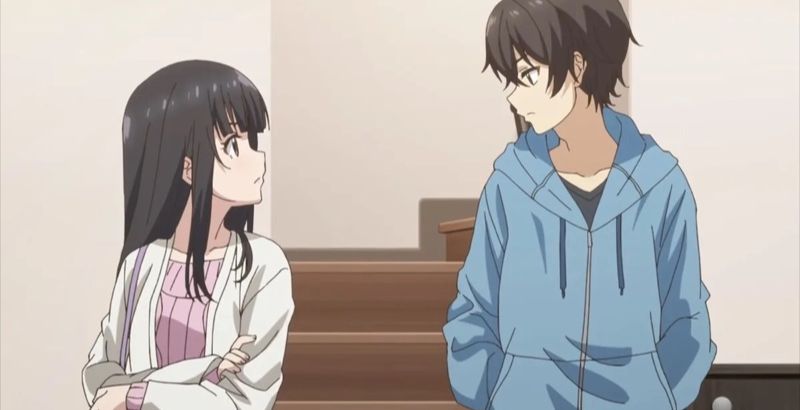 Animation Studio: Project No.9
Synopsis: Back in junior high school, Mizuto and Yume dated, But over time, the two got annoyed with each other and decided to get fresh starts for themselves with the coming of high school. Then, just before their first year starts, their parents brought them together to let them know that they would soon be step-siblings. The two decide that to not spoil their parents' new relationship, they would keep their past association with each other a secret. Now they are trying to make their new relationship as siblings work, but it's proving to be a bit tricky.
What Works: If you enjoy a brand of comedy that runs on awkward social situations this entry in our Summer Anime 2022 Round-Up could be for you. The show does a solid job of crafting the scenarios that lead to its hijinks and makes sure that both siblings come across as even on the good/bad scale. This allows both to be enjoyed without feeling like you are laughing with the "bad one".
What Doesn't: While I don't think this series setup is one doomed to failure, the proper execution of its story requires a deft touch that most anime lack. Only three episodes in and some situations have already gotten fairly cringy for the siblings. The odds of the show making it to the finish without crossing one line or another feels incredibly low.
Chance of Success: Low
Animation Studios Gaina and feel
Synopsis: Kirishima Tooru, also known as the Demon of Sakuragi, is the right-hand man of the Sakuragi crime family. While he is known for reliably getting his jobs done, he is notorious for going overboard when the violence starts. Now, however, he is being assigned what may be his most challenging task yet. He has to babysit his boss's daughter Yaeka.
What Works: Despite Kirishima's reputation as a brutal enforcer, this series delivers nothing but sweetness as it explores how the yakuza member comes to take care of his new charge. The moments the show has taken viewers through have already ranged from sweet to heartbreaking as the duo helps each other learn about life and family.
What Doesn't: The only gripe I can see someone having with this series is how lovable and carefree this series presents the yakuza. Despite a couple of brawls occurring during the show that highlight that, yes, these are yakuza, none of the characters come across as hardened criminals that have no problem beating men to a pulp. It is a minor disconnect between plot and setting, but I can see where it could irk some.
Chance of Success: High
---
And there you have it! Our Summer Anime 2022 Round-Up highlights six new series that are streaming right now! I hope this article has helped you find something that may pique your interest this anime season.